Gaelic in a Monolingual World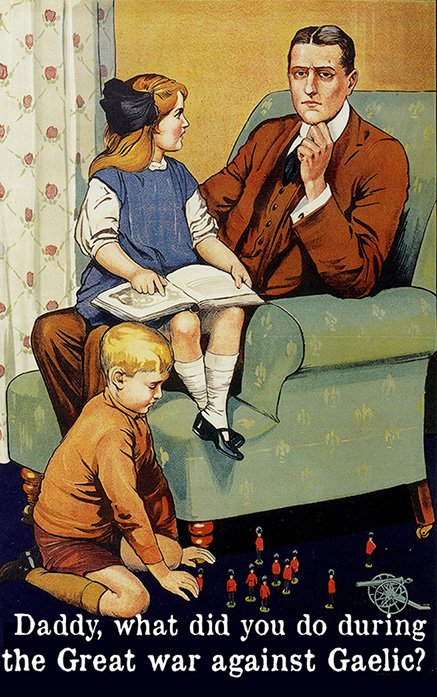 The gaelic debate is full of tensions and bizarre alliances. As Cruithneach puts it: 'Schrödinger's Gael is at the same time both an illiterate, backwards, neep-howking peasant *and* a latte-swilling Middle Class Parent. Both of these are Bad Things To Be". Here Pavel Iosad, a lecturer in linguistics, looks at language privilege and the convergence of nationalists who attack gaelic.
We seem to be having another Conversation On The Internet about the promotion of Gaelic in Scotland. The context is the release of a £2.5 million tranche of funding for the development of Faclair na Gàidhlig, coupled with a parliamentary 'debate' on the new National Gaelic Language Plan. I say 'debate' because it was overwhelmingly positive, not to say anodyne, full of warm words rather than real commitments, and so, for those of us unlucky enough to care about Internet Conversations, oddly disconnected from the usual shouting matches. It was, in that sense, refreshing to see Tory MSP Donald Cameron acknowledge this gap between inoffensive political consensus and the more heated rhetoric elsewhere.
These events have brought to the fore the motivations of our culture of monolingual privilege, and an unwillingness to even try and see things from the minority's perspective. The now-infamous Brian Beacom column is an object lesson in how a member of the majority is not so much ignorant of arguments against the status quo as simply unwilling to acknowledge even the possibility they may be valid. Unlike much other writing on the subject, Beacom's column does not betray ignorance. Indeed, he constantly attempts to put his opponent on the back foot rhetorically: 'they will argue bilingualism advantages the young mind… will argue that if you don't provide the platforms, the language will die out… will argue that Welsh is spoken in a third of schools'. He speaks both for himself and for the other side, asserting his mastery of the conversation and letting us know he has already weighed all the arguments and found them wanting.
He is to be the judge of whether the arguments stand up, not the 'powerful Gaelic lobby' (bitter laughs all round), even as he makes claims occupying the vague space between 'just wrong' and 'vacuous if true'. The Irish language, we are told, 'has a wide support base', to pre-empt any comparison with Gaelic. What does that even mean? That there are many more speakers of Irish in Ireland? But the difference in the number of Irish speakers and Gaelic speakers in Scotland isn't on an order of magnitude: the optimistic estimate in the census of people 'using Irish daily outside the education system' — just over seventy thousand — is not that far off the totemic figure of 'only' 58,000 Gaelic speakers in Scotland. And if by 'support base' he means opinion and attitudes, well, he mustn't have much experience with Irish media.
Gently poke any of his arguments and it falls apart. BBC Alba 'seems dependent upon showing football matches to sustain an audience', and hence 'does the Gaelic language need [it]'? Well, if you don't watch anything other than football matches, I can see how things can seem, but that's surely not the channel's fault — but more interestingly, the question is left hanging with a flourish, as if the 'no' answer is obvious. The answer, of course, is 'yes': how can you be serious about promoting a language if you force its speakers to watch the news, and international affairs programmes (here's looking at you, Eòrpa), and book reviews, in the language of the majority? Of course Gaelic needs BBC Alba. Actually, I'm sure that if Gaelic speakers were offered more original content if it meant pushing the football off Alba, they would bite your hand off there and then.
The English speaker's privilege is everywhere. With a knowing smirk, we are told Gaelic is going 'the way of Latin as a spoken language'. We are meant to imagine fusty monasteries, or maybe public schools, such as the British Empire has been famous for. That is what happened to Latin, isn't it? But just a few paragraphs before we were told off for how useless Gaelic is 'in an international context', unlike, er, Spanish — a living continuation of 'Latin as a spoken language', now heard from Santiago to Manila. 'Romantic notions', indeed.
The prevailing stance is a bafflement that not being able to live your life through Gaelic is somehow not good enough.
Why do we have Gaelic signs, they make me feel like I'm in Brigadoon! (Actually, they are sign that Gaelic is valued by the society.) Why do the pesky Gaels persist in creating divisions in society by, er, claiming a subset of the very same opportunities every English speaker enjoys without giving it a second thought? Why won't they just go away and teach Gaelic to their children in clubs and culture centres, just like, you know, English speakers having to take huge chunks of time out of their working and personal lives, often voluntarily, just on the off chance they might be able to counterbalance the huge pull of the majority culture?
The killer blow comes in the last paragraph. Apparently in full earnest, Beacom suggests that there is no need for a standard historical dictionary of Gaelic, such as the one created at great expense for most other languages of the UK: the OED for English, the Geiriadur Prifysgol Cymru for Welsh, the two Dictionaries of the Scots Language for, well, Scots. Even Irish, the subject of so much wrangling, has the Dictionary of the Irish Language — whose digitization and revision was, perhaps ironically, very largely funded by UK research council grants to Northern Irish universities. But no — according to Beacom, the Gaels can make do with the equivalent of Johnson's dictionary. Our knowledge of lexicography, we must understand, has not moved on even a bit since Dr Johnson. (His dictionary must still be the reference of choice for English speakers?) And yet Gaelic is not 'useful in the modern world'. Literally, you cannot win.
"The most important action we must take if we want to really revitalize Gaelic is not scoring points in internet wars, and not putting signs on railway stations (laudable as that is), and even not opening Gaelic-medium units (hugely important as that is), but creating and sustaining vital communities whose main language is Gaelic."
A similar bafflement pervades the recent blog on the subject from very different quarters.
The argument has been rehearsed to death: get with the programme and just speak English, you don't want to be left behind, there's a good chap. It's all the same argument from J. S. Mill, who exhorted the Highlanders to stop 'sulk[ing] on [their] own rocks, the half-savage relic[s] of past times, revolving in [their] own little mental orbit, without participation or interest in the general movement of the world', to modern-day liberals tutting at the idea that people aren't necessarily enamoured of leaving their heritage behind in favour of becoming modern, 'dynamic and responsive'.
The Welsh academic Simon Brooks has recently treated this attitude at length in his important book Why Wales Never Was. Today, the watchword is communication — the idea that language is only for transmitting messages between brains is never seriously interrogated.
One language, one communication channel.
In the comments, someone winks: 'Gaelic is as useful as Esperanto'. Indeed, because Esperanto, the living, most vital embodiment of the Wings Over Scotland approach to worldwide communication, is such a roaring success. (Not knocking Esperanto, by the way. One does wonder if the supporters of global English would be quite as enthusiastic on its behalf if it didn't happen to be, by fortuitous coincidence, their first language.)
Stuart Campbell's idea of what counts as valuable culture is something he could consume during a week's holiday, whether it's food, costumes, or architecture. But if it's something most people in Scotland 'can't even begin to pronounce, let alone understand', then Campbell joins arms with Beacom, who chooses to describe Gaelic as 'gargling on Irn-Bru', and exclaims 'why isn't this all about me?'. One has to laugh at the anecdote where Mr Campbell Sr had to deal with the justice system through the medium of Welsh. Being unable to use your own language in interactions with your own state — imagine that, huh? Here is another argument: I feel vaguely bad about not being part of the conversation, therefore I am excluded, therefore I should have nothing to do with it. Let them run their clubs, of course, I don't think we should BAN Gaelic, oh no. Thank God for small mercies. Just get them out of sight.
All the while, the choice we are offered is between untroubled monolingual privilege and the official politics of milquetoast 'promotion'.
While we expend breath over whether £2.5 million is a large or small pot of money (on a yearly basis, the Faclair na Gàidhlig funding is broadly equivalent to something like two average research grants by the Arts and Humanities Research Council, based on the latest figures), Gaelic is nearing crisis point. The most important piece on Gaelic policy that has appeared in the last couple of weeks is neither the dictionary news nor any blog or column in response to it, but this comment by Christopher Lewin. The most important action we must take if we want to really revitalize Gaelic is not scoring points in internet wars, and not putting signs on railway stations (laudable as that is), and even not opening Gaelic-medium units (hugely important as that is), but creating and sustaining vital communities whose main language is Gaelic. This is not possible without much more strategic thinking and — yes — investment than is currently on show from any party in Scotland. If you really care about Gaelic, this is what you should be angry about.