Monopoly Edinburgh – Selling a City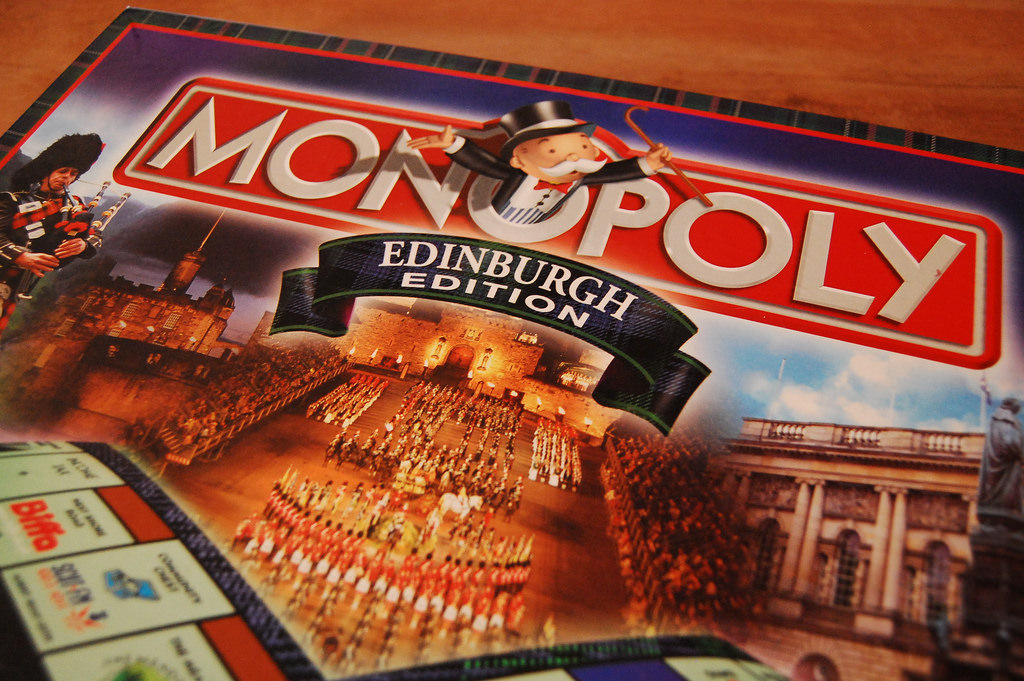 .
Edinburgh is being sold. Scotland's capital is being sold-out from under our feet. Day-in-day-out property developers in cahoots with a conniving and inept council are buying and selling the very heart and soul of the city. Whether its architectural vandalism or asset-stripping of public buildings and resources, the pattern is the same – streets and common land sold-off on the Monopoly board of urban capitalism. The 'City of Literature' has become a plaything for millionaires whilst the planning regulation and heritage bodies stand idly by. It's apparent that the City is under siege from global speculation, and this week we face a key test with the battle to save Central Library.
Proposals to build a massive Virgin Hotel, rising to 11 storeys, behind the library which will block out light and undermine the entire user experience have faced strong opposition but have been met so far by at best incompetence and at worst collusion. There continues to be a complete failure of political leadership about one of the country's finest assets, a key public building and resource being undermined for the good of the super-rich. An independent Daylight Assessment on the impact of the 'development' on the Central Library has recently been published, revealing that if the Virgin Hotel is built the natural daylighting conditions will decrease by as much as a staggering 82%.
Richard Branson has stated:
"Edinburgh is such an iconic city and we're thrilled to be able to say it will be the home of the first Virgin Hotel in the UK and across Europe."
"My grandparents were from Edinburgh and my wife Joan is also Scottish, so the country has always held a special place in my heart. The people of Edinburgh have been so great in welcoming us to their great city; we can't wait to open our doors to people across the country and, indeed, the world."
I'm not sure he knows what's going on.
"Besides fundamentally compromising the Library's future, building on public land (Cowgate gap site) long set aside for the Library's future development, the proposed hotel would block iconic views to the Castle from the Edinburgh and Scottish Rooms of the Library, significantly reducing light: a terrible irony given that the building was purposely designed to maximise natural light as the inscription set above the main entrance declares: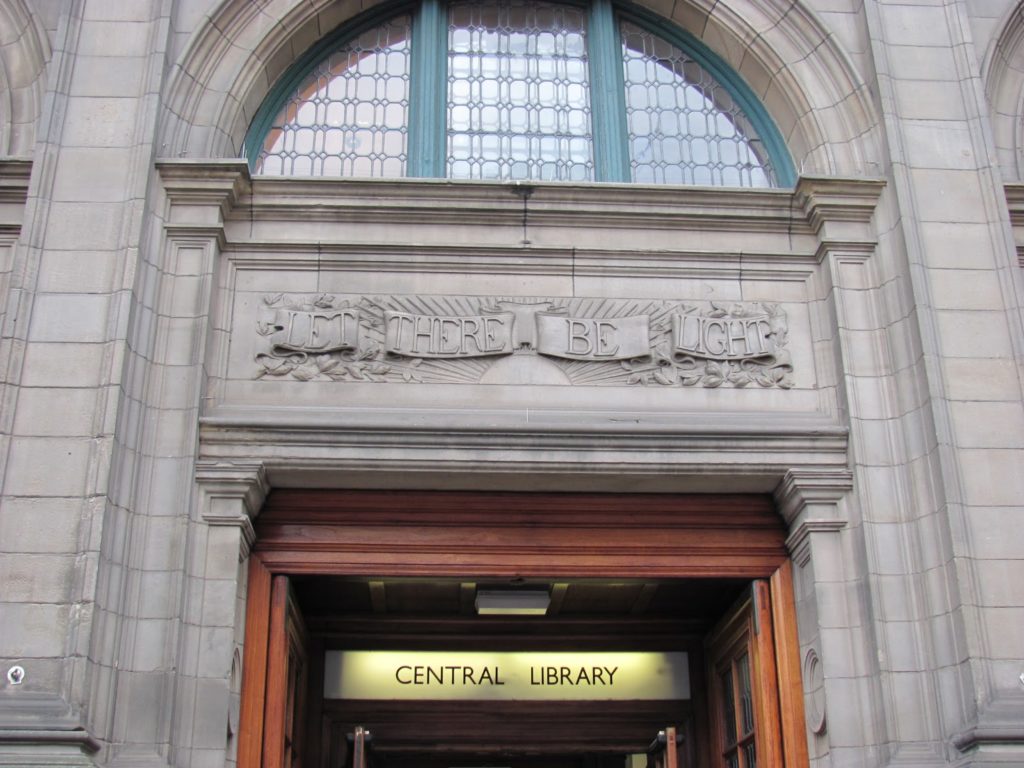 Edinburgh prides itself – and sells itself – as a 'cultural capital' and a City of Literature, but as other cities like Birmingham open the biggest library in Europe, the political leaders in Scotland's capital sell out its soul.
While Central Library is just one of dozens of sites under threat across Scotland (see Bishopbriggs, South Lanarkshire, Sutherland, Culloden), it is a key battleground in trying to turnaround the onslaught of development.
You can't simultaneously claim unique status while selling key cultural spaces. We should be following the lead of other cities and developing not destroying our public assets: opening them up, not shutting them down.
As the writer AL Kennedy has put it: "Despite digital reading possibilities, the role of libraries hasn't changed. They're a social space, a community information space, a breath of fresh air for young mums and pensioners, an access to peace and mental restoration for those in crisis. If you can't afford books, digital or otherwise, if your school is failing or education never quite made it a library is a door to everywhere. Library closures hurt our most vulnerable the most. Close libraries and you spike social mobility and tear up hopes for generations to come. It's inexcusable, short-sighted and frankly the cheaper option if you're fond of book burnings."
Before plans for the hotel were developed a Council commissioned study concluded that:
"It would be a hugely wasted opportunity if the (Cowgate gap) site was developed for other uses without seriously considering how it could, not just solve the existing problems of the Central Library, but re-invent the Central Library in a form relevant to 21st century needs and aspirations. The concept of expansion on the site addresses virtually all problems currently relating to the Library. The excessive pressure on the use of space is the key conservation issue that needs to be addressed… the fundamental problem faced by the Library is that it is simply not big enough for the population it serves… the physical limits of the current buildings do not allow the Library to grow in usefulness… It is clear that the current situation cannot be allowed to continue indefinitely and that if a radical solution to the problems faced by the Library is not adopted the Library and its facilities will become increasingly at risk of closure".
City of Literature
What kind of City of Literature does this? The Central Library is not just an iconic building, it is a test case for Planning Democracy and raises profound questions about what kind of city we are living in and how far eroded and degraded are our understandings of meaningful citizenship. But it also brings into serious question the City of Literature status.
Simon Byrom who has been leading opposition to the development explains: "Even by the standards of our inept city council this is a scandal of the worst order. Statistically, Edinburgh has less central library provision than any of Scotland's major cities, calling into question its 'City of Literature' status. Glasgow, for example, offers almost fifteen times as much space per head of population."
This week an open letter signed by some of our finest writers urged:
"Edinburgh council to revoke this consent under Article 65 of the applicable planning legislation. Our libraries are precious cultural assets that must be cherished and passed on to future generations".
Read it here: Letter To Times supported by writers.
Information is online today, but literature isn't. By failing to value books and public spaces we are undermining not just the heart of our city but the idea of civilisation. This is a profoundly stupid development. It is myopic not to value the changing use of public libraries which have become not just a democratic resource and a hub for learning but a space that acts to rectify the digital divide.
Edinburgh Council is now facing widespread opposition to its mishandling of multiple sites across the city and it's very status as a World Heritage site is under threat. Back in 2015 the UNESCO Director of World Heritage stated clearly:
"I would like to express the World Heritage Centre's strong concerns about the state of urban conservation in Edinburgh. The general development vision for the City at the local and national level lacks an integration of heritage values, and the process is weak as a result. At the level of local planning consent, development projects are being approved without due consideration of heritage values and conservation, including a lack of Heritage Impact Assessments, resulting in negative impacts. The quantity and pervasiveness of development projects being pursued without due consideration for conservation is deeply worrying."
Concluding that the planning process is weak and poses "a significant threat to the visual quality, integrity and juxtaposition of Outstanding Universal Value", UNESCO have highlighted, among numerous other 'developments', the contentious Virgin Hotel which imperils the future of Edinburgh Central Library and the Old Town Community.
This is the endgame to this protest. It's time to stand up for your city. Please share this post and the meeting details, come to the meeting and make your voice heard:
Let There Be Light Edinburgh – WHAT future for Edinburgh Central Library?
"Your City, Your Say": The Betrayal of Community, Culture and Heritage
Invitation to a City-wide Public Meeting: 7pm Tuesday 29 May 2018
Central Hall, Tollcross EH3 9BP
Speakers:
Terry Levinthal,
Director of the Cockburn Association
James Simpson OBE,
Vice President of ICOMOS-UK (advisers to the UNESCO World Heritage Committee)
Andy Wightman,
Writer, researcher and MSP
Organised by Let There Be Light Edinburgh