The Politics of Sooty and Lead and Ink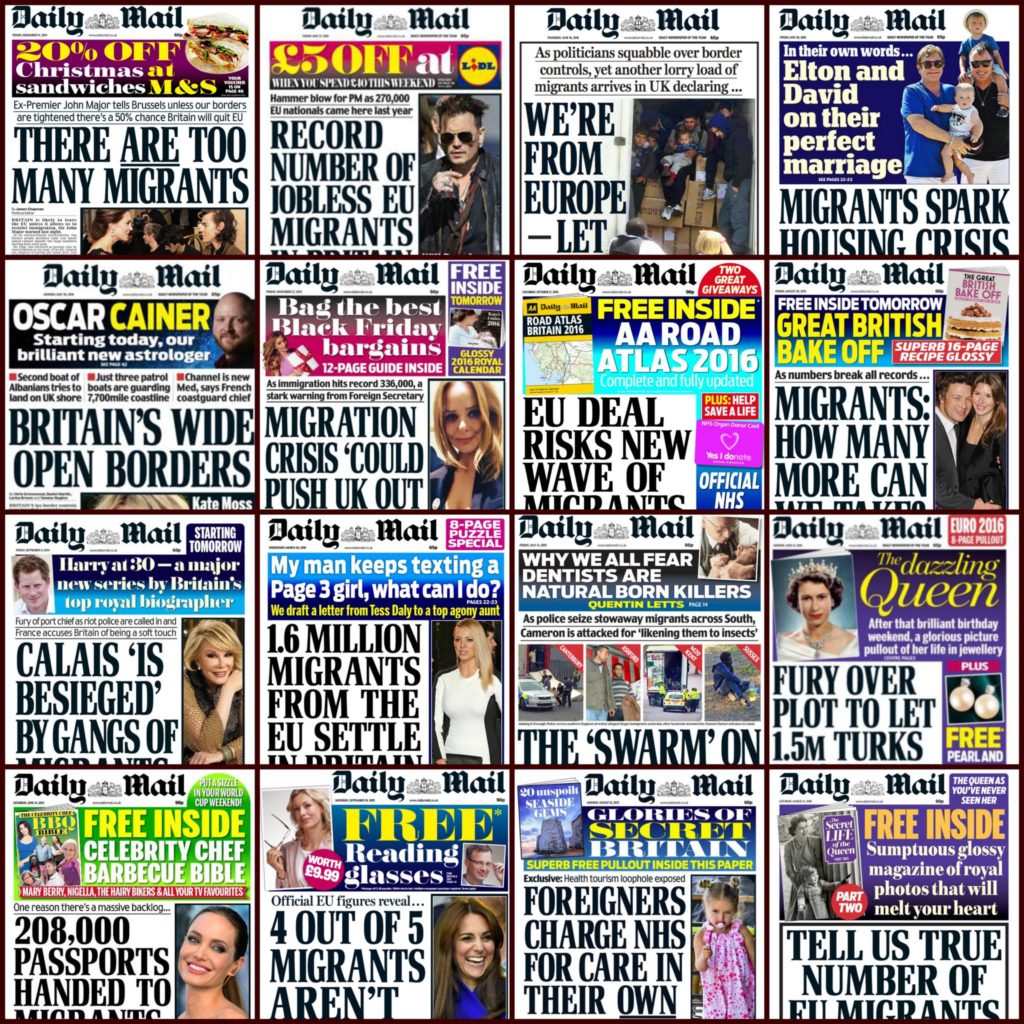 In a week in which Britain slides and collapses into some sort of dark new future, two moments have stood out: an extraordinary forty year delayed Panorama documentary about Jeremy Thorpe which exposed elite rule homophobia and deference, and the departure of Paul Dacre from the Daily Mail.
Amongst the praise and apologies for Paul Dacre, it's worth remembering that this newspaper, under this editor was a stain of racism but also of contempt for large swathes of British society. It has held a place of reverence for Tories amid an orgy of click bait, tedious misogyny and relentless contempt. Gypsies, single mums, the unemployed, immigrants, gay people were all attacked routinely, casually, remorselessly, until it just became normalised as something that was somehow okay. The vilification of disabled people was an extraordinary piece of propaganda which was repeated over and over under Dacre's editorship and marked it out as a paper that was not just Tory but eugenicist in its nature.
If there was an institution that spread reactionary bile in Britain – and has led us to our present disaster –  the Daily Mail must be pre-eminent.
In a report from 2016 the The Sun and Daily Mail were singled out in a report on "hate speech" and discrimination in the UK. The European Commission against Racism and Intolerance (ECRI) took aim at some British media outlets, particularly tabloid newspapers, for "offensive, discriminatory and provocative terminology".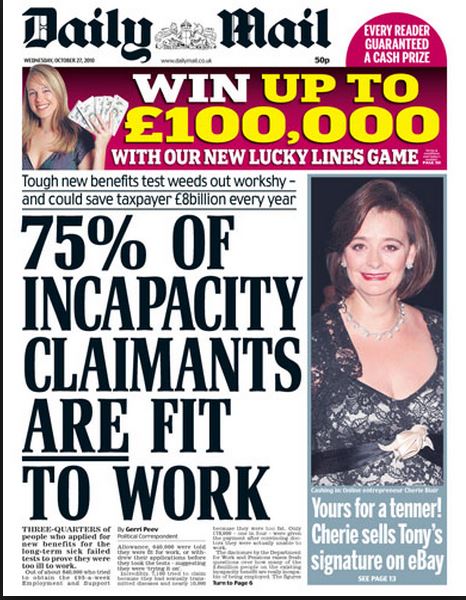 It's report said hate speech was a serious problem, including against Roma, gypsies and travellers, as well as "unscrupulous press reporting" targeting the LGBT community.
"In March 2013, a trans schoolteacher committed suicide after being outed by the Daily Mail newspaper," it continued.
The Independent reported  that the researchers were referring to the death of Lucy Meadows, who made no mention of press intrusion in a note left to loved ones before her death but had suffered what campaigners at Trans Media Watch called "a huge amount of monstering and harassment". They cite that "A column published in the Mail had used photos of Ms Meadows before her transition with the headline "he's not only in the wrong body… he's in the wrong job".
Michael Singleton, the coroner delivering the inquest verdict in May 2013, said the teacher had complained to regulators about harassment as photographers besieged her home and school, and criticised the "sensational and salacious press coverage" of the story, describing it as "ill-informed bigotry".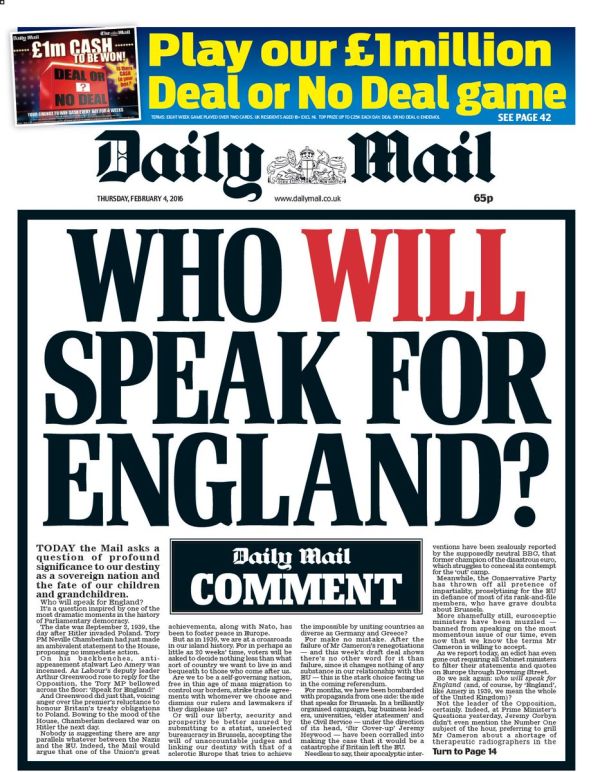 In a sea of wild propaganda, Dacre's Mail led the charge of disinformation about Brexit, including the shameful lies about Turkey's imminent entry to the EU.
Disgraceful front pages are too many to catalogue but have got to include 'Give child migrants age tests', 'Never mind Brexit – who won Legs-it?', 'Who will speak for England?', and the infamous neo-fascist 'Enemies of the People'.
To describe Dacre as a 'great editor' amongst this ink-sea of filth is truly remarkable and detached from moral decency. The idea that the Mail somehow speaks for a mythical Middle England is a deep sadness fr a country that needs to recover itself.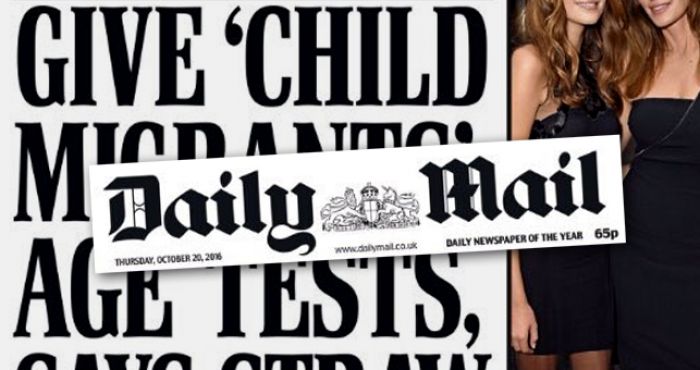 As Andrew O'Hagan wrote in a review of "Mail Men: The Unauthorised Story of the 'Daily Mail', the Paper that Divided and Conquered Britain" ('Who's the real cunt?'):
"What is life all about, from the perspective of the Daily Mail? Let's begin by admitting that it's not, on immediate acquaintance, about basic decency. Fake news wasn't invented by the Daily Mail – journalism has always been a source of confected nonsense – but today's version of the old title founded by Sunny Harmsworth is a bubbling quagmire of prejudice posing as news, of opinion dressed as fact, and contempt posing as contempt for that portion of the world's population that doesn't live in Cheam. This paper wasn't invented by Dacre but by David English, variously described as the best editor on Fleet Street and the biggest liar since Herodotus. (English once invented a whole interview with Betty Ford and on another occasion pretended to have been in Dallas the day Kennedy was shot.) By the end of his valiant career, Sir David, who edited the paper for two decades, had won all the awards and accepted all the gongs. 'David English had a romantic feeling for newspapers amounting to a passion,' the Independent reported the day after his death. 'He loved the old smells of lead and ink.' But what spare love he had, after loving Margaret Thatcher, was kept for a version of Britain in which the natural condition was to be white and born here, in which the unemployed were scroungers and the rich (or some of them) were heroes, where single mothers were letting the side down and 'political correctness' was a threat to the life expectancy of your children. Britain became nastier under these 'legendary' editors, men who thought it okay to call a South Asian secretary 'Sooty'."
Many apologists have focused on the Mail's campaign for Stephen Lawrence, or, hilariously, their 'plastics campaign', as if these excuse or explain a century of hate.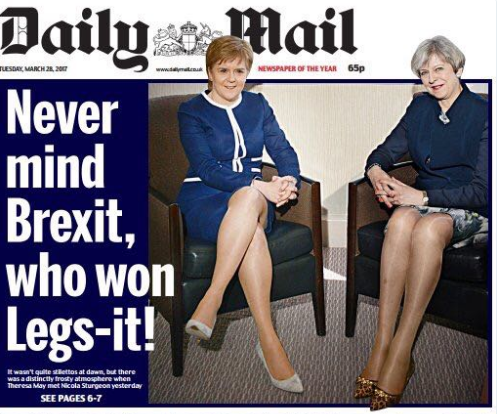 The idea, perpetuated by most of the papers apologists and revisionists, is that it somehow reflects the England of today. It is a mirror, and that is the function of journalism and of editorship, we're told.
"Look at the paper itself and you see it is not the real voice of England, but a dark distortion of it, a post-truth version that shouts about decency but doesn't exhibit any, that praises aspiration but only certain sorts. Every day in Dacre's paper, the people who make up the population of Britain, the people who teach your children and bandage your wounds, drive your trains or clean your floors, are described as aliens and forgers and scum. The Mail fought for justice for one black man, and long may the editor plume on it: the paper he presides over is in no hurry to gain justice for any others. Quite the opposite: the Mail in its present form pictures Britain as a place populated by delinquents and bomb-makers, sexual deviants, spongers, social workers and gay bishops, a dark and fruity manifestation of the editor's daily fears."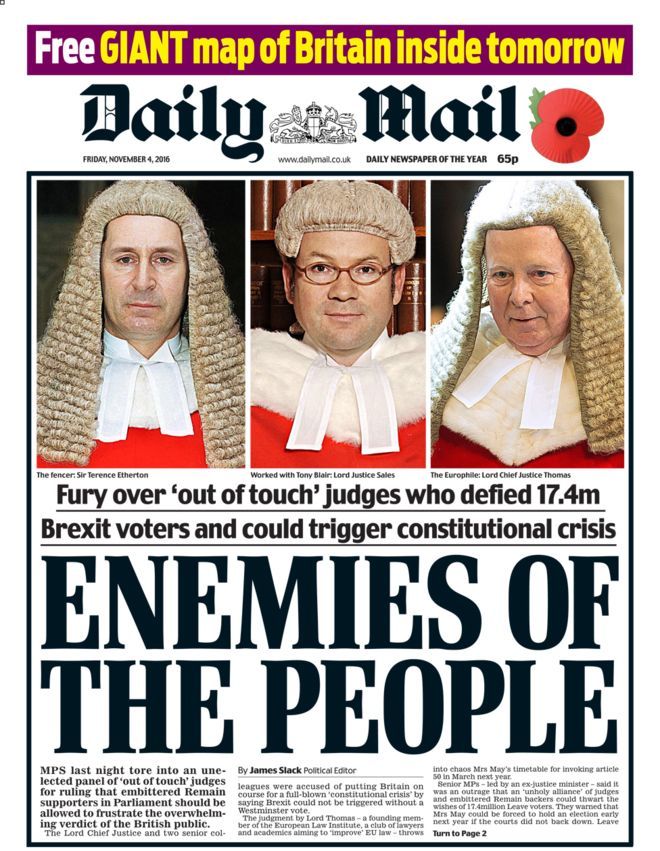 The Mail is not alone. It is at the head of a phalanx of tabloids that have peddled lies to people every day for a very long time. This is an unregulated distortion of everyday life that is tolerated only because the powerful benefit from it.  The paper is a festival of sleaze and titillation as the country teeters on the brink of mass poverty, inequality and national humiliation. It only survives because of a moral vacuum and political cowardice.
Dacre's resignation is a sign of the times but not a new order. He will no doubt be replaced by someone equally loathsome and as old print dies new media organisations pop-up. The Spectator today published Steve Bannon and finds space for Brendan O'Neill and Rod Liddle. We should not fetishise the Daily Mail but pay attention to the far-right in all its forms of propaganda. Lord Rothermere and his ilk has many fronts.