Casa Padre and the Banality of Evil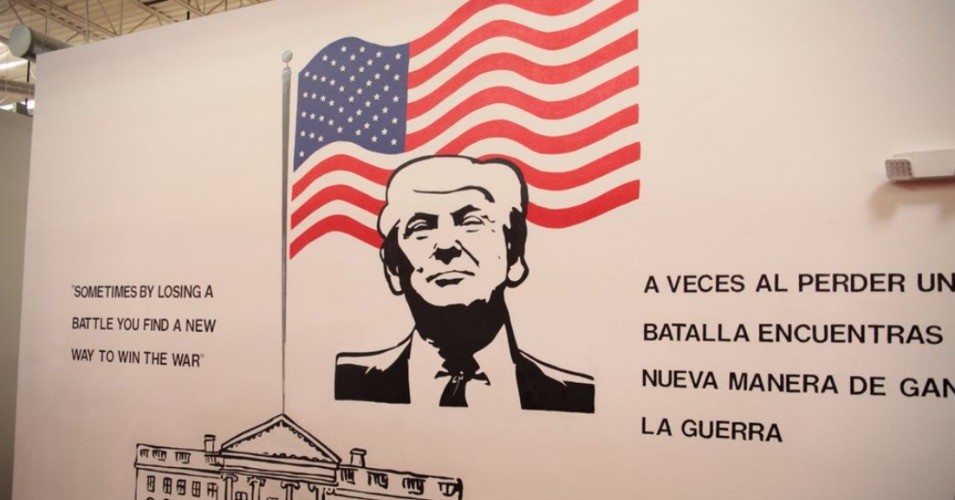 One of the images in the Casa Padre shelter in Brownsville, Texas, is a large mural of President Donald Trump with a quote (rendered in both English and Spanish) from his 1987 book The Art of the Deal. "Sometimes by losing a battle you find a new way to win the war," it reads. But if the mural slogan feels like an updated version of  "Arbeit macht frei" – it's because it is (obviously Godwin's Law is suspended for this and other articles about the American camps). Trump's face shines down benignly in front of gently rippling red stripes, his hair more John Kennedy than Steve Bannon, a simple wholesome expression on his handsome face. It's a nice print with echoes of the Obama 'Hope' series designed by Shepard Fairey, except they are in a 'shelter' with children in cages so some of the sort of 'hope' vibe is a little lost.
The fact that one of these 'shelters' is an abandoned Walmart just adds to the feeling that this is some new dystopian Netflix drama. But it's not.
As Sarah Kendzior writes in the Globe and Mail: 
"Under the direction of Donald Trump and Attorney-General Jeff Sessions, the U.S. government has snatched roughly 2,000 children of asylum seekers from their parents – including an infant girl who was taken from her wailing mother while breastfeeding – and put them in detention camps. They are there for the crime of existing, as migrant children fleeing foreign violence and oppression, in Mr. Trump's United States. The boys are being housed in what used to be a Walmart, where they are allowed outside for two hours a day. (No one seems to know where the girls and the babies are.)"
We maybe shouldn't have been so surprised that a country that was okay with Guantanamo and Extraordinary Rendition should start caging children, but we are.
Watching the Trump people defend and articulate this obscenity is remarkable and deeply unsettling.
The effort here to equate the cruelty of child detention with the drug crimes and murder crimes that would have been the inevitable result of their parents arrival into America is just a continuation of a running narrative of Trump's campaign for a while. It is of course audaciously brutally racist:
Reporter: "Why doesn't [Pres. Trump] make a phone call and stop this practice?" White House: "It's the law."
"It's not the law. It's a practice."
"It is absolutely the law … We do what we have to do."—
Law doesn't require family separation. https://t.co/fAna7jnouc pic.twitter.com/7hNJIRxE5S

— NBC News (@NBCNews) June 18, 2018
The best part of that sequence is when he says: "It's the Law".
This is the same argument given by Sarah Huckabee Sanders as she faces some mildly uncomfortable questioning:

And of course "It's the law" is the ultimate reductive thinking and leads directly to "I was only following orders". It is the ultimate detachment from moral compass or thinking for yourself :"Is what I'm doing here the right thing to do?"
Jeff Sessions spoke clearly bringing up God in defense of his detention camps and stating:
"Orderly and lawful processes are good in themselves. Consistent and fair application of the law is in itself a good and moral thing"
But what's being done here is using this phenomenon as a way to ratchet up the political pressure to get Trumps wall built and more draconian immigration policy enacted.
The Trump pushback is also extraordinary. While some administrations might be shamed into a change of tack, the Trump Republicans are unabashed, quite happy to defend the practice.
This is a bold effort by Steve Doocy to compare the detention centres to petting zoos:
Kendzior again hits the mark saying: ""The sickness is not just caused by Mr. Trump; it also stems from a collective failure of the most powerful, whether elected or not,to call a lie a lie, to label abuse as abuse. Those tasked to check atrocities instead chose to enable them."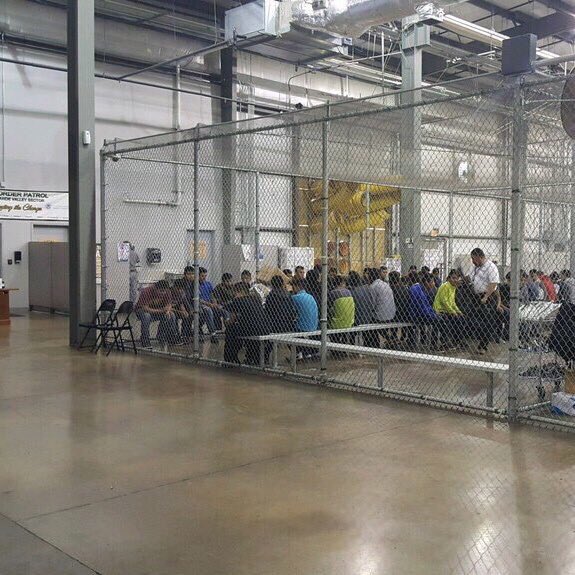 This is where we are, back at Arendt's banality of evil, back with Holes of Oblivion. 
A couple of other points are worth noticing.
There is absolute zero rebellion from the Republicans to any of this. According to Mike Jollett: "the Percentage of party members who back the bill to END child separation was as follows: Democrat: 98% Republican: 0%." So any thought of discerning between 'Trumpists' and 'Republicans' has been extinguished with this absolute collusion.
Second, as Howard Dean has noted: "Everyone who has ever worked for Trump will be unemployable after this is over."
This is true, though when and how this "will be over" amid denial, moral apathy and terrifying levels of God Bothering and vile talk of "Orderly and lawful processes" I'm not quite sure.
And here you have Ann Coulter calling the children 'child actors'. Now where have you heard that phrase before?
This is a terrible moment in American history.