Aamer Anwar Message to Trump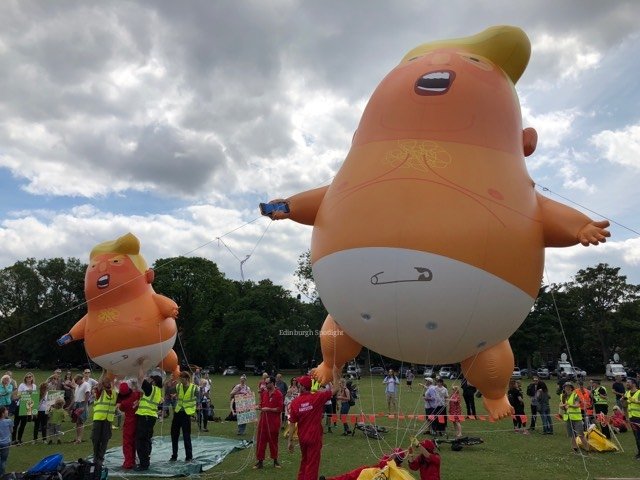 Speech by Aamer Anwar at the Meadows festival of resistance anti-Trump rally today.
Donald Trump what can I say that hasn't already been said Trump is a racist who glories in obscene wealth, boasts of sexual assaults on women, has a cabinet full of white supremacists, Islamophobes, and conspiracy theorists.
He is a billionaire property speculator who claims to stand up for ordinary people, but he's a thug only out for himself
His speeches play with the lives of men, women and children, asylum seekers, Muslims, immigrants are portrayed as  threatening a "civilised" way of life treated as the enemy within.
We have celebrated his arrival not with hate but with a carnival of resistance with chants of "No Trump, No May—racist, sexist, anti-gay".
Donald & Theresa, have slavered over their special relationship but I for one am not interested in a special relationship between the USA and Britain which celebrates war and weapons of mass destruction, that excuses genocide whilst serenading dictators with state banquets and arms sales
I'm not interested in the UK laying out the red carpet for a man who tears babies away from their mothers, whilst backing gun ownership which allows the repeated massacres of school children
But I am proud of a different kind of a special relationship which exists between the people of the United States and this country
Through the generations we have been inspired, empowered and moved by your people, your music, your history, your culture, your sport and spirit of resistance
We love Martin Luther King, Muhammad Ali, Malcolm X, Noam Chomsky, Bob Dylan, Billie Holiday, Marilyn Munroe, Jimi Hendrix, Dolly Parton, Bruce Springstein, even Britney Spears and of course  Rachel Corrie, Heather Heyer …
… and many many more- whose names will live on long after Trump's name has turned to dust.
We are inspired by 'black lives matter', by the civil rights movement, by the LGBTI movement and the history of Stonewall, inspired by  American football players kneeling during the national anthem for those murdered by a racist police force.
So no Donald Trump we will not take lectures from you, we will not welcome you, nor will we hold your tiny groping hands or keep silent as you cage  terrified children and force toddlers to address judges in court.
But remember in this country  Theresa May operates a barbaric immigration policy where 15,000 children grow up without seeing both their parents and deports asylum seekers to their death or persecution.
Donald Trump we will not be silenced when you a son of an immigrant, married to an immigrant in a country built by immigrants tells Europe that its culture is being stripped by immigrants.
We stand in solidarity with our American bothers and sisters whether they are here today in Edinburgh, Turnberry, Los Angeles or Charlottesville.
When Trump tries to build walls we will tear them down , we will resist, we will unite , we will defeat you.
In conclusion I would ask you to remember that on the 30th July we go to court for Professor Clara Ponsati.
Who faces extradition to Spain for peacefully promoting a referendum,- if convicted she faces 33 years in prison.
So I urge you to support the campaign defend Clara and the vigil outside Edinburgh Sheriff court.
Thank you so much brothers & sisters.