Becoming British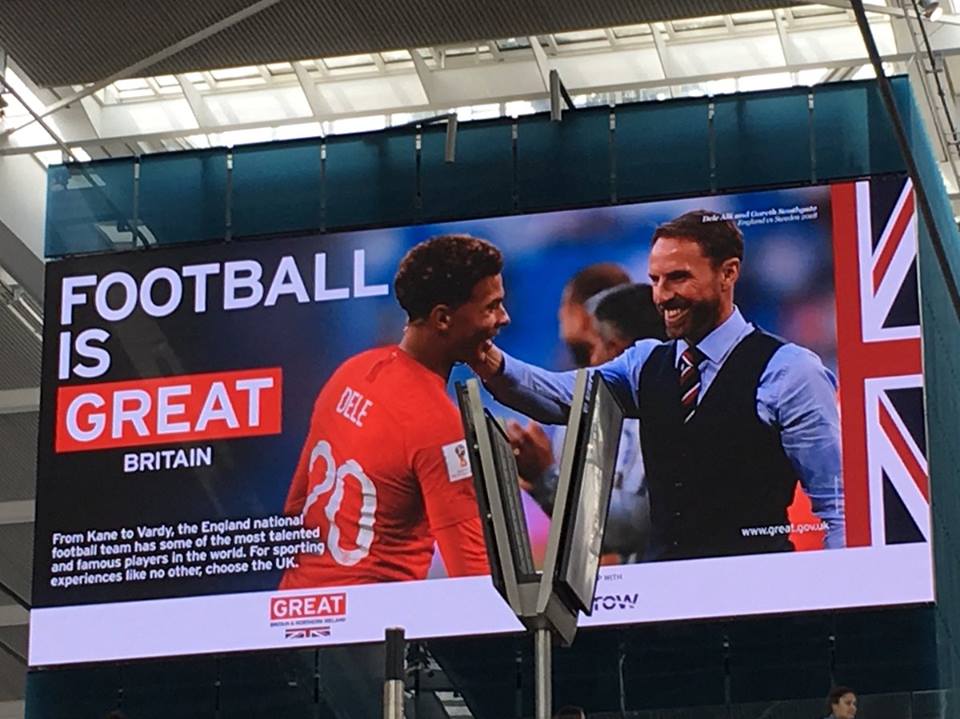 The latest fit of colonial semiotics needs a bit of deconstruction. First up, politics aside, football isn't Great Britain. Plenty of people aren't interested and are bored senseless by the vast sums of money poured into it, the overwhelming media saturation, the obscenely overpaid pundits and players and the bloated Premiership. Then of course there's the fact that Britain isn't England, nor is England Britain. Then there's the "for sporting experiences like no other, choose the UK", which seems to confuse Great Britain with the UK.
This is tedious and desperate, but it's not a mistake.
This is a government department operating at a time of a profound crisis of English identity. As English nationalism fuses with Conservative economic dogma the result is a contemporary colonialism recapturing Wales, Ireland and Scotland back into a New England. This is Britannia Unchained and the visual form of the Power Grab: Make Britain Great Again, Make England Britain Again.
This is anglo-normative thinking out of control.
It won't go well. I remember an American friend who was a devout atheist (of the Jewish variety). He said that anti-semitism was the only thing that motivated him to defend a faith he didn't believe in. Absorbing peoples cultures and identities into a new one is a form of social control.  To subsume a nation into another is an act of nationalism.
This iconography shows that the old-2014 arguments are dead. The whole Love-Bombing, Family of Nations, Partnership of Equals stuff is in the ditch. In its place is a desperate euphoria pronouncing endlessly how 'great' we are as the government stockpiles food in warehouses.
But who is this aimed at anyway?
Having created a Hostile Environment and now overseeing EU nationals leave Britain at the highest rate for a decade (Brexodus) – who on earth do they want to "choose the UK"?  and to do what? We certainly don't want people actually coming to live and work here, so this is just be an exercise in vacuous propaganda?
We are the intended consumer of this poster.
To create this neo-colonialism you have to do some heavy-lifting and re-write history. Thankfully Toby Young chips-in here with some wonderful retro-commentary…
Geddit?
No colonialism, no back-flow.