Leith Creative Responds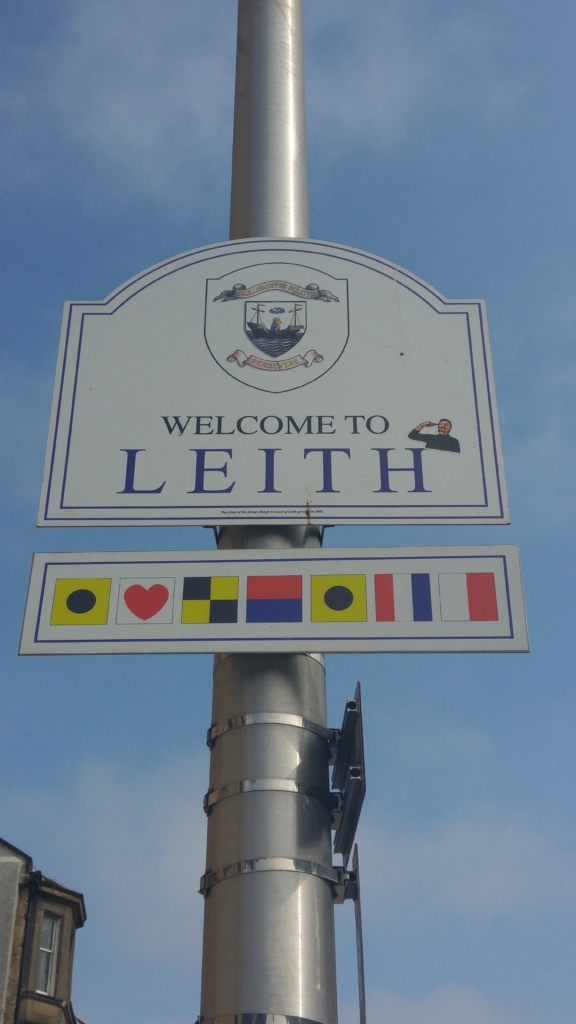 This is a right of reply by Morvern Cunningham and Duncan Bremner.
We are aware that our work has been recently questioned in an article in Bella Caledonia written by Stephen Pritchard, a Newcastle based artist and recent graduate from the University of Northumbria ('Who Pays the Piper, Artwashing and the Planned Social Cleansing of Leith').
The article contained a number of falsehoods, untruths and accusations.
We do of course, welcome the opportunity to continue a discussion about gentrification and the uneven redevelopment of Leith that we, along with many local people, have been having for a number of years. We are well aware of the contested nature of the debate and the heightened tensions around the redevelopment of the area. What we do not agree with, is Mr Pritchard's divisive and antagonistic approach in both print and social media.
Having attempted to polarise debate, Mr Pritchard directly asks 'which side are we on?' We would like to respond to this article by talking about who we are and what it is that we do.
Leith Creative is made up of Duncan Bremner and Morvern Cunningham, local residents who have lived in Leith for a combined total of 35 years, and who have been involved in community arts projects in Leith and Newhaven since 1997.
Duncan, who set up and runs cultural and local heritage charity Citizen Curator and Morvern, who set up and runs grassroots multi-arts festival LeithLate have been working together since 2015.
Morvern began grassroots multi-arts festival LeithLate in 2011 with a group of friends who wanted to highlight Leith, its artistic community and varied local businesses by hosting a free and accessible art event down the length of The Walk. This annual event took place at the same time as Leith Festival, attracting a mainly local audience of thousands, and was self-funded for the first four years of its seven-year existence.
Citizen Curator is a small cultural and heritage charity led by Duncan alongside a voluntary board of long-time local residents, none of whom as Mr Pritchard suggests have any connection to the Scottish Government. Underpinned by a principal of 'dig where you stand', Citizen Curator has, since 2013, worked in partnership with local people and community organisations to uncover, understand and present some of the many stories that make Leith unique.
With a joint interest in grassroots cultural activity, to date we have cooperated on a total of three projects under the partnership title of Leith Creative.
● Understanding Leith's Cultural Resources and Creative Industries
● People and Places: Make Leith Better
● A Wall Is A Screen: Leith
Our most recent project, A Wall Is A Screen: Leith took place over 6 months and was funded by Festival 2018 (part of Glasgow 2018), Film Hub Scotland and Leith Chooses. It involved multiple film screenings with local community groups including Sikh Sanjog, Young Saheliya, Multi-Cultural Family Base and Leith Community Cinema, culminating in a large-scale free public cinema event attended by over 600 people, the majority of them from Leith.
It is our intention, and interest as citizens, to contribute positively to local democracy in Leith from a grassroots level, instead of the usual top-down dictatorial processes we are all familiar with.
We stand by the value of our work to date, and by the Leith Blueprint produced in 2017 which reflects the views of some 2000+ Leith citizens who participated in the various events that took place over the 7-month duration of the research project – People and Places: Make Leith Better. Findings were entirely drawn from community responses.
We do, of course, recognise the challenges and limits to the grassroots community development process we believe in. Leith has some of the most socially disadvantaged neighbourhoods in Scotland.
In common with many areas of the UK, there are high levels of inequality, childhood poverty, issues around the lack of affordable accommodation and homelessness, as well as drug and alcohol abuse. However, Leith is also hugely diverse socially and culturally, with a strong community identity, lots of green spaces and independent businesses, all of which are seen as particular assets to the area.
Through the Blueprint, the following areas were also highlighted as priorities:
● Improve and invest in the physical environment, e.g. parks, civic spaces and the seafront
● Ensure affordability of housing in the area
● Develop community involvement and potential management of community assets
● Develop the reach and diversity of arts and public events in the area
● Develop local democratic structures and support wider public engagement
Our projects have in the main been funded from national cultural funding sources, including the Scottish Government and Creative Scotland, as well as local sources – primarily the City of Edinburgh Council. These funding bodies do not tell us what to say; our work is independent and is instead informed by the people of Leith.
We are also well aware of the limits of our work to date – though 2000+ responses is a start, we wish to widen the discussion further amongst the other 53,000 citizens in Leith. We recognise there are still many voices not yet heard – it takes time, energy and resources to in order to engage and enable change.
However, whether 55,000 or 2000 people respond, it is also obvious that uneven and misguided regeneration has been one of the causes and indeed exacerbated many of Leith's long-term problems. Leith is now undergoing yet another wave of regeneration, displacing many long-term and newly arrived residents alike.
Already marginalised by developers, we are concerned that if Leith isn't able to act collectively then its community and creative ecosystem will be engulfed by new-build houses, student accommodation and ill-conceived or unwanted developments.
So, whilst we welcome Mr Pritchard to the debate surrounding Leith's current challenges, we cannot agree with the divisive approach he takes. Nor can we let the spreading of untruths go unchallenged at a highly sensitive time within our community, with significant proposed changes to the area, such as that of Stead's Place, contested by many local people including the Save Leith Walk campaign.
By spending little time in Leith, and by choosing to directly accuse Leith Creative of ulterior motives, we believe Mr Pritchard doesn't only do us, but the many diverse communities that make up this place, a disservice.
He also crucially fails to offer any local understanding of housing policy, any proposed solutions to gentrification, and doesn't address housing shortages, land values, big business, planning systems or the mechanisms of local and national government, or indeed any of the real issues that contribute to people on the ground feeling they have little or no sense of agency or control over the decisions that are made about their community.
We believe the first priority of those involved in community development should always be the communities they are working in. We hope through our work and that of the many other local people engaged in the debate to have a more balanced, nuanced and productive conversation in the future than the one this article presents.