Nazis aren't Right Wing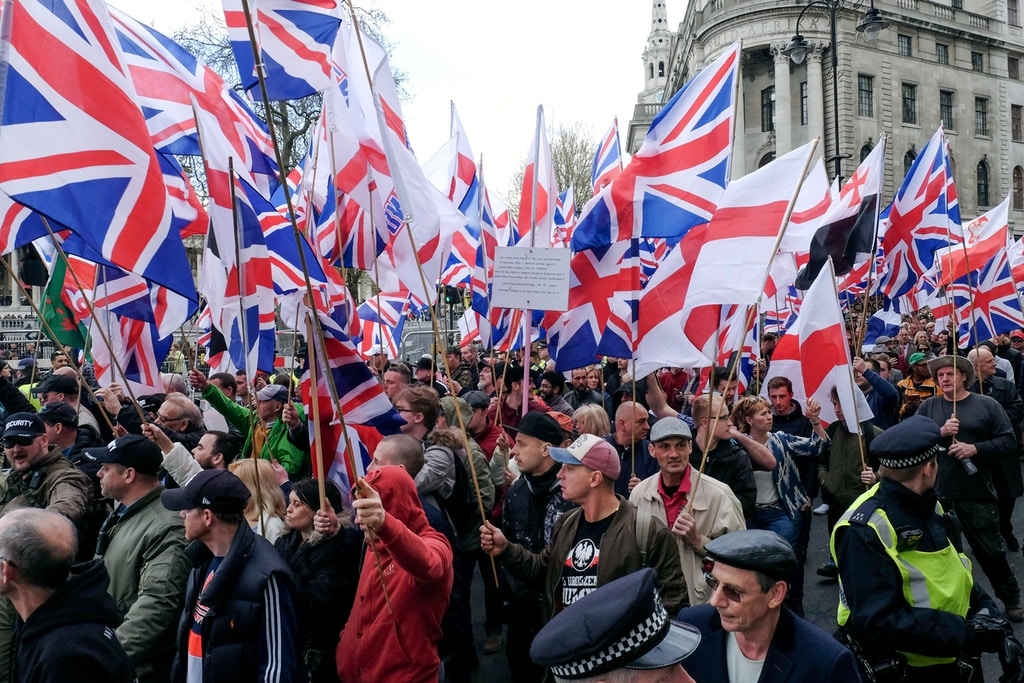 A former Tory Cabinet leader has this week, in an actual newspaper, claimed that: "It is either delusional or deceitful to call the Nazi or Fascist parties "Right wing".
Norman Tebbit, a notorious minister in Thatcher's cabinet of the 80s took aim at that most placid of centrist organs, the New Statesman arguing:
"… perhaps seeking a diversion from the stench of anti-Semitism and sympathy for IRA/Sinn Fein which hangs around the Labour leadership, the New Statesman was at its old game of claiming that both Hitler's National Socialist German Workers Party and Mussolini's Fascists were extreme Right wing parties." (from "A history lesson for those who would smear the moderate Right: the Nazis were socialists".)
He writes: "New Statesman magazine has become rather unsettled in recent weeks about what it describes, on the front page on September 14, as "the far Right wing rising again", and "the return of fascism".
It's a treble-blow of propaganda: first smearing the Labour leader; second excusing and apologising for Nazism; and third pretending that there is no history of fascism in Britain.
But there is a fourth element of Tebbit's disgraceful intervention, and that is to deny the rise of the far right and fascism in Europe. This is an affront to the reality of people facing the Golden Dawn in Greece, the Alternative für Deutschland (AfD) now the third-largest force in there German parliament – two generations after the demise of the Third Reich, Marine Le Pen's Front National, Geert Wilders Freedom party (PVV), or of course Hungary and Poland where authoritarian populists are running the governments.
Theo Horesh, author of The Holocausts We All Deny describes the atmosphere created in Germany and the prevalent mood of Europe for Europeans as here articulated by the Dalai Lama:
"A mob of 8,000 people, led by hundreds of identified Nazis, recently rampaged through a German town chasing down people with dark skin. And an extreme right wing party with white nationalist roots just won enough seats to become a deal maker in the next Swedish government. But the Dalai Lama nevertheless saw fit to add fuel to fascist fires in a talk in Sweden, where he declared "Europe belongs to Europeans."
At least, that is what white nationalists took away from the talk. The Dalai Lama also noted that Europe was "morally responsible" for helping "a refugee really facing danger against their life," and that Europeans should "receive them, help them, educate them." But he nevertheless stressed that they should ultimately return home and "develop their own country." And it was not the first time he has said such things. A couple of years ago, he noted that "Germany cannot become an Arab country." But Germany is not 30 percent, not 13 percent, not even 3 percent Arab. Rather, its Arab population is 1.3 percent, roughly equivalent to its percentage of Jews – just before Germans killed them off. And yet, the Dalai Lama seemed to be saying that Arabs might dilute Germany's cultural distinctiveness.
Most of the Arabs living in Germany are Syrian, and most seem to fear for their lives if they return home. The Assad regime has targeted people associated with the revolution, and anyone who has fled the country is in danger of being associated with it. It is much the same with Afghans fleeing the Taliban, Somalis fleeing famine, and Eritreans fleeing perhaps the most totalitarian state on Earth.
Refugees are by definition in danger of staying in their home countries, which is precisely why refusing to take them in is so cruel. So, saying Europeans need to protect refugees if they are actually "facing danger against their life" is meaningless if this is precisely what makes them refugees. And saying "Germany cannot be Arab," is senseless if Arabs make up just over one percent of the population.
It echoes the hyperbole of people who would say America cannot become a transgender nation, as if anything of the sort were possible. Hence, it was of little surprise that right wing news sites like Breitbart immediately picked up and used his statement to justify a vision of racial and ethnic purity in stark contrast to the Dalai Lama's own global ethic of compassion."
Tebbit's Telegraph denialism needs called-out. The growth of the far-right, near and far is very real.
As the Intercept's Ryan Gallagher writes: "In Austria, Germany, Poland, the Czech Republic, Slovakia, France, Sweden, Hungary, and the Netherlands, far-right ideas have also surged in popularity."
But the problem is not some foreign problem ("British neo-Nazis are on the rise – and becoming more organised and violent"):
"British police say they have thwarted four far-right terrorist plots in the last year. In a speech in London in late February, the U.K.'s counter-terrorism police chief, Mark Rowley, cautioned that far-right groups were "reaching into our communities through sophisticated propaganda and subversive strategies, creating and exploiting vulnerabilities that can ultimately lead to acts of violence and terrorism." Police were monitoring far-right extremists among a group of some 3,000 "subjects of interest," Rowley said, adding: "The threat is considerable at this time."
The critique of the failings of the British media normally focus on the gutter tabloids, but the rise of clickbait fodder like the Spectator and Spiked! now sit alongside the Telegraph articulating the voice of the unreconstructed far-right.
Some people will think this is all irrelevant. Tebbit is yesterday's man – the Chingford Skinhead of the 80s – and who reads the Telegraph behind its paywall anyway? But this legitimisation of fascism and racism is something which the "respectable" press and broadcast media has a responsibility for. Suzanne Moore writes ("Editors have normalised hate"):
"This didn't happen overnight in a vacuum. We can crow all we like over Katie Hopkins' recent financial troubles, but it doesn't change the environment that allowed her to flourish. I lost track of when she went too far, of when she began freelancing for any far-right cause that would have her. She became the woman in the street, the woman who gets her facts wrong, who hates her own weakness so much that she turns her bile on to the very weakest.
She does not have the smarts of Liddle. I say that without irony. He knows what he does; she is a dumb opportunist. It was OK to call drowning migrants cockroaches. Editors let her do that just as the Spectator enables its "alt-right" bros. The mainstreaming of racist discourse manifests through Ukip, the EDL, the Yaxley-Lennon groupies – but it is made credible by print journalism, by adults saying things for which children would be reprimanded. To discuss the psyches of a Liddle or a Hopkins, who are just begging to be denounced by liberals, is for another day. White supremacy is reaching power in the US and neo-Nazis gather in Europe. We have witnessed full-blown racism becoming respectable as public discourse. Editors have done this."
Tebbit of course has form and isn't some eccentric old-school Tory grandee, he is the remnant of Thatcher's British nationalist project, and the link between the far-right of the 1970s and 80s and the new variant form on the rise in Britain today, violent, racist and in some forms fascist. He was a member of the Monday Club – whose former chair Lord Sudely, went on to become president of the Traditional Britain Group, that has argued for Doreen Lawrence mother of murdered black teenager Stephen Lawrence to be repatriated:
"She, along with millions of others, should be requested to return to their natural homelands."
Jacob Rees-Mogg spoke at a Traditional Britain Group in 2013.
In the same year – in a prelude to the Telegraph piece Norman Tebbit acted as an apologist for the EDL stating:
"The labelling of the EDL as right-wing is just an attempt to associate these thugs with those of us in this country who hold right-wing views. They are certainly authoritarian in nature, but I actually associate them with some of the aspects of communism."
As the American historian Tim Snyder has put it: "Post-truth is pre-fascism".