Trump's Inflation Timebomb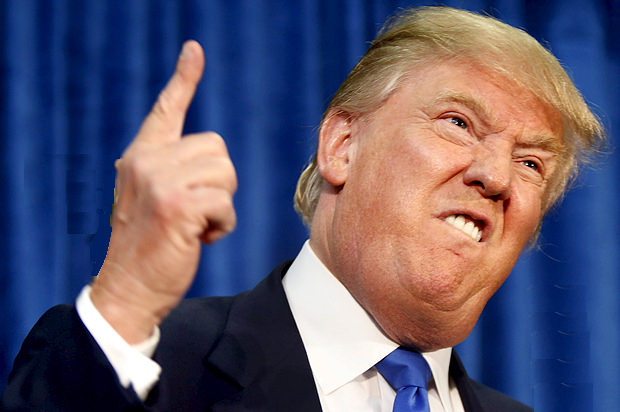 THE week has been dominated by trade wars, Italian insolvency, oil prices and Jeremy Corbyn. Start with trade. The mad Donald Trump ratcheted up his economic war on the rest of the planet by slapping a 10 per cent levy on $200bn worth of Chinese goods entering the US. This is set to rise to 25 per cent by the end of the year. That's on top of the $50bn worth of tariffs on Chinese goods that went into effect in August.
If you impose import tariffs a la Trump, you increase the prices paid by your own consumers. This is inflationary. Typically, central banks respond to inflation by raising interest rates, on the assumption this makes it difficult for companies and consumers to add to the price spiral by borrowing and spending more. But higher interest rates in the US boosts the value of the dollar, because foreigners earn more keeping their cash in American banks. Result: a rising dollar hurts US exports, which is the opposite of what Trump wants. Paradoxically, the Chinese bilateral trade surplus with the US is hitting record highs, which may explain why Beijing has told Trump to take a running jump. Expect the global trade war to intensify.
Terra Pericolosa
Britain's preoccupation with Brexit has diverted attention from the growing economic crisis in Italy. Over the summer, the rocky Italian economy – which never recovered from the 2008 Bank Crash – has teetered on the verge of recession. The new super-populist Lega-Five Star government has responded by proposing to slash taxes and boost public spending. To do so it will have to flout EU fiscal rules and borrow from Italy's almost bankrupt banks. Result: foreign lenders are deserting Italy in droves, forcing a steep increase in borrowing costs this week and further pushing the rotten Italian banking system to the brink of insolvency.
An Italian economic crash – or a possible political showdown with Brussels, which is just as likely – will have serious consequences. Coupled with the new-found strength of the dollar, an Italian fiscal meltdown will spread panic through the Eurozone economy. It could even lead populist Italy to threaten to walk out of the EU. Watch this space.
Oil on Troubled Waters?
North Sea oil prices hit a four-year high this week. Oil futures markets – which gamble on prices months and years ahead – are all pointing to a further escalation. Petroleum supplies are tight globally because of Trump's fresh sanctions on Iran – not to mention John Bolton, Trump's national insecurity advisor, threatening "hell" against Tehran.
Of course, higher oil prices will only add to inflation – which jumped in the UK last week (to the UK government's surprise). Trump's solution has been to denounce Saudi Arabia and Opec for not pumping more petroleum, to offset the expected loss of Iranian supplies. But Saudi and Russia are currently happy to rake the fiscal benefit of firmer prices and say they won't pump extra output (to bring prices down) any time soon.
Where will oil prices go eventually? Nobody can say for sure as everything depends on politics. But big petroleum traders like Mercuria and Trafigura are warning oil could spike to around $100 per barrel.
Hey Jeremy Corbyn
The UK Labour Party has rediscovered socialism – or at least a new version of public ownership. Jeremy Corbyn and Shadow Chancellor sidekick John McDonnell are promising to introduce a reform by which (eventually) 10 per cent of shares in all British companies with more than 250 employees would be owned by their workers. The annual share dividends would be split between the workers (capped at £500 per employee) and the Treasury. On this year's profit figures, according to the Financial Times, that would yield £8.4bn in total, with £5.9bn going to John McDonnell.
I think there's a great deal to be said for democratising company ownership and giving workers a stake in their own business. Indeed, this is a direction the SNP should go in. But the precise terms of the new Labour plan are far from perfect. For starters, simply flushing the bulk of the social dividend into the Treasury's coffers is highly questionable. Why not create a stand-alone Sovereign Wealth Fund – or series of regional funds – to control the shares, in a model similar to Norway's Oil Fund? These could have elected supervisory boards and spend income either on acquiring more shares, or spend income on socially-defined purposes; e.g. pensions. Eventually, democratic ownership of the whole economy would ensue.
Budget Goodies
Word to the wise: Chancellor Hammond has moved this year's UK Budget to a Monday – October 29 to be precise. This way Hammond gets in ahead of the special European Council, set for November 17-18, that will agree (or not) the final Brexit deal with the UK. It also lets Hammond offer some pre-election goodies just in case Mrs May finds herself going to the country.