Running on Empty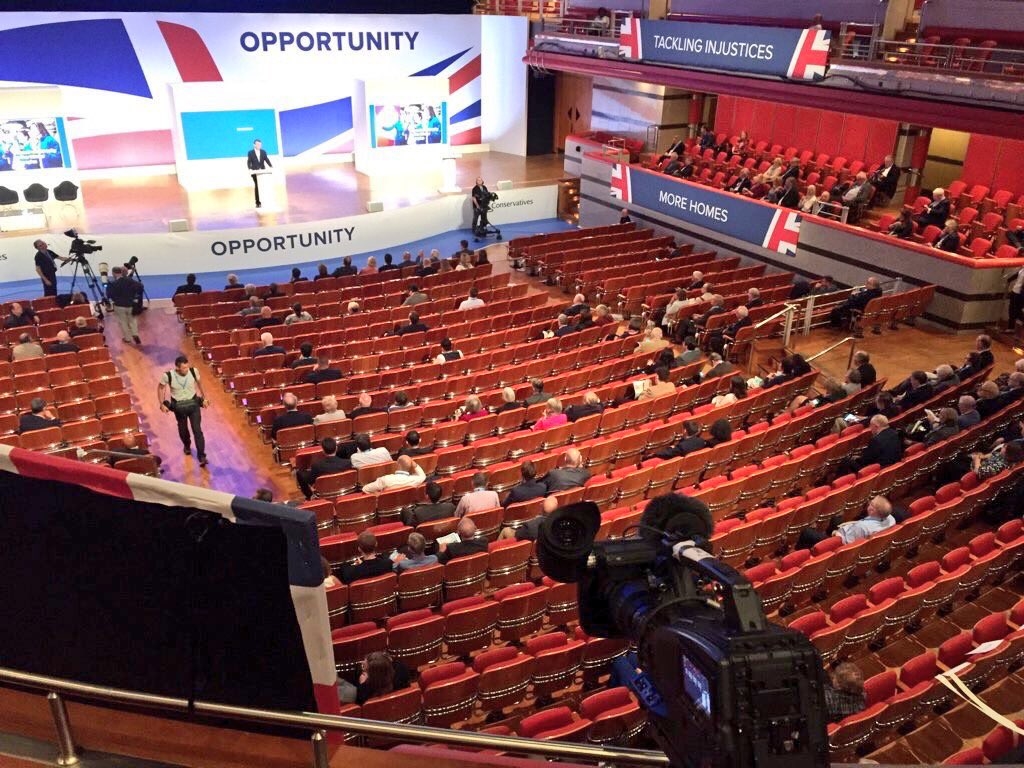 TV hasn't quite caught up with the new media age. The old notion that you could stage-manage party conferences (Peter Mandelson-style) has crumbled under the pixels of smart-phones. As everyone carries a camera the ability for political parties to project power through broadcast media is over, so we see the end-game-players of British Conservatism talking gibberish to the last vestiges of their membership in empty halls.
*
This is what a dying political party looks like but also what a dead politics looks like.
*
What gibberish am I thinking of? As Jeremy Hunt compares Brussels to the gulag, here's six top spots from the Tory Conference, you could call it the Birmingham Six?
It's the DUP versus the Scottish Conservatives. Arlene versus the Colonel. Slugger O Toole reports the story that the DUP's Arlene Foster is moving to support Boris Johnson's bid for leadership and his 'alternative Brexit plan' (which doesn't really exist). The DUP leader pointedly failed to back Theresa may's beleaguered Chequers deal and when asked if she could work with Boris Johnson in Number 10 said: "Our confidence arrangement is with the Conservative Party. It was signed by the two chief whips. It is a party-to-party agreement. Whoever leads the Conservative Party we will work with as it's in the national interest. The reason we signed the agreement was to ensure Brexit."In a line that doesn't need too much work to be de-coded it's reported: "One her biggest disappointments  is the failure of ministers to "talk about the aspirations for the nation".In an over-enthusiastic piece in the Scotsman (accompanied with a gushing video), Paris Gourtsoyannis writes ('Scots Tories plot to keep Boris Johnson out of Downing St'): "Senior Scottish Tories are involved in a plot to keep Boris Johnson out of Downing Street over fears his leadership would destroy the party's revival north of the Border."In a remarkable sentence Gourtsoyannis writes: "Internal party polling and analysis shows victory for Mr Johnson in a leadership contest to succeed Theresa May would boost the Labour Party in Scotland, putting at risk several of the Westminster seats the Tories won in 2017 and making it impossible for Ruth Davidson to become First Minister."
Wait, what? Was Davidson on the verge of becoming First Minister? How so? When did this happen?


*

Saving the Earth. Michael Gove told the Tory conference today that the government will "reverse the destruction" of nature. Sounds great. Unearthed reveal the reality.


*

Blockchain and the Good Friday Agreement. We've had Zeppelins and drones and microchips and now Blockchain will resolve the 'Irish Border problem'. Reuters report Philip Hammond suggesting that a solution to providing frictionless trade across the Irish border after Britain leaves the European Union might be found using technology such as Blockchain:"There is technology becoming available (…) I don't claim to be an expert on it but the most obvious technology is blockchain," Hammond said when asked about how the government could achieve smooth trade after Brexit. Desperate, much? Does your grandchild help you with the video controls?


*

The Anti-Meat People. Daniel Hannan is getting angry. The Mirror reports:"People who want to block chlorine-washed chicken from UK supermarkets are "anti-capitalists" who "don't like meat", according to Hannan."Daniel Hannan blasted criticism of the US food-washing regime – which he wants to be allowed on imports to Britain after Brexit .Using chemicals to disinfect poultry is currently banned under EU rules, but is common in the US."Whilst its true that there is an anti-capitalist analysis of the role of meat consumption, climate change, ethics and the psychological damage of the late-stage capitalist food industry, Mr Hannan wasn't quite grasping that. Instead it was all a left-wing media conspiracy (you know, that left-wing media). The Mirror explains:"MEP Mr Hannan has faced fury for putting forward an "ideal" US-UK free trade deal that would allow the practice – and allow US healthcare giants to run parts of the NHS. Tonight he hit back, claiming "anti-capitalist journalists" and the "leftist press" were scaremongering and companies wouldn't poison their customers anyway because it's a "bad business model".I mean I suppose it is a bad business model, but that's kind of a low bar ethically-speaking isn't it? Isn't he saying here that poisoning people would be okay if it wasn't bad for business? It's not exactly the sunny upland is it?


*

Automatic for the People. Theresa May's former policy chief – George Freeman MP – has called for 850,000 public sector jobs, including half a million in the NHS, to be "automated". The Taxpayers Alliance chief Andrew Allum explained how it would be a "win" for the sacked workers as they'll be freed from doing "mundane jobs". UK Business Insider has the story here.It's confirmation of the privatisation strategy planned by the Brexiteers, rolled-up in some barely understood techno-gibberish regurgitated to nodding heads fresh from the beige buffet.There's a thread of techno-madness running though this years Tory conference. Is it Nathan Barley SPADS propping up void politics from ministers completely out of their depth?


*

Speaking to Fishermen. The astonishing lies and evasion from Ruth Davidson, as exposed by the excellent Colin Mackay from STV:
'Have you heard anything positive about Brexit for Scotland?'

Watch @STVColin interview @RuthDavidsonMSP at Tory party conference in Birmingham. pic.twitter.com/vyVbAQ5wO6

— Dan Vevers (@DanVevers) October 1, 2018
As Mike Russell explained slowly: "She is either shockingly ignorant or wilfully misleading : We are already members of the world's biggest free trade block & are in Free Trade relationships with over 50 other countries. There are no markets we can't access at present & no barriers to increasing trade."
But just remember folks, if the Scottish Tories can stop Boris Johnson becoming PM then Ruth will be our new First Minister!
I don't claim to be an expert on it but this is pure gibberish.