Catalan Devil's Advocate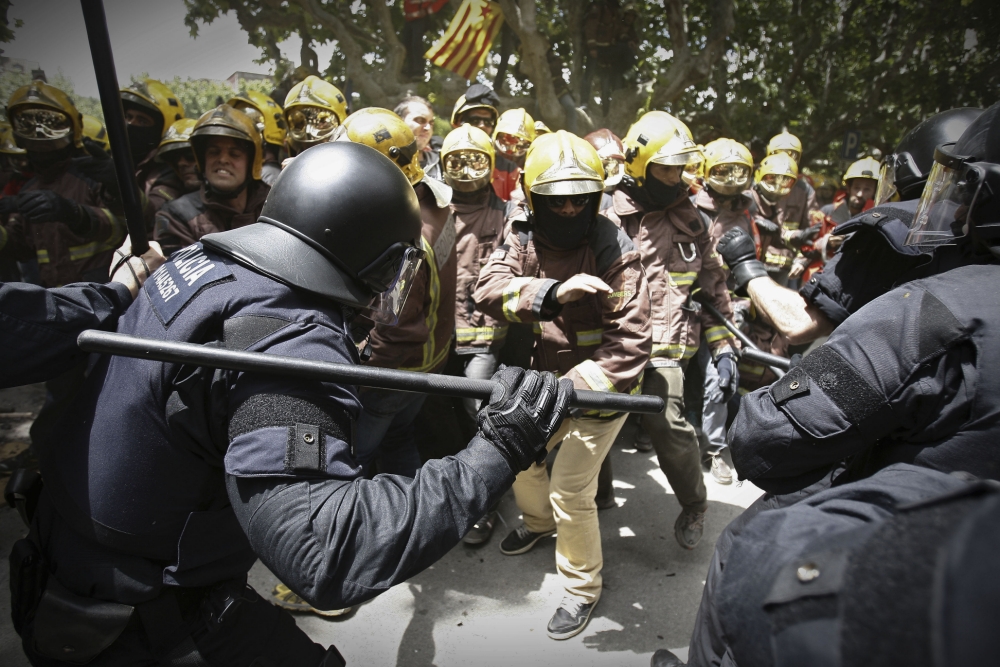 Coinciding with the first anniversary of last year's Catalan independence referendum, Aunty BBC has provided a handy guide to what they think might befall economically in Catalonia should the "separatists" (a recurrent BBC term) win independence. The Beeb admits that Catalonia has a strong economy the size of Denmark's, a stomping growth rate of 3.4 per cent last year (when their referendum took place) and provides a quarter of all Spain's foreign exports. But predictably, the BBC neglects to tell us Catalonia is a net contributor to the Spanish exchequer and has been used as a milch cow by Madrid's perennially corrupt administrations – a factor underpinning the demand for Catalan independence.
Equally predictably, the BBC piece is at pains to explain that Catalan independence will "destroy" its economy. To prove this ridiculous contention, the Beeb calls on devil's advocate Angel Tavalera, a Spanish economist working for Oxford Economics Ltd., a big UK independent forecasting consultancy. Mr Tavalera has form. A self-confessed opponent of Catalan independence, he pops up a lot in the UK and US media to denigrate Catalan demands for self-determination.
First, says Tavalera, an independent Catalonia would crash out of the EU and go back to trading on WTO rules with the rest of Europe and Spain – its two biggest trading partners. Where have we heard this before? He also claims that foreign investment into Catalonia would collapse. Ominously, Tavalera predicts: "With the central government providing a lot of liquidity to the region, Madrid could also shut down Catalonia's credit line."
We should take this doom-laden scenario with oodles of salt. For starters, most of Spain's European exports go via Barcelona docks or by road and rail through Catalonia to France. If an angry Spain wants to punish democratic Catalonia by vetoing its membership of the EU, it will be cutting off its own economic lifelines. Second, Spain is knee-deep in international debt.
Cutting off financial liquidity to Catalonia would provoke the Catalans into repudiating any responsibility for Madrid's debts to Germany. Spanish interest rates would skyrocket, plunging Spain itself into deep recession. As for Catalonia losing foreign investment, FDI actually increased last year despite the political uncertainties caused by Madrid's refusal to agree a legal referendum.
WHO ARE OXFORD ECONOMICS?
Angel Tavalera is one of several hundred economists and statisticians working for Oxford Economics, a highly profitable but shadowy international think tank which advises some 850 companies worldwide including Airbus, AT&T, BAE Systems, Deloitte, GE, Rolls-Royce and UPS. The consultancy was founded in 1981 as a way of commercialising the economics and business expertise of – you guessed – Oxford University. The company's founders and core staff are straight out of the blinkered and self-serving Oxbridge, Whitehall and City establishment. Founder and chair John Walker is ex-Treasury.
Note: Oxford Economics is as useless as most other commercial forecasting consultancies when it comes to predicting, say, the 2008 Bank Crash. The company claims to have the world's only comprehensive global economic model – which generates much of the firm's profits. But like most income-expenditure models, this methodology ignores the impact of financial speculation and the fact that financial sector turnover is now many times larger than the total gross domestic product of the major industrial economies.
OXFORD VERSUS SCOTLAND
Those with elephantine memories (like your correspondent) remember that Oxford Economics was a key player in denigrating the case for Scottish independence back in 2014. The Oxford crew were hired by the notoriously anti-independence Weir Group to "investigate" indy economics. Surprise, surprise, the Oxford economists' 80-page report found that independence would lead to higher taxes, increased borrowing costs, higher costs and greater uncertainty.
By the way, the report was published not long after Weir Group was fined £3m and ordered to repay £13.9m for illegally bribing friends of Saddam Hussein, to secure contracts under the infamous UN oil-for-food programme. This is the heaviest fine in Scottish corporate history. Yet Weir Group management could still find company cash to hire Oxford Economics to produce its tendentious IndyRef report.
Not that Oxford Economics needs a paying client in order to put the boot into Scottish self-determination. Last year another Oxford Economics super brain – Andrew Goodwin, the firm's head UK forecaster – published a briefing note claiming Scottish independence lacked popular support – and that there were few signs of this ever changing. As an example of Oxford Economics predictive powers, this is a Lulu. The latest polls now show a clear majority for independence if the UK exits the EU. Goodwin also claimed the economic arguments against indy remained strong. Yet the shift in popular support towards independence is being driven by the threat of economic chaos arising from a hard Brexit!
Word to the wise: the executive director of Oxford Economics Ltd., Charles Burton, sits on the Scottish Government's Economic Consultants Advisory Group.