The Sclerosis of Scottish Political Culture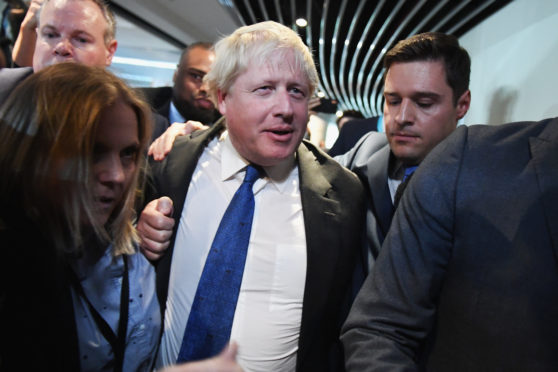 Scottish politics, like British politics, is going through a process of turmoil, renewal and disintegration. The internecine battles of the parties at Westminster where radical party memberships are motivated to going to war with parts of their own parties far more than their supposed opposition, is mirrored at Holyrood.
This week saw the Scottish Conservative Party convulsed in its own war between Arse and Arseholes – a battle that many have considered an apt meta-analysis of the Tories for the past fifty years, but they only now seem to have accepted. Aberdeen South MP Ross Thomson was seen acting as bodyguard to Boris Johnson, clinging to him at the Birmingham conference. Conceived as an act of bravery it came across instead as desperate bromance, and broke the golden rule of Scottish Conservatives: distant yourselves from the Mothership when at all possible.
Thomson, we're told by The Economist, told a rally of Brexiteers that "he couldn't look at one of the ubiquitous "opportunity" signs without wanting to add a few modifiers, such as "missed", "lost", "wasted" and squandered". They roared with approval." He is a rising star in a far-off constellation, Tory Minor, high in the southern sky.
Amongst the comrades things were little better. The aftermath of Kezia Dugdales sudden departure had catapulted the little-known Richard Leonard from obscurity and his reign has been marked by rich rhetoric but ineffective and badly researched interventions. With none of the Momentum of Red England, Leonard's throwing Dugdale under the bus to meet her own legal costs was a strange move, but the mishandling of the "re-shuffle" made the ruptures within the Tory party look like handbags at dawn.
In a week when the role of men in power had become a political focus across the globe, as Trump's dystopian nightmare took legal form, the Labour leader chose to sack two of his frontbench colleagues in Anas Sarwar, the party's health spokesman, and Jackie Baillie, who held the economy brief and replace them with a man still embroiled in allegations of sexual harassment. Leonard took on the economy responsibility himself and handed the health portfolio to Alex Rowley, who had resigned as Deputy Leader only last November and was suspended from the party after Labour bosses launched a probe into allegations he harassed and stalked a former partner.
The woman who said Rowley had sent her abusive messages walked away from the complaints process as she was fearful that Labour were going to share her personal details with the Fife MSP. Labour abandoned their inquiry into the complaint, and lifted the MSP's suspension. In this light, in this week, the best that Leonard could muster as a rational for the action was the spectacularly low-bar:
"Alex is back because he's somebody who's got an extremely high reputation amongst people in local government."
This public declaration that having a high reputation in COSLA trumps unprocessed allegations of sexual harassment only exposes the weird and wonderful bubble of Scottish Labour. It is, as Alex Massie points out : "a Party that's hardly overburdened with top-class operators cannot really afford to defenestrate members who, as a general rule, can be trusted to appear on television without beclowning themselves."
The appointment prompted a response from Labour councillor Eva Murray who said: "In a time of #MeToo & more timely the Kavanaugh confirmation, we are absolutely sending the wrong message. Rowley should not have been allowed back into the Shadow Cabinet. #BelieveVictims".
The crisis reveals questions not just about the Scottish leaders political acumen but also the internal processes of the party, which seems to be incapable of investigating allegations of serious racism against Humz Yousaf when Jim Dempster, a Labour member of Dumfries and Galloway council, who told transport officials at a meeting month and months ago that "no one would have seen [Yousaf] under his burqa".
The departure of Sarwar leaves the party with no members of any ethnic minority communities in the party's top team in Scotland and the Yousaf and Rowley scandals are not the only internal disputes the party has failed to deal with.
Sarwar himself has claimed that racist comments were made about him by the leader of Scottish Labour's South Lanarkshire council group, Davie McLachlan, who has also been suspended from the party pending an investigation but still denies the allegation.
In February, one of the party's Westminster MPs, Hugh Gaffney, apologised after making "deeply offensive and unacceptable" remarks about the LGBT community and Chinese people at a Burns supper in Edinburgh. Gaffney was reprimanded by the party and said he would undergo equality and diversity training.
"Equality and diversity training" is fast-becoming a sort of euphemism in Scottish politics for brushing difficult matters (aka rampant and deep-held racism) under the carpet.
Scottish Labour is a mixture of three discernible tribes: the ancient fortressed west of Scotland bastions, mired in casual Orangeism and immune to the 21 century; pockets of faux-radicalism swept forward unconvincingly by trickles of Corbynite energy seeping north; and party functionaries reared on Blairite centrism and efficiency but lacking guile or political clout (think Alexanders Wendy and Douglas). Of course a Venn Diagram would show an interplay between these grouplets but the friction between them isn't so much a clash of ideas as a tinkling of fragile egos. This is a sclerotic party lacking dynamism or fresh thinking and seemingly impervious to the energies of the left in social movements across Scotland.
If the Tories and Labour in Scotland face internal crisis and difficulties interacting with their southern colleagues, the SNP is also facing real difficulties.
A Panelbase Poll out today shows a seat prediction which leaves them short of a Holyrood Parliamentary majority by ten; and an indy majority short by four:
SNP 55 (-8)
Con 34 (+3)
Lab 26 (+2)
Lib Dem 8 (+3)
Green 6 (=)
[change since 2016 election]
That is, on one hand, an impressive resilience for a party in power for over a decade, yet it does present challenges. Will the Conservatives really gain three seats as the country goes throw the Brexit trauma? Can a Lib Dem party that seems increasingly marginal to life really gain three seats? Can the SNP navigate through the Brexit quagmire and make a renewed case for independent as a solution to the multi-faceted crisis of British politics and English identity?
Possibly. A Survation poll commissioned for the SNP has: If UK has No Deal #Brexit support for indy: Yes 52% No 48%.
While constitutional upheaval remains a goal in sight, the culture of Scottish politics seems still mired in outdated attitudes, casual racism, bigotry and endemic sexism. Parties and movements need to transcend these ugly remnants to deliver deep change beyond flags and slogans.