Who's Making this Possible?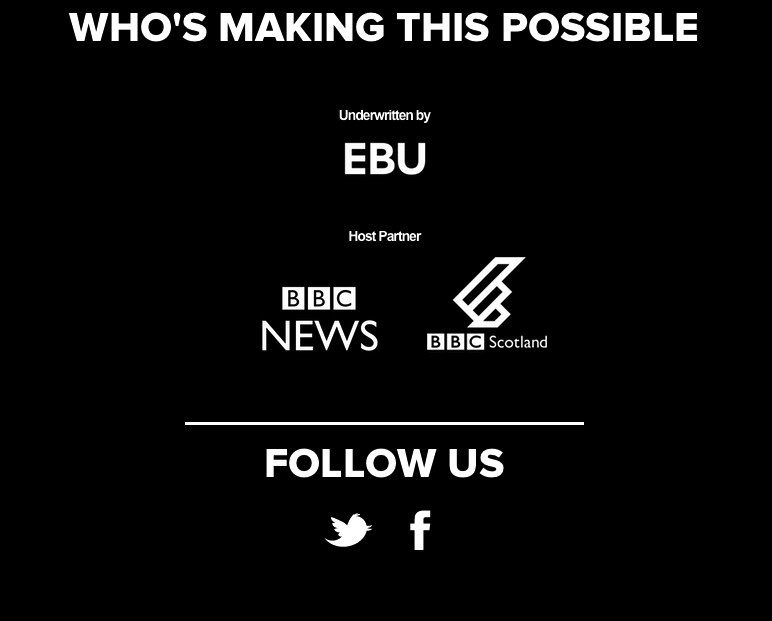 The First Minister Nicola Sturgeon was quite right to pull out of the News XChange event next month and quite right to accuse the organisers of the risk of  "legitimising or normalising far-right, racist views".
She was critical of the BBC for an attempt to justify Bannon's inclusion at the three-day News Xchange event in Edinburgh on 13 November in an email sent to her office. She added: "The email the BBC sent to my office justifying Bannon's inclusion described him as a 'powerful and influential figure … promoting an anti-elite movement'. This kind of language to describe views that many would describe as fascist does seem to me to run the risk of normalisation."
A statement from News XChange said: "News Xchange is a journalism conference which seeks to explore the main industry trends and challenges delegates to understand the wider political and social context. Steve Bannon is a key influencer in the rise of populism – one of the dominant political trends of our times. He has been invited to speak at News Xchange this year because his views are relevant to today's society at large and therefore to the media industry. We also consider it our journalistic responsibility to share and scrutinise a range of relevant viewpoints within the framework of a balanced debate. He will be interviewed about his views by a BBC journalist, followed by an open Q&A with delegates."
The BBC told us: 'News Xchange is an annual EBU journalism conference which the BBC and other broadcasters support to make happen.  Steve Bannon was invited on behalf of the EBU's News Xchange committee.   Good journalism in a world of fake news and disinformation is more vital that ever.  Journalism is about asking tough questions and understanding what is happening in the world and why. A conference designed to analyse the big issues impacting that world isn't an endorsement of anyone or anything – it is a function of what journalism is."
But the News XChange and the BBC's explanations don't make any sense.
The problem is that Bannon doesn't fit the rest of the programme.
We see speakers from Reuters, ITV, Instagram, CNN, CBS, Channel 4, the New York Times, RTVE, Sky, the Huffington Post and more.
But Bannon isn't known primarily as a journalist he's known primarily as a fascist.
His influence isn't over in America nor is it contained within it.
The website Eyes on Latin America tells us about the pending elections:
"The rise of Bolsonaro is part of an international trend which is supported, directed and advised by a professional movement that is promoting the growth of the far right across the world – particularly in the US and Europe. One of the key leaders of this movement, and the most prominent, is Steve Bannon, the former chief strategist to the US President Donald Trump.
In August Bolsonaro's son, Eduardo, announced Steve Bannon would be an adviser of Bolsonaro's Presidential campaign having made himself "available to help." In outlining what that help would involve Eduardo said that "the support will come in the form of giving internet tips, analysis, interpreting data, that type of stuff."
That Bolsonaro secured 46% of the vote on Sunday 7 October was a result few anticipated. On the eve of the election Brazil's two leading opinion polling companies predicted that Bolsonaro would lead the first round with 36% of the vote – a prediction which was shocking in itself given that only a month earlier he was polling around 24%.
Brian Mier, co-editor of the website 'Brasil Wire' believes support for Bolsonaro surged in the last few weeks of the campaign as a result of a sophisticated social media campaign which, under the guidance of Steve Bannon, bombarded the electorate with fake news, lies and slander."
The BBC and News XChange has no reason to give Steve Bannon a platform.
For those of you with any doubts about the state of the far right Brazilian candidate, the language he is using is chilling and violent.
On Sunday Bolsonaro gave a confrontational video address to supporters, the pro-torture former paratrooper pledged to use the presidency to launch a frontal assault on his "red" political rivals.
"Either they go overseas, or they go to jail," Bolsonaro told thousands of cheering supporters who had packed Avenida Paulista, one of São Paulo's main arteries, for one of his final campaign acts.
"These red outlaws will be banished from our homeland. It will be a cleanup the likes of which has never been seen in Brazilian history," Bolsonaro declared in his 10-minute address by videolink from his home in Rio de Janeiro."
Who's Making All this Possible?
This is an appalling decision by BBC News and BBC Scotland. They must and will be held accountable for this.
Populism is a dangerous euphemism.
The rhetoric from the BBC and News Xchange is tough-talking but deeply confused.
The BBC says: "A conference designed to analyse the big issues impacting that world isn't an endorsement of anyone or anything – it is a function of what journalism is."
In fact by giving Bannon this profile, this platform and this opportunity they are both endorsing and normalising his abhorrent worldview.
The idea that you can confront fake news and disinformation by inviting its chief architect to be your keynote speaker is so laughably bad there is nothing more that can be said.
Tony Hall, who is speaking or Donalda MacKinnon must be held to account for this appalling decision.