Misdirection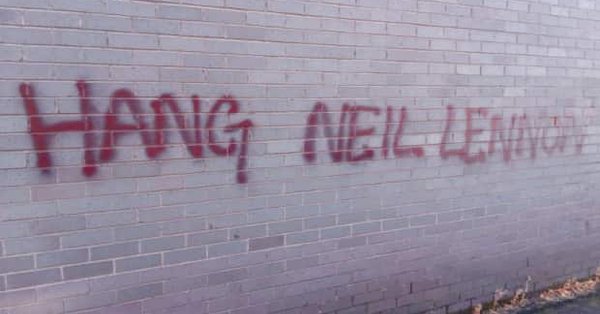 The week has been filled with recriminations and hand-wringing after the violent pantomime that was the Edinburgh derby. Once again there was trouble at Tynecastle, once again Neil Lennon was attacked, once again 'commentators' (including Gary Caldwell live on BBC Radio Scotland) repeated the idea that he was "bringing it on himself" and former police inspector Les Gray on Scotland Tonight who said Neil Lennon must take responsibility and that he "could have caused a riot". STV and the BBC have to ask themselves some serious questions. Who are the producers on these shows? Can we imagine a similar hate crime being witnessed 'live' then paid commentators declaring that the victim was responsible?
The debacle – along with the sight of a Hearts fan lobbying a bottle towards Celtic fans that was widely shared on social media – put paid to the rumblings that alcohol would be introduced to Scottish grounds.
The fixture – which has been full of class and energy on a number of occasions in recent years, was more blood and snotters with little in the way of actual football on display. But the issue of crowd control and violence in Scottish football is in danger of breaking out from mundane messy chaos to actually putting people at risk. At this stage the fact that neither the SPFL or the SFA are fit to run the game becomes more than a fans debating point and an issue for political intervention.
There is no point in clamping down on individual fans, though of course they should be prosecuted, because there will always be a queue of replacement idiots not far behind them.
All of this could be fixed with Strict Liability which would result in clubs being deducted points for incidents at their own grounds. A consultation was held for just such a programme in 2016. Modelled on UEFA rules in which eighteen sanctions for clubs are detailed, including warnings, fines, annulment of the result of a match, ordering that a match be replayed, the closure of sections of grounds, playing matches behind closed doors and the docking of points.
A restricted version of this was introduced in England in 2014.
Dr Rosmarijn van Kleef, a sports strategy consultant who has written a PhD thesis on strict liability in football commented:
"Scotland still has to catch up with the rest of Europe, where strict liability of football clubs is widely accepted and applied by both national and international football governing bodies … The rationale for this type of liability is that, in the absence of a direct legal relationship with supporters, sanctioning the clubs is the only means for governing bodies to try to prevent disturbances … Most importantly, liability without fault is accepted in the case of an overriding public interest such as the fight against violence at football."
Clubs won't vote for this, it needs to be imposed.
But amongst all this churning outrage and stupidity another big issue passed us by.
The Rangers FC announced a huge loss of £14.3 million in their latest annual accounts, despite increases in both turnover and season ticket sales.
Rangers' loss is more than double the £6.7 million they posted for the previous year, while operating expenses increased by almost £8 million to £38.9 million. Turnover increased by more than £3 million to £32.6 million.
As one fan put it this is a club who were paying Kevin Kyle £100,000 in the bottom division of Scottish football whilst paying their manager three times then President Obama's salary. Effectively they've now lost £53.9m to get in a position where they are eight points behind Hearts and level with Hibs.
No-one bats an eye any more. Once again a major football institution is in a perilous condition and the governing bodies have no oversight or care in the world. The club seems to be continuing their boycott of the BBC, which is also, apparently just fine, so you have the bizarre performance of Chick Young hanging out to overhear another broadcasters media conference and then relay it to the listeners or viewers on the BBC.
If Rangers collapse again the criminal negligence won't just be with them, it will be with the complete failure of the governing bodies that now stretches way back in time and across such a wide remit of total incompetence it is unparalleled.
Amongst this collective failure it seems likely that the only thing that will initiate real change is a death at a game or the collapse of another football club.
This is our national game – which we support in unprecedented numbers – but it is mired in low-level violence and financial mismanagement that has become completely normalised because of media failure, a complete lack of aspiration and the cosy incompetence of learned failure and managed decline.