Fascism is not an Idea to be Debated, It's a set of Actions to be Fought
"Fascism is not an Idea to be Debated, It's a set of Actions to be Fought" (Aleksandar Hemon)  
This is why Nicola Sturgeon was absolutely right not to debate Bannon, and why the BBC is absolutely wrong to interview/ debate with Banks. 
As Joe Anderson, Mayor of Liverpool, said in asking Liverpudlians to come out on the streets to successfully and peacefully see off the facists this week: "Free speech comes with a responsibility not to espouse hate."
*
"I failed to see what was coming, even though everything I needed to know was there, before my very eyes".  Aleksandar Hemon, writing of the run up to Serbian genocide, continues:
"Only those [who think they are] safe from fascism and its practices are likely to think that there might be a benefit in exchanging ideas with fascists.
"Fascism's central idea is that there are classes of human beings who deserve diminishment and destruction because they're for some reason (genetic, cultural, whatever) inherently inferior to "us."
"The essential quality of fascism (and its attendant racism) is that it kills people and destroys their lives—and it does so because it openly aims to do so."
*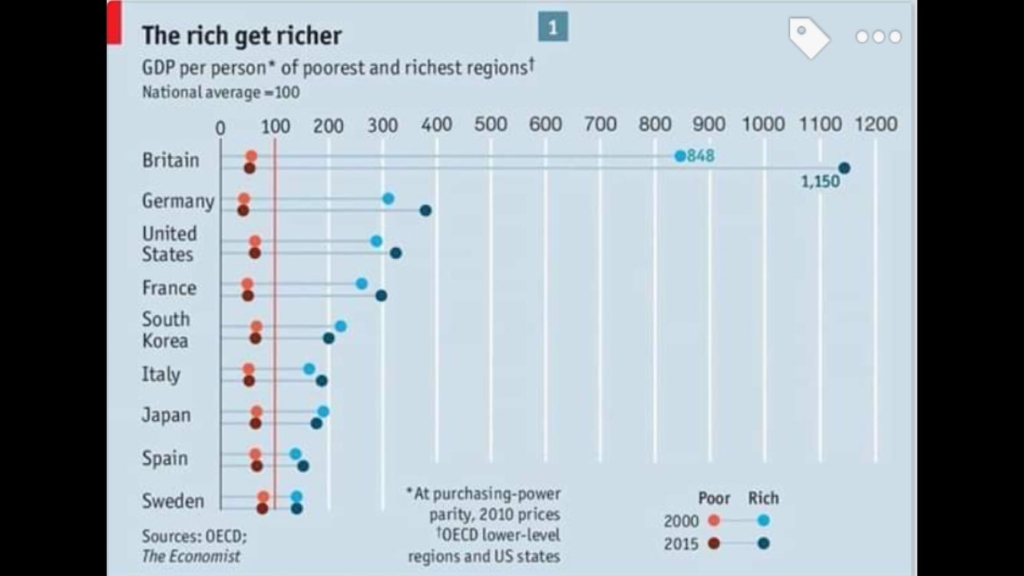 Inequality is the force behind Brexit, both because those being kicked in the teeth used it to try to kick back, and because those kicking the poor bought the process and through it seek to legitimise adding steel toe caps to their fascist boots.
Fascism – institutionalising and sanctioning hatred towards (and ultimately the destruction of) those considered 'other'. And any who stand in the way of fascism – by chance or intention – are labelled 'other', and blamed for all its ills, distracting us from its reality.
Facebook and Google have a huge role in enabling (profiting from, and so not opposing) this process. FB's WhatsApp has just done the same in Brazil.
But there is an other way. The 2014 ScotIndy Referendum showed that.
It has to be based in the real world (though multiplied online if possible) with public action, face to real face meetings, door to door building solidarity with the poor.
If the 99% refuse to 'other' each other, refuse to break into sharp fragments of mutual self-hatred, then we are far more powerful than the 1%.
The 1% buy the political process to impoverish politics and steal society from under our noses.
We need joined up action where opposing Brexit isn't a defence of a pre-2016 status quo where some were doing ok while others suffered badly. It needs to connect with insisting on any part regaining democracy (members regaining control of Labour, Scotland an independence that can enable solidarity, standing up to fracking, insisting oil has to stay in the ground, #MeToo, etc.)
Any victory for democracy strengthens us all. It's not one or the other. It's each of us doing the task in front of us now, and voicing support for others doing other tasks elsewhere. Let them know we're with them. Let them know what you're doing.
Be utterly cynical about power conceding anything.
Utterly believe we can do this, because that belief (driving these actions) is all that we have, and all that we need.
Don't believe the story they tell us that we basically evolved through competition and survival of the fittest. How neatly that story is used to justify/ naturalise their power and our supposed powerlessness. Nature includes that but is far more diverse than that, and – deeper than anything – mutual care is fundamental to the human story. 
Without it we wouldn't be here.
With it we may yet survive. In trying to we can live while we breathe, live open to each other not closed off to ourselves, whatever the outcome.
In remaining inactive, clinging to the illusion someone else will save us from ourselves, we throw our lot in with those who've proven incapable of seeing the damage their power has done to themselves and so continue to wreck that damage on others. As if kicking someone else when they're down might hide the (smothered in riches) sound of their own loneliness screaming for love. 
It is not selfish to insist that others also love, and to refuse to accept their pathetic profiteering substitute for love: 
Hatred, the addictive heroin that has the 1% hooked, and which they dole out, laced with a corrosive cynicism about humanity, swallowed through bitter experience. An experience that is wrapped in cotton wool compared to the steel toe caps they are pulling on the better to silence others. 
There is a better way. And it comes in many guises.