Women of Independence: the Unexpected Legacy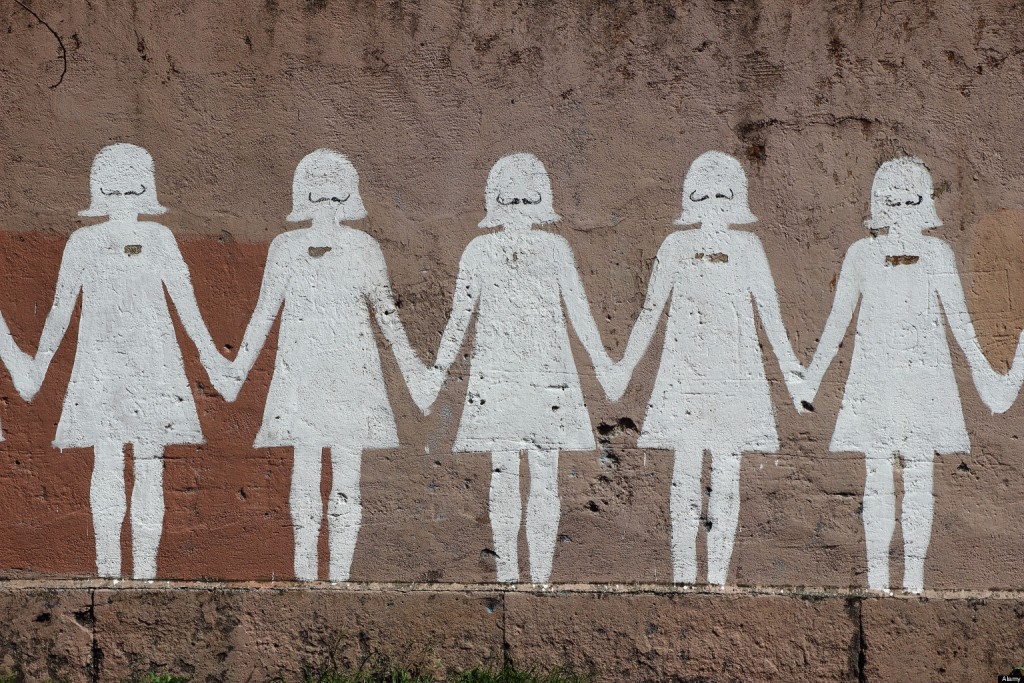 "She was one of the main youth people… she comes across as a real slut online though."
I came across the pictures of another Yesser when someone sent me a link to a message board. On it, men were sharing photos of her photoshopped with sexually explicit writing scrawled across her body. Someone had even photoshopped semen onto her face. In the same thread others asked for naked pictures of another Yes commentator and of me. I was horrified, but not surprised. The independence movement brought out the worst in some of our opponents.
I wish I could say this was an isolated incident. One example of a few bad eggs with a political axe to grind lashing out with the worst kind of practiced misogyny. While it's an extreme example, for sure, it's not isolated.
In the four years since the Indyref, being a woman in the public eye has been anything but a cakewalk. What has been most disheartening is how often abuse has come from those within our own cohort.
Jennifer Jones. Rhiannon Spear. Cat Boyd. Angela Haggerty. Tanja Bueltmann. I could go on naming women with a degree of prominence within the Scottish independence movement. All women who have paid the price for their involvement in it and daring to have an opinion that is unpalatable to some. All women who have experienced firsthand the impact of the self-appointed policing forces of that movement. This list is not exhaustive. They are women who have been singled out for punishment by members for stepping out of line.
Some were hounded offline. Some were doxxed. Some received racist, sectarian abuse. Some were bullied by media figures with a following so large that it was tantamount to unleashing the dogs. All have been harassed and intimidated by members of the movement they all identify with. The abuse has as times been unrelenting and unremittingly cruel. 'Mob justice' is a phrase that springs to mind. Get a thicker skin, they say. It's just the internet.
Except it's not. Not when it's in your hand. Not when your phone is in your pocket and it won't stop buzzing and you know the carnage that awaits when you have the nerve to unlock it. The abuse has all the hallmarks you would expect. Everything from the lazy gendered put down of the 'stupid wee lassie' variety – never mind that the targets are often highly educated, professionally successful grown women – to the gut-punch of discovering your parents' address has been published online. The impact on woman's psyche, on her health, on her personal life, her professional life, and her political participation are profound. They can't even take a break from it without being accused of being snowflakes, flouncers, or from my own experience, a 'professional victim'.
There is a pervasive belief that everyone should be free to hold their own opinions, and in theory should be free to engage with others with civility. It's a belief that harks back to some imaginary time of intellectual gluttony and nascent free speech, where individuals could hold their beliefs, participate in gentle and well-meaning dialectic, and be richer for it. This idea belies the reality of online discourse. As Mary Beard noted in her book Women and Power, Western civilisation has previous here. It has thousands of years of practice when it comes to shutting women's voices out of the discussion. The internet is just the latest iteration of an age-old practice. The same old power-dynamics that work to suppress women's voices have their own apps.
It is to be expected that conflict between members of opposing groups will exist. When this intersects with one party's womanhood, this conflict manifests itself in a particularly brutal fashion. What the Internet showing us, however, is that conflict within the group can yield similarly horrific forms of abuse. The motivations are different, the results are the same. Independence is the ideology, social media is the means of policing that ideology. Whether that policing is enacted by members of the different group or members who identify within the group doesn't matter a great deal. When women say something that isn't sanctioned by the loudest and most carrying voices within said group, women lose out. Online women are not given any latitude to deviate from the script. They are expected to know the script intimately and to conform to all aspects of it. If they do not, there is retribution. They are given no warning before they have public denigration and swift excommunication.
So what is happening here? Has our movement soured? I don't think so. I think the divisions run deep. Without a common urgent cause to rally around, the differences that have always been present within the group have become more conspicuous. It's natural to find points of connection and minimise points of difference when there is a clearly defined goal, and all hands are required to achieve it. Unity emerges because it is the quickest and most efficient route to victory. The lifespan of such camaraderie is timebound. It cannot be kept up forever. What we see now in the aftermath, in the absence of an important political goal and a return to normality, is pre-existing difference. It has the space to emerge because the stakes are lower. As temporary egalitarianism subsides, we see the same stale power structures that have existed and continue to exist.
I look back in my experience four years ago, a young woman made alive by political cause and new-found community. What I see now in my disillusionment isn't cynicism, but the glaring naivety of that woman. Through the rigours of the independence campaign, the highs and lows, we bonded. The constant need to be on well-versed in our politics and unrelenting in our action while Better Together tried to fragment us and destroy our arguments, brought us close. I was convinced that I had found my tribe. These people and I would always have some connection because of what we had been through together, because of where our beliefs overlapped. I never anticipated the day with independence movement was not just synonymous with an enfranchising of the people and incredible grassroots action, but also with intolerance and harassment.
These are words that I do not use lightly. I know the potential price of besmirching something sacred to the masses. Though the internet, in theory, works as a democratising force – allowing everyone almost equal access to information regardless of gender, class, race, ability, or sexual orientation – this presents a problem for movements. As sociologist Keith Kahn-Harris explained in a recent talk, intra-group tension or conflict is aired publicly thanks to social media , and as a result, can be utilised to denigrate and discredit the group as a whole. Our infighting is a precipitous Christmas for those with opposing views and ulterior motives.
Calling out problematic factions within the group can create a weak point that can be exploited to the group's detriment. However, this is not the best reason to stay quiet. On balance, there are times when a movement has to take stock and ask if the current place in which we find ourselves was our intended destination, and if not why and how did we end up here? If this isn't where we wanted to end up, why have gone so drastically off-piste? Pausing to reflect and ask these questions about what became of a movement we loved is not intended to bring it down. I write this out of love, out of a hope that reflection gives us an opportunity to course-correct.
We have a problem within the Scottish Independence movement. It is a problem with bullying and harassment. This is not a problem peculiar to our movement, but neither is it one that we've been able to escape because we are exceptional in some way. If anything, this behaviour shows how similar we are to everyone else. Our group, if I can call it that given four years of increasing fragmentation, has succumbed to social media flu. The same disease that courses through other movements in thriving in our own. Online, a spectrum of harassment, including but not limited to persistent dismissal, doxxing, reputation attacks, false profiles, slut-shaming and revenge porn has become a lingua franca for those who want to shut women up. However low-level, the effects are cumulative. They work to push women's voices out of public discourse.
I am not saying 'be nice to women, unwaveringly, at all costs or else'. What I am saying is that these phenomena present within our own movement is an existential threat and we have to challenge it. I'm not asking that you go soft on the girls, but instead, offer a canary in this rapidly filling mine. The movement risks losing the memory, experience, knowledge, and value of women who have been in it for the long haul but are too exhausted by the price they have to pay to continue. A movement that remains hostile to women is a movement that has no future. That is in no one's interest.