Extinction Rebellion – Scotland Launch
Systems Collapse
Extinction Rebellion (XR) is an acknowledgement that our system has failed, catastrophically. It has delivered us a society where poverty has been institutionalised and the poor are punished, where our health and education systems are being shredded by neo-liberalism, where the media has been captured by oligarchs and where the conditions for our and other species' continued existence on this planet are seriously under question.
It doesn't have to be like this.
This moment:
This XR movement is unique, as are all movements that catch the moment.
When movements catch the moment they build on waves that have gone before, connect those that are arising, absorb those that are subsiding, and bring a rare forcefulness of imagination, commitment, intelligence and passion to bear. Shaking people up to remember that now is all we have. The future is made now. Recent and ongoing examples include:
– the long lead up to 2014 referendum where so many causes and communities united in care for making a better world,
– the anti-Trident campaign, with peace camps, peace walks, marches and blockades,
– the 350.org campaign that fed into the Bernie Sanders campaign, and interweaves with People and Planet, Stop Climate Chaos, and now Extinction Rebellion.
XR write:
"On Rebellion Day we took the bridges. Next we will take the streets. We are calling for a meeting with the government and will use non-violent civil disobedience to make our voices heard. It is time to defend life on this planet. Extinction Rebellion will achieve its demands if we cause economic disruption which brings the authorities to the negotiating table. Protest marches and rallies will not create the rapid political change now needed to deal with the ecological emergency."
The future isn't ahead of us, coming towards us, already made but not yet known.
The future arises from what we do – or don't do – now. It's shape is present in our action – and non-action – now.
Why bother?
A policeman at the Waterloo Bridge blockade on Saturday spoke for resignation:
– "We're going to die anyway"
– "The earth will carry on"
– "It's too late"
By blockading the 5 London bridges for 5 hours we were saying:
– "Of course a child will become old and die, but you don't for that reason refuse to rescue her from drowning"
– "Of course this planet rock will continue, but the deep interconnected brilliance of life is what we are seeking to save from drowning"
– "Of course it may be too late – who knows? – but it's a question of whether we try to save that child, try to stop the pain being inflicted on millions right now by the system driving climate chaos, and so help them now and help save our humanity in the process"
Who knows whether this wave will rise to the challenge, or rise and fall and be learnt from, to be subsumed in another wave that follows, but right now we need to help stop those forces driving social and ecological meltdown, help stop those individuals benefiting (so temporarily) from exploiting people and planet.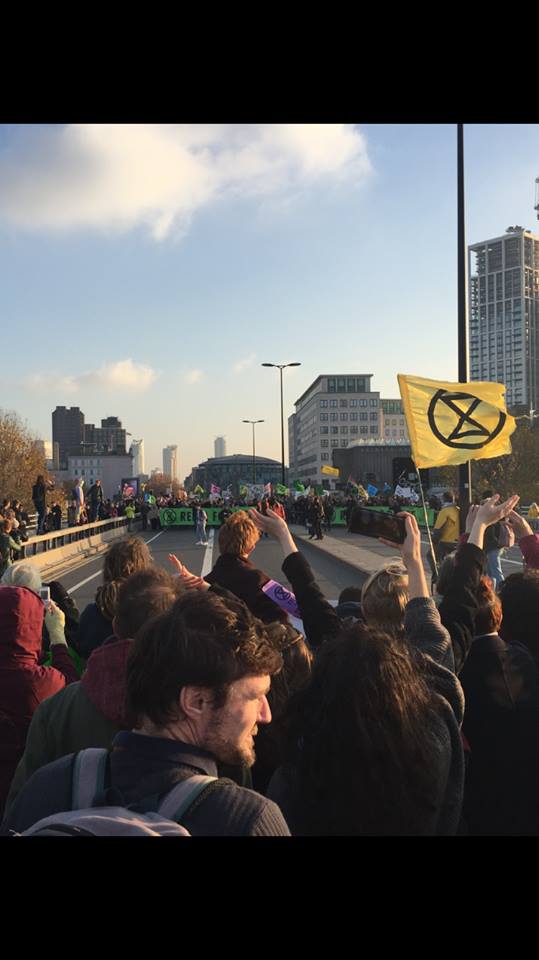 We went to join the blockades on the bridges on Saturday because at last someone was taking the climate struggle to the centre of power on these islands. We are only now finding out about Rising Up – the group behind Extinction Rebellion – and it is a relief to find they seem really open to learning, and are thankfully emphasising the need to take care of ourselves as we try to challenge this system.
Rising Up write:
"We are facing many crises resulting from the system we live under (it's a form of extreme capitalism called neo-liberalism). The system is based on unsustainable and increasing amounts of debt. It is causing gross inequality, poverty, mass misery, and species extinction. It gives a lot of money and power to a very small number of people, who use that money and power to shore up their position. This system is destroying our planet's capacity to sustain life by destabilising the climate. There are many issues and to change anything, we have to change everything. We have to change this system, in support of the most basic of universal values – the right to life."
"There are loads of brilliant, detailed proposals for how things could change, how problems could be solved. But we can't make changes without taking our power back, getting more connected to each other and to the wider world. We reckon system change needs a mass movement of people willing to take disruptive, loving and effective direct actions, saying no to the destruction and sickness and yes to life sustaining alternatives. An inclusive uprising will have many ways for people to get involved. It must be effective and sustainable, it must be fun!"
Get involved:
– Extinction Rebellion Edinburgh meeting tonight at 8pm in Augustine Church, George IV Bridge, Edinburgh 
– Extinction Rebellion Glasgow meeting on Wednesday at 8pm at Locavore, 349 Victoria Road, G42 7SA 
Remaking democracy:
It is blazingly obvious that the system we currently use to make collective decisions is not fit for purpose. The party political system, already inherited from an ancient, unhappy compromise between those who stole power though force and those who are in the majority, is riddled with corruption, vested interests and toxic group-think.
There is little hope that those currently in power will accept our reasonable demands. We need to articulate and facilitate the birth of an alternative way for our society to make decisions, one that takes power away from those whose lives are impoverished by power and greed, and who seek to dominate and impoverish the rest of us as well.
This new system needs to be fair, flexible, and able to operate at very different levels of scale, from the local to the global, and accessible to everyone and anyone who agrees that our fundamental organising principles need to centre around the flourishing of all life and the life-sustaining systems of our planet and the physical and emotional wellbeing of all humans.
There are many tried and tested systems for collective decision making which allow participants to consider complex issues and arrive at thoughtful, compassionate, rational decisions. It is essential for human wellbeing and for life on this planet that we transform the existing system to one able to make decisions which prioritise survival, kindness and uphold the common good.