Spycops Scotland, the Scandal Continues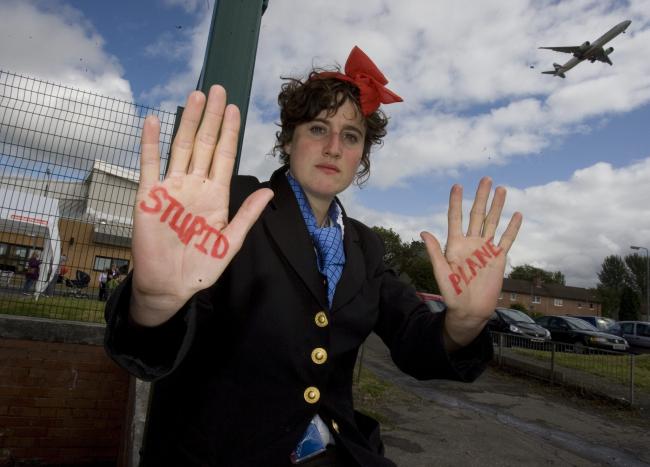 The Court of Session in Edinburgh yesterday ruled in the case brought by Tilly Gifford against the UK and Scottish governments. The judge, Lady Carmichael, rejected the claim for the inquiry into undercover police activity to include Scotland.  The Judicial Review was brought by Tilly Gifford, a climate activist who was herself targeted by the police for surveillance. The result means effectively that the police can act with impunity in Scotland. Peaceful activists have less rights in Scotland than they do in England and Wales.
Gifford said: "I am deeply disappointed. How can it be fair that victims of unethical and illegal undercover policing in England and Wales get access to an inquiry but Scottish victims won't?"
"These are really serious abuses of human rights. Some of them fathered children and…they got a promotion to go and train more police officers to do the same thing. It's revolting."
As part of their case, the claimant's representatives submitted to the court an independent report on Undercover Political Policing in Scotland. This report documents the extensive interference and surveillance, over many decades and in many reputable and admirable campaigns and movements including trade unions. The report was rejected on procedural grounds.
The case proves, once again, that Scotland is not at the periphery of the spycops scandal, but at the heart of it.
It also raises significant questions about the role of Phil Gormley, which appear to be largely ignored by the Scottish media.
Following the outcome of the Judicial Review, an alliance of people and groups affected by these issues in Scotland will now work together to campaign for a public inquiry in Scotland. This alliance includes blacklisted construction workers, people working with unions, miners from the strikes in the 1980s, environmental and social justice campaigners.
A spokesperson from the group told Bella:
"We are obviously disappointed that the judicial system has failed to see the need for a full investigation into undercover policing and surveillance in Scotland. we feel this decision does not take into account those with lived experience of state sanctioned sexual abuse, infiltration, spying and surveillance with the aim of sabotaging social change movements. we will continue our campiagn urging the scottish ministers to take the right decision, where in this instance, the judiciary has failed us. Until we have a full independent, survivor led inquiry into police infiltration and surveillance in Scotland, we will remain in the dark about what has happened here. we support the independent review into Scotlan's policing of the miner's strike but suggest that this needs to be accross the board and cover all historic political policing. the NCIS report into undercover police conduct in Scotland was a white-wash, over seen by then head of police Phil Gormley whose previous career included overseeing the special undercover policing units based in England. It also failed to take anything prior to 2000 into account."
"As the Mitting Inquiry goes on, the limits of it's remit are clear, we will not only fail to have a picture of what happened here in Scotland, but we will not have a picture of political policing and surveillance of social change moevements in general. The Scottish ministers have a chance to support a radical evaluation of political policing, collusion with private companies and reppression of social change. We urge them to take action."
Having read the full Court of Session statement it is clear that a significant body evidence was rejected as inadmissible. In particular the report (detailed in Sections 20-23 of the court ruling) by Dr Evelyn Lubbers was rejected on a procedural basis. It is of relevance as it contains evidence of undercover activities in Scotland and surveillance around the examples of G8, Pollok Free state, Faslane, and the Miners strike.
Listen to "Spycops in Scotland: Tilly Gifford's Judicial Review Nov 2018" on Spreaker.
Despite the decision of the Court the group are calling on the Scottish Government to order a public inquiry. In a statement they have said:
"We call for the Public Inquiry in Scotland to: appoint an independent Judge with a panel of experts with relevant life- and campaigning experience; for the cover names of officers to be released – for our files to be released; for an investigation into senior management and senior civil servants who authorised these undemocratic activities.
History of Surveillance
This is just the latest in a long line of abuses of civil rights and of corruption in the police force. This has a long history.
We now know that a body called the SPL (Subversion in Public Life) was established in the 1980s comprising senior civil servants, MI5 and Special Branch. This sought to control and blacklist trade unionists.
As Iain Cobain has written: "The majority, 733 people, were identified as Trotskyists, and a further 607 as communists. Forty-five were said to be fascists, and 35 Welsh or Scottish nationalists, "black or Asian racial extremists" or anarchists. MI5 also compiled lists of suspect local councillors and active trade unionists deemed to be of similar concern."
We know that the police operated illegally in Scotland for a sustained period of time, and that this invasion of civil liberties is being ignored and covered-up.
We know that the former Chief Constable, Phil Gormley, sanctioned deep cover infiltration by spycop, Mark Kennedy, who deceived environmental activist, Kate Wilson, into an intimate relationship.
We know that the bulk of the Scottish media's focus on Gormley's activities is on him being rude, or inappropriate at work, rather than being at the heart of undercover policing.
We know that Mark Kennedy visited Scotland at least fourteen times.
We now know that there has been undercover policing in Scotland, and it needs to be investigated by an independent transparent public inquiry.
This is a democratic deficit and a disgrace.
As the world faces climate breakdown what are we doing to the young people who are standing up to the crisis? We are framing them, harassing them and then covering it up.