Scot Free -The Psychic Cost O Uisin Scots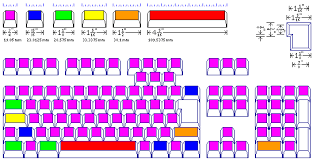 Growin up in a Yorkshire minin village durin the 80's, ah wis never encouraged awfy muckle tae think aboot faur-aff, exotic places like Scotland. It wis a place that existit in adverts, cairtoons an wather reports, an that wis it, really. Every nou and again ye'd get a kid in yer class whase name stairtit wi "Mc", or ye'd buy a wee bit Highland toffee, or mak freends wi an Englishman wha claimt tae be "half-Scotch". Ah wis ayeways weel impressed. Regional identity, for me, wis a novelty, a daud o colour, a new wird or twa. Evidence o Yorkshire wis aw aroond me, o coorse. Ilka nou an again, when ah left the door open at ma Granda's, he'd tell me tae "Put 't wood in't oil", or ah'd hear "By Ilkley moor ba'ht Tat" on the radio an be a wee bit prood that ah kent whit the singer wis ettlin at. It wisnae important tae me, but. Ma Yorkshireness neither defined nor restrictit me. Ah spoke hou ah liked, an sae did awbody else in ma life.
Hivvin said aw yon, the anely time ah gang full-on Yorkshire is when ah'm pure ragin. Ah find it haird tae be fizzin wioot bringin oot ma ain personal version o Nora Batty, rollin-pín at the ready. "WOR-ARE YOU ON ABAAT NAH?" ah'll speir o some jammy body or anither, or, "YER NEED TER THINK ABAAHT IT MUWER THEN, DUNT YE?" The reason for this seems tae be that ma native dialect is the maist direct route tae communication when ah'm at ma wit's end. Dialect, tae me, is a reflex reaction, an in-biggit short route tae sel-expression that kicks in at ma least sel-conscious moments. An ah speak it halely consequence free. Awbody likes a guid Northern-English 'accent', eh? It's warm, comfortin, unthreitenin – gey close in kind tae the dialects o Scots.
Ah couldnae hae picked a better pairt tae lairn aboot Scots dialects than Hawick, whaur two is twae, an me is mei. An ah couldnae hae been mair surprísed tae find that Teri wis jist yin o a dazzling array o dialects that mak up the Scots leid. Aw at wance, ah wantit tae lairn it. An ah set aboot it wi the same un-sel-conscious ease wi which ah uised Yorkshire, slitterin ma sentences wi "Kens", an "Hous", an "Wheests". It wis easy for me tae uise Scots wirds, wance ah'd lairnt thaim. An it still is. An tae be honest, ah dinnae think that's richt.
Sae. Here it is. The serious bit. The pynt whaur ah get ootraged on behauf o the 1.6 million Scots speakers wha, wi ma incredible empathy, ah can suddenly identify wi, acause ah've spent a wee bit time pittin masel in their shoes ower the last puckle years. But ah'm no gonnae dae that. Ah'm no gonnae let on tae hiv a Scooby whit it must be like tae be born Scottish, fou o the same in-biggit instinct tae speak their ain leid as ah dae tae spraff awa in Yorkshire, but tae hae that instinct battered oot ye bi yer teacher, bi yer parents, bi yer bosses, bi yer peers, bi the bams on social media, bi yersel. Ah cannae unnerstaun whit it's like tae be telt that the wey ye're speakin maks nae sense, tae be telt that the wirds ye uise like auld freends, wirds that gie ye hert, wirds that flow frae yer core when ye're ower knackered even tae think; that thae wirds ye love an uise ilkaday, either dinnae exist, or shouldnae.
Ah cannae tell Scots speakers hou they feel, either. Ah've never had onybody express the desire tae chib me acause o the wey ah pronoonce "Eyup". Ah've never been beltit bi a teacher for sayin "Ta-ra" insteid o "Goodbye", or been mocked for uising Barnsley, Leeds an Sheffield wirds in the wan sentence. Sic things dinnae happen tae English fowk on the scale they dae tae Scots. Ah've got the luxury o bein able tae lairn Scots frae the grund up, wi the express purpose o uising it tae communicate, wi an Englishwumman's confidence that thon will be embraced bi the people o Scotland. Scots are weel kent the warld ower fer bein acceptin o fowk frae aw nations an backgrunds. Which is hou ah wis that taen aback the first time ah heard aboot the phenomenon cawed the "Scottish Cringe".
When ah first came across this term online, ah wis telt that Scots Cringers wir Scots wha deny that they've a leid or a cultur at aw, Scots wha'd been conditioned no tae uise their native tongue throu fear o ridicule. Ah fund it haird tae accept. Whit wey would a nation wha are sae acceptin o ithers be sae cruel tae theirsels? Scots speakers – ye'll hae experienced Scottish Cringe yersel, an hae a tale or twa tae tell aboot the weys in which yer leid has been takken fae ye. Tell thae stories. Tell thaim tae yer freends, yer representatives, at hame or online, houever ye can. We need tae hear theim – because that mony o us cannae jalouse whit it's like for ye. Loads o weel-trickit fowk cannae. Jist like loads o weel-trickit fowk think that Scots is slang. We're livin throu whit could be a critical moment in the history o the Scots leid – an the cringe is increasin wi the awaurness. It's sink or swim time for Scots, an yer language needs ye. Noo is the time tae stairt talkin.
Ah cannae let on tae ken hou it feels tae be dinged doon for speakin or scrievin in a wey that maist feels richt tae ye, but evidence o the Scots Cringe is aw ower, wance ye set oot luikin for it. An the mental toll on Scots speakers in this kintrae is muckle. Awthin they say feelin that bit less legitimate than if it wis said in English; ilka Scots wird that bit mair apt tae be up for ridicule or debate. The cost o speakin Scots in a public realm seems that high for Scottish fowk themsels, that ah feel bad aboot bein able tae experiment wi it wioot the accompanyin psychic toll. It's no MA cultural identity that's bein rejectit. Ah'm Yorkshire born an bred.
An this is whaur we stairtit oot. See, In 38 years, ah've never wance been mocked for my uise o Yorkshire dialect – not in ma ain kintrae, an no in England either. Ah wis brocht up thinkin ma choices o wirds wir valid. Aw ma English freends an faimily hiv spoken an scrieved whitever wey they liked frae day dot. Ah've never kent onythin else, an like as no ah never will. For aw its emotional an cultural significance, Yorkshire IS a dialect o English – but Scots ISNAE. That disnae mean Scots is in nae danger, houever. Whit happens tae the leid noo is up tae us – as uisers, as lairners, as readers, as supporters. It's never been easier tae brush up on yer Scots. There's a coorse here at Aberdeen Uni for stairters.
An ah howp mair universities will suin follae suit. Until then, lairn it frae a dictionar. Lairn it frae yer granny. Lairn it frae readin a buik. In the name o the wee man, lairn it frae yer hert. Some wirds feel like old feres. Scots yins mair than maist. Let thaim back intae yer life, houever ya can, an feel the difference.
Ah cannae tell ye hou Scots fowk feel aboot their leid's legitimacy aye bein up for debate. Ah cannae ween the constant stress that must cause – the loss o sel-esteem, sel-expression – the frustration. But ah can tell ye hou it maks ME feel, an the answer is pure dead bilin. An the mair angry ah get, the mair ma Yorkshire dialect kicks in. Mebbes that's hou ah'm scrievin this airticle in Scots. Tae keep Nora Batty at bay. See, ah'm a Yorkshire lass at hert, an bein yon, ah'm able tae uise Scots wioot feelin the complex cocktail o emotions rangin frae fear tae sel-hatred that a naitural-born Scot must swallae ilka time they step ootside the boonds o whit's deemed acceptable bi whaever happens tae be daein their wee stint as the Scots Language Polis on that particular day. As a non-native lairner, ah get tae uise Scots cost-free, whenever ah like, houever ah like, wioot bein challenged or dismissed bi fowk aroond me. Scots are guid like yon. They mak ye feel walcome, whitever the hell ye're intae. Gin they could anely be sae kind tae theirsels – weel, ah cannae imagine hou braw, hou gallus that would be. Can you?
​​​​​​​​​​