Ayont the Fake and the Leal: Let's Free the Leid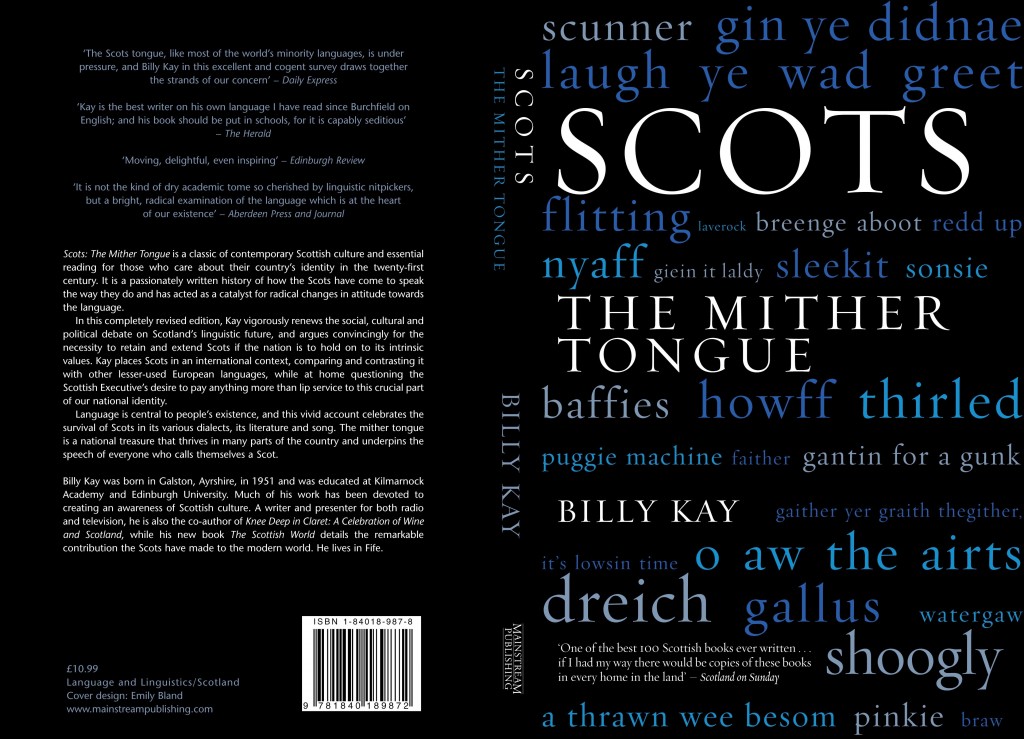 "This guy is faking it and I literally am struggling to listen to it."
"I'm from Scotland, trust me, nobody talks like this."
"The boy doesnae sound like he's speaking Scots naturally he makes it sound pure put-on and that's the point that folk start to take the piss and laugh at you for it."
Thae comments (an mony ithers o the likes) are repones tae a recent BBC Social clip, featurin Lallans banter an blether bi oor ain Scots leid activist an jurnalist, Alistair Heather.
Siclike quotes wull be nocht new fir onybody that's ivver ettlet at uphaudin the mither tongue. At first, eh didna e'en tak tent o them. Eh thocht Alistair's video wis gey braa —an brave forbye— an that yon wickit comments were jyst fae that ayebidan crew o Unionist haters an Oxford Dictionar cruisaders. Houiver, as Alistair's clip rose in views (raxin up tae hauf a million clicks), the nummer o hatefu an reekin posts kept birlin tae shitestormic magnitudes. Maist observes agreed wi ilk ithers: Alistair's braid Scots wisna a proper language, it wis a fake, makkit up stew o cringewirthy wirds. Coorse, as a Scots enthusiast masel, sic sneerins gar't ma bluid tae boil. Yet, that sae mony fowks —Scottish fowks— canna e'en staun the blate idea an soond o Braid Scots is challengin fir onybody wha cares fir the leid. Like mony ithers scrievers wha hiv publisht a piece short syne, eh hid tae gie it a saicont thocht.
LEID POLITICS DEALS WI ARTIFICE
Modren Scots, it seems tae me, drees fae a deep conterdiction atween its linguistic claim o authenticity (that o bein the true —leal— leid o the Scots people) an the unavoidable superfeeciality o ilka linguistic ettle. Like ony ither tongues that hiv ivver attempted at gainin a national or international rank, Scots necessitats tae bring wirds fae sindry airts an times thegither intae a pithy hail. Adeed, "Synthetic Scots" (itherwise kent as "Lallans", "Braid Scots", or "Re-Integrated Scots"), as it cam tae be caad ootthrou the twentieth century, means that preceese strive fir tae creaut a muckle national an literary medium wi wirds fae ilka Scottish dialects. Na'hin unco here. This is hou maist European tongues were draftit in the seeventeen an eichteen hunerts. We ken that. Tak Croatian, fir exemple: its modren grammar wis shapit in 1812 bi philologist Šime Starčević wi upkeep fae Napoleonic France (whilk saw his ettle as a sleekit wye tae shoogle the unity o Austria-Hungary). Hard tae dae faker nor yon, eh? But yon's the quirk: we hiv hinsicht, noo, an the artificial side o leid buildin is mair kenable —an lauchable— nor it wis ane or twa hunert years syne. In ither wirds, the problem wi Modren Scots is that it is a linguistic biggin seekin a national staunnart in the post-modren era o national an linguistic deconstruction. Aa the myth-makkin an romantic blaflums that gang thegither wi leid politics is weel kent tae us the day (parteecular bi contemporar linguists wha hae lang waukent fae the dwam o their forebearers). Aye, it's nae canny meddlin wi national linguistics whin aabody kens the auld tricks an scances ilka flaws o yers in braid daylight.
Siccar, it wad be easier bein superfeecial gin yer linguistic ettle wis uphaudit bi sword, siller, an state. Maist European leids were —an still are— fostert bi institutional strength an poo'er. E'en Scots, in the nineteen hunert, tastit the cultural moyen o Empire, fae India tae Suddron Africa, whaur it wis exportit amang ither couthie eetems o Breetishness. (Coorse, sic uphaud wis nivver intendit tae gie Scots fu creedit as a mensefu national leid, but it minds us that e'en the tongue o the unnerdugs can whiles be yaised as a tool o oppression.) The day, houivver, Scots daesna hae ony offeecial backin —fae naither the Scottish state nor ony muckle trust or cultural institution. We fin' oorsel in this orra place whaur Scots, lackin baith strength an poo'er, canna be forgaithert wioot bein immediately pit doon bi a crood o angry flyters.
THE MYTH O GENUINENESS
Tae coonter this, mony Scots forespeikers hae turnt tae forrit their leid wi anither kind o peremptor plea: that Scots is the real an genuine vyce o Scotland's fowk. Syne the leid isna uphaudit bi the state, its virr, they think, maun lie amang the people itsel. "1.5 million fowks speik Scots accordin tae the 2011 Census", ye'll hae hearken some o us say. Aye, it's a braa nummer, but whit kind o Scots is that aboot? Fu on Lallans as yaised bi Scots makkars an Bella scrievers? Eh jalouse na.
Forbye, as we've jyst seen wi Alistair's video clip, the main quirk wi brandin Scots as the people's leid is that it sairly backfires. "The people's leid, ye're jakin ay? Nab'dy speiks like that in this kintra". Aye, ye get it: unfreends o Scots can also yaise the ploy o authenticity. Nae ainly can they yaise it, but they hiv the hail strength o the status quo, the hail linguistic hegemony ahint them: fae Holywood tae BBC an schools —the hail lot. It's nae wyce fir Scots pairt-takkers tae invoke "the real vyce o the fowk" whin the staunnart o whit is 'real', 'leal, an 'proper' is definit bi a muckle stranger poo'er structure.
Whit syne? Shuid 'Synthetic' Scots bides awaa in the cloods as a kinrick fir ootlaas an dreamers? Shuid we jyst stop fashin aboot that Scottish Renaissance whigmaleerie that howpt tae mak Scots the new pillar o national culture? Harry Giles, yin o oor best contemporar Scots poets, recently exheebitit Scots as a 'Science Fiction project': a pastless form, prood o its artifice but ill-kyndit tae ony myths o purity an authenticity. Coorse, Scots —either braid or synthetic or anarchistic— maun be that thrawn platform fir art an poetry tae mak an brak ilka marches.
But can Scots still fin' a wye tae connect wi the feck o the kintra —wi aa thae fowks that say "aye" an ''cannae", fae time tae time, tho "dinnae tawk like that in real life"? Here, some Scots forbearers aften turn intae poleetical an cultural labbyists. "A Scots Bill, a Scots Curriculum, a Scots TV, a Scots Academy. Yon wad be braa, wadn't it? Yon wud shairly mak people chynge their mind, eh?" Aye, but this, yaince agin, means speirin fir the auld fashiont pooer an strength tae impose a tapdoon staunnart. Nae ainly Scots hisnae sic moyen, but e'en gin it hid, yon wad face evendoun ill-will fae baith Scots makkars an artists (wha'd want tae keep Scots a fykie an rebel medium) an ither Scots speikers (wha wadna relate the wye they tawk wi ony offeecial artifice).
Mair nor ony ithers argie-bargie, the staunnart stooshie his been sinderin the aareadies marginal Scots community fir mony a decade noo. Here agin, the ayebidin fecht atween whit's fake an genuine is kenspeckle. Makkars scorns Scots labbyists fir proponin artificial rules that micht hinder the freedom o their art. Scots labbyists sneer at poets fir bein ower plastic wi the leid an pittin ither fowks aff. Meantime, ither fowks mock baith makkars an pro-staunnart labbyists fir meddlin wi whit they see as pehs in the skeh that are cut aff fae general demotic speech (whitever 'general' an 'demotic' micht mean). In ither wirds, aabodie see ilk ither as a muckle bunch o fakers —an sic the story his ayeways gane fae Alistair's video back taeBurns himself (that muckle 'Heaven-Taught' faker).
Gin we ivver want Scots tae thrive, we maun fin' oor way oot the deid-end flyte o authenticity an artificiality. Yin wye tae dae that, is tae gie ower the lang-lastin illusion that somewhaur —oot there—in Rabbie Burns's Standard Habbie or in North-East Doric or in demotic Weegie or in Limmy's vines or in Henryson's plays is a truthfu wye tae be an speik Scots. Whaurever we may leuk. whaurever we may dig, there isna sic a thing as leal or genuine Scots. Tak Burns: he mixes Ayrshire dialect wi Doric an English —fake bampot! Tak the North-East: wha speaks the best Doric? Is it doon in Aberdeen? Or is it in Peterheid? Or in Kinraddie? Or in Gushetneuk mebbe? But wha speaks true Doric in Gushetneuk? Tell me! Is it Johnny Gibb or Jeannie Wallace? Nae! Johnny is fakin it, he owerstresses his "fit" and his "fan". Aye, but Jeannie says "away" fir "awaa".
An sae on, an sae on, an sae on…
AYONT THE FAKE OR THE LEAL: SCOTS AS A HAPPENIN
Whit we aa need tae learn —an learn agin—, aa o us, houivver little or muckle Scots we speak, is that Scots is aa'hin but a pure medium. There isnae yin set o texts or yin wye o speakin that can possibly accoont fir the leid as a hail. Coorse, that's nae ainly true fir Scots. E'en the Oxford Dictionar an the Académie française, twa o the maist pooerful linguistic institutions in the warld, canna mak on tae represent aa there is tae Inglis or French. The leid forerins the rule, but unlike a rule, the leid is impure an malagroused.
Scots isnae fake or genuine; Scots happens —fae time tae time, fae phrase tae phrase, fae line tae line.
Aa o us —Scots makkars, rebels, braidcasters, jurnalists, an pairt-takkers —oor task (gin we hiv yin) is tae mak siccar that fowks aroon us tak tent o Scots whin it happens. It is nae a definition, nae a model, nae a Scots Bible that we need fir the leid. It is a consciousness. Scots maun mak its wye up fae hame tae hert an heid. Ilka platform, ilka wird is wirth promeuvin. Ilka happenin o Scots can be a door tae a new ward.
But there isna need tae push people ben. Onybody wha lives in Scotland aareadies his a foot in the door. Onybody wha's ivver said "dinnae" —e'en yince— his aareadies makkit Scots happen. We needna drag fowks tae the Lallans kitchen, but we maun lat them ken whaur they staun. Whaurivver ye are, whamivver ye be, gin ye said "aye" whin eh said "nae", syne, AYE, ye belang, somehou, tae the warld o Dunbar an Harry Giles.
Maist importantly, we maun unnerstaun that whitivver its form, whitivver its airt, there isna sic a thing as bad or fake Scots. The raison ahint this is that there isna genuine or proper Scots either. Scots, as we ken, nearly deid fae the fash o propriety —the ainership o the yird an the correctness o the tongue. "Speik proper!" They said. "Aye, YE, ower there, YE that ain na'hin in this warld (nae e'en a proper leid) Yes, YOU. If you want property, speak properly!" We ken that auld sang, dinna we? Weel syne, oor lang ettle fir Scots revival shudna be tae mak whit's improper proper agin. Insteid, Scots is aboot gittin rid o propriety aa thegither. Radical stuff, aye.
Scots isna aboot reality, essence, truth, an ainership. Scots is faur mair muckle nor that. Scots is aboot a new wye tae live. It is aboot that orra wird that gar ye tae pit yer foot on the thrashel o a new galaxy o continua —a new kinrick o mairchless possibilities an boundless blendin. Wull ye step in wi baith feet?
Fae "aye" tae "ayebidan", Scots is yin o thae antrin wynds o freedom that lend itsel tae us an tak us yonder awa, ower there, ayont menses an tenses, ayont richt or wrang, ayont the fake an the leal.
Oor ainly job is tae hold the door tae this ither warld an mind fowks aroon us that they've aareadies stepped in. Whither they bather enterin isna oor problem. Yet, the door maun staun, an aa o us that care maun hear the caa —aa thegither.