NATO and an Independent Scotland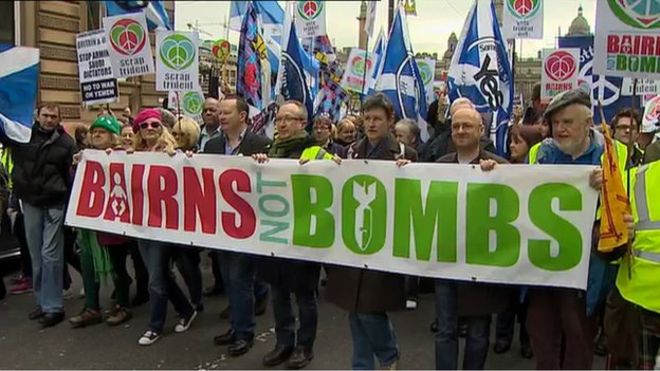 ​The issue of nuclear weapons and an independent Scotland is one of the most hotly contested questions concerning independence. The Scottish National Party has made its opposition to nuclear weapons a primary point in arguing the case for an independent state. The argument has usually been made in terms of SNP opposition to the renewal of the UK's Trident missile system, but SNP spokespeople have also stressed its rejection of all nuclear weapons. First Minister Nicola Sturgeon continues to endorse this position and it continues to be one of the major reasons advanced for an independent Scotland.
Is this a genuine position or is it just rhetoric? After all, the SNP conference in October 2012 approved a resolution stating that an independent Scotland would seek to remain a member of NATO. This decision constituted a sharp reversal of the previous policy opposing NATO membership. The issue of Scotland and NATO requires serious analysis, not sloganeering.
The SNP and Nuclear Weapons
​The SNP has always opposed nuclear weapons and has frequently pledged that an independent Scotland would be free of all nuclear weapons. For instance, a 1976 statement held that all governments with nuclear weapons in Scottish territory "will be required to remove them." A 1992 statement reaffirmed that an independent Scotland "will order nuclear weapons and installations off our soil."
​Of course, the focus has always been on removing the UK's Trident carrying submarines from Faslane. That issue has always been viewed as an important aspect of asserting Scottish independence from Westminster, with its blatant disregard for the welfare of Scots. A good example of this stance was voiced by Colin Campbell, acting as the SNP's spokesperson on military affairs, who stated in 2001 that the issue of Trident was non-negotiable and the UK government would "have to work out" whether the cost of relocating the submarines was "worth the cost."
The SNP and NATO
​This remains the official SNP position. Nevertheless, despite the consistent position on nuclear weapons, the SNP has vacillated in its position on NATO. Yet NATO's policy is clear. Nuclear weapons are an important part of the alliance's arsenal. In a statement issued in 2012, the member countries reaffirmed that "nuclear weapons are a core component of NATO's overall capabilities." Furthermore, "NATO will remain a nuclear alliance." As a military alliance, there is an understanding that member nations will permit the United States, the NATO country that holds the vast majority of the alliance's nuclear weapons, to make use of military bases within their territory.
​This has left the SNP in a delicate position trying to balance its policy opposing nuclear weapons with its desire to maintain friendly relations with the United States. In the 1960s, the SNP was clearly opposed to Scotland's membership in NATO. In the 1970s, the SNP altered its previous policy, proposing that Scotland's continued membership in NATO would be contingent on it ceasing to be a nuclear alliance. To be clear, the SNP was suggesting that it would be willing to support membership in NATO, but only if Scotland was not required to host nuclear weapons and if the alliance stopped considering nuclear weapons as a critical component of its arsenal. These were conditions that had no possibility of being fulfilled, so the SNP's change in policy was more one of attitude, rather than a significant shift in position.
​In the early 1980s, the SNP reasserted its unconditional opposition to NATO. By then it had become clear to everyone that NATO was a military alliance that relied on the threat to use nuclear weapons and that this policy was not going to change. In its 1992 election manifesto, the party held that "membership of a nuclear weapons based alliance system is inconsistent with the SNP non-nuclear defence policy." In 1997, the manifesto called for "a phased withdrawal from NATO."
​By 2012, the SNP was a party in power seeking to present itself as a mainstream alternative to the Westminster parties. Furthermore, the agreement to hold a referendum on Scottish independence had just been reached and the SNP leadership was worried that opposition to NATO might cost pro-independence forces favourable votes. At its annual conference in October 2012, the party's leadership rammed through a policy committing the SNP to "maintain NATO membership subject to an agreement that Scotland will not host nuclear weapons." This position represented a distinct change in SNP policy, not only from the one that had previously been held, but from any of the party's prior statements. At times in the past, the SNP had conditioned any possibility of remaining in NATO on a change in the alliance's policy on nuclear weapons. The 2012 statement made no mention of NATO policy, but rather narrowed its concerns to the hosting of nuclear weapons in Scottish territory.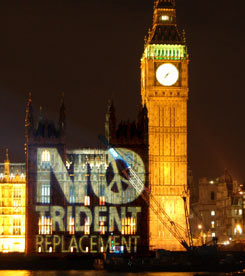 Faslane and Nuclear Weapons
​The SNP has had a difficult time justifying its willingness to maintain NATO membership, while maintaining that an independent Scotland would be free of nuclear weapons. As a result, SNP leaders have presented a series of deliberately misleading statements. When Alex Salmond, then the first minister, explained the new policy in a statement given to the BBC Scotland immediately prior to the 2012 conference, he pointed out that "twenty-six of the 29 countries in NATO are non-nuclear countries." This statement is true, but irrelevant to the issue. No one seriously believes that an independent Scotland would attempt to become a nuclear power. The real issue is whether Scotland would continue to permit its military bases to be used by U. S. submarines and planes armed with nuclear weapons.
​In fact, the Faslane Naval Base is currently being used by U. S. subs carrying Trident missiles. Although the United States follows a 'do not ask, do not tell' policy and thus never formally notifies a host country that one of its subs or planes is carrying nuclear weapons, experienced observers can tell. In March 2018, a sub of the Ohio class, most of which carry Trident missiles, docked at Faslane. Furthermore, U. S. subs of both the Ohio and Virginia class have been frequently seen entering the Faslane base. (The Virginia class subs are designed to destroy enemy submarines and are therefore not armed with nuclear weapons. Both Ohio and Virginia class submarines are powered by nuclear reactors.)
​Faslane is not only the home port of the UK's submarine fleet, it also hosts U.S. subs carrying Trident missiles. Should an independent Scotland remain a member of NATO, U. S. submarines would continue to use Faslane, so Scotland would not be free of nuclear weapons, even if the UK's submarines carrying Trident missiles were moved to an English base.
The Danish Option
​Most of those who support Scotland's continued membership in NATO realise that, in general, member countries agree that their military bases can be used by U. S. subs and planes armed with nuclear weapons. Still, they argue, a country can explicitly opt out of this informal agreement and still continue to be a member of NATO. To validate this claim, they point to Denmark and Norway as countries that have approved resolutions rejecting the stationing of nuclear weapons within their territory and yet remain within NATO.
​In April 1988, the Danish parliament approved a resolution stating that visiting warships would have to be notified of that country's policy on nuclear weapons. The resolution was passed over the opposition of the government, then controlled by conservative parties. Thirty-one years previously, the Danish government had issued a statement that it opposed nuclear weapons and would not allow them within its territory. This earlier statement had remained a mere wish, so the 1988 resolution was an effort to implement the guideline adopted in the 1950s.
​The 1988 resolution created a significant diplomatic stir. The United States reaffirmed its position that it would not notify a host country as to whether a specific sub or plane carried nuclear weapons. Furthermore, the Danish government was convinced that actually implementing the resolution would lead to Denmark's being forced to withdraw from NATO.
​An informal and confidential agreement was forged that enabled both countries to resolve this impasse. The Danish government sent the United States and NATO a formal memorandum stating that it opposed nuclear weapons and did not want them on its territory. Then, when a specific submarine or plane notifies the Danish authorities that it is about to use one of its military bases, the Danish government sends a note notifying the United States that it "assumes" that the visit will be "in compliance with" Danish policy. No mention of nuclear weapons is made in these follow up notes.
​This informal agreement remains in force to this day. Furthermore, U. S. officials have made it clear that the Danish understanding is "similar to an arrangement with Norway." Both countries continue to adhere to a nominal policy of opposing nuclear weapons within their territory and yet both continue to allow U. S. submarines carrying Trident missiles to dock at their naval bases.
​The reality is that NATO membership is incompatible with a genuine determination to ensure that a country is free of nuclear weapons. The Danish government understood this, so it agreed to an arrangement that eviscerated the resolution approved by its parliament.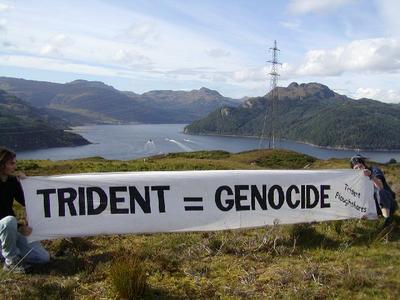 A Way Forward
​The current SNP policy is untenable. As long as Scotland remains within NATO it will not be free of nuclear weapons. As it stands now, it is very possible that Scottish independence would lead to the UK eventually moving its Trident fleet from Faslane to an English port. This would not mean that Scotland no longer hosted nuclear weapons. The United States would continue to dock its submarine fleet at Faslane, including those subs carrying Trident missiles. An end to such visits could only occur if and when Scotland leaves NATO.
​The call for a nuclear weapons free Scotland has widespread popular support. Making it a reality will require not only expeditiously moving the UK's Trident fleet from Faslane, but leaving NATO as well. Without this, Scotland will be left playing a part in an elaborate masquerade aimed at bolstering the spurious credibility of a sham policy. We will be left with a meaningless gesture without substance.
​The Scottish peace movement should set NATO as a priority issue. As long as Scotland remains within NATO its military bases will continue to host U. S. submarines and planes carrying nuclear weapons. Scotland can lead the way toward a peaceful future, and a world without nuclear weapons, but only if it leaves NATO.