Contempt and Humiliation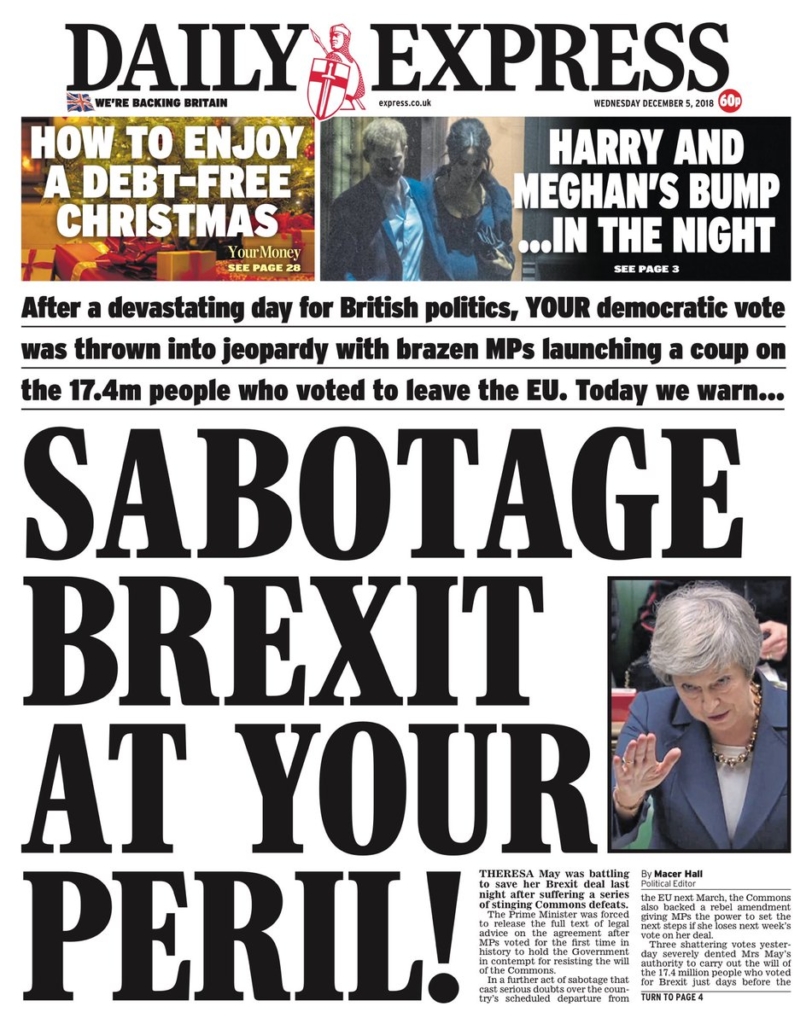 Sarah Vine tells us  in the Daily Mail that she and Michael Gove have a new dog. It's a puppy called Brussels Griffon. If that factoid doesn't distract you from the unfolding shitfest then I don't know what will.
Just when you thought the Brexit debacle couldn't get any worse – couldn't get any clearer at exposing the British political elite as the most venal, shambolic crowd you'd ever witnessed, they dig deep and produce some fantastic new low. The Telegraph said the Prime Minister had "suffered humiliation on a historic scale … as her government became the first to be found in contempt of parliament".
Others were less positive.
The Daily Express sensing the political meltdown shrieked: "Sabotage Brexit at Your Peril" simultaneously evoking and threatening democracy in a single headline.
In the Holyrood Brexit debate Stewart Stevenson read out advice given to hospices about "how to recognise death", and applied it to the Conservative Party.
Jekyll and Hyde Democracy
Being a resident of Britain this festive period is a roller-coaster of farce and frolics as we veer from dire warnings of food shortages to pantomime bonhomie. Unlikely ideas and amendments and legal rulings hove into view before being instantly shattered on the rocks of some new parliamentary eruption.
Odd heroes and heroines emerge out of the carnage: one day its Gary Lineker, the next its Oliver Letwin (I shit you not), Hillary Benn is championed on Monday but by Wednesday Dominic Grieve is our unlikely saviour.
But the one constant is this Jekyll and Hyde response to "democracy". The Daily Express – acting as some barometer of the national (sic) mood (crazed) is useful here.
We must "take back control" but from the un-named THEM. This is about sovereignty damn it but any expression of sovereignty by, say, people voting or elected MPs expressing themselves is tantamount to treason and the signal for Farage & Troops to don their khaki.
Got it?
The Brexit Traitors are everywhere. They are in our midst: Doubters, Remoaners, Judges, Jocks, Paddy. This bloody Backstop. "It's a trap" someone shouted in Westminster as if we were on the pages of Victor in 1957. "Gott im Himmel! Achtung! It's the Fritz!"
Occasionally someone says something vaguely sane and it stands out. Tim O Connor notes: "Something I think may be relevant is that the UK never experienced the Eurocrisis – in fact, spent at least part of it undermining efforts to fix things – and so doesn't understand how the iron entered the EU's soul in that process."
The Brits – indulging in some monstrous and persistent levels of self-deception – think that 'Europe' will cave or that they desperately 'need us' for unspecified economic or cultural reasons.
John Redwood tells us the UK as a "leading great power" can take over global leadership on free trade from the USA.
O'Connor's point is that having been through formative existential crisis and emerged scathed but intact, much of Europe considers Britain with sadness, dismay and derision, but will ultimately just move on. He observes: "The Eurozone members – even those like Ireland still clawing out of our own monstrous hames – were quite willing and able to coldly triage and move on. We then all rolled straight into the migration crisis, which, again, the UK largely sat out."
But any semblance of sanity is quickly dispensed with as Britain staggers towards the tinsel and the cherry liqueurs.
The People
Legal advice on the Brexit deal, published (very) reluctantly after MPs found the government in contempt of parliament, warns the terms of the Irish backstop could trap the UK in "protracted and repeated rounds of negotiations" in the years ahead. This apparently came as a shock to some people.
Like bad tantrics Brexit doesn't conclude it will roll on with devastating irresolution for years crushing the life out of everything before it.
At what point this political crisis morphs into a constitutional one is unclear.
As Iain Macwhirter notes: "Scottish Parliament votes overwhelmingly against May's deal – and it means absolutely nothing. Hardly mentioned in Westminster. Sad reflection of Holyrood's diminished constitutional status after two years of Brexit centralism."
It's sadly true. Westminster is a sort of banal vortex. The Government and His Majesty's Opposition are mirrors of incomprehension, bad leadership and incompetence. Jeremy Corbyn facing a PM reeling from three separate catastrophic defeats in 24 hours chose NOT to focus on Brexit.
Why?
Because Labour's posturing and lack of strategy is unforgivable.  The idea that we are on the verge of a Corbyn triumph to take us to Full Luxury Communism is just like a cracked reflection of the Brexiteers Post-European Utopia.
Sadly we don't have the spectacle of Ruth Davidson, to cherish in this period. Instead the focus is on the Member of Parliament for Dumfriesshire, Clydesdale and Tweeddale.
Yesterday the Scottish Secretary flops on the committee room floor like a stuck pig bleeding out.
David Mundell's response to the Attorney General saying businesses in Northern Ireland would be advantaged by May's deal? 'Stop making it about Scottish nationalism.' pic.twitter.com/250akJ88eQ

— Robert (@RobDunsmore) December 4, 2018
Today the Scottish Secretary today's urges the First Minister to "listen to business" and support Theresa May's deal, business like, er, BAE arms dealers.
But how do the most fervent Brexiteers resolve this apparent contradiction between 'taking back control' and hating Parliament and resisting a referendum?
First Brexit needs to be elevated to a sort of mythical status, dispensing with all of the fines 'data misuse' and troublesome irregularities. Second 'The People' need to be  given a new special status floating free and above any normal understanding. Third, process or parliament needs to be denigrated as an institution that is basically anti-democracy, riddled with potential traitordom and treated with contempt, which isn't difficult, but also isn't particularly helpful.
The Union, the People and the Brexit now stand together as a sort of holy trinity. They are clung to with an increasingly tight grip as the grimace of Britannia remains fixed and the country sides into humiliation and chaos.
Mince pie anyone?