BUTTERCUPS AND DAISIES: From The Province of the Cat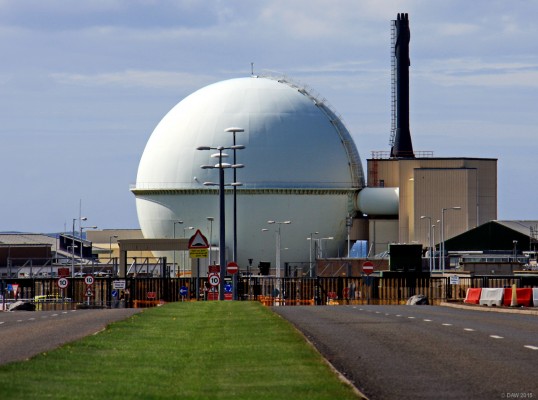 Nuclear waste, don't you just love it? It is going to be spread all over the north coast of Scotland like radioactive pollen but there are no drone-bees left to love it. Cavendish Nuclear and Nuvia (UK) have been "awarded" multi-million-pound contracts to demolish the old test reactor (the one that looks like an ice cream) and various radioactive piping at Dounreay and the Graham Group of Northern Ireland have landed a £22 million contract to build an extension to the above ground nuclear waste store. So everything is well. Except slowly it is dawning on the Atomicers of Thurso that the nuclear dream cannot last forever. The Highland Council's mystical quest to "replace the 2000 jobs" at Dounreay continues despite social and financial reality, Brexit and history. Zero hours contracts if you are lucky.
Dounreay was the site of the UK's fast reactor research and development programme between 1955 and 1994. They came in with promises, platitudes, science fiction, false dreams and secrets. They leave with rubbish, armed shipments of stolen material flown out on US Airforce planes, charity shops, hairdressers, takeaways and a hole in the heart of a culture. This is the reality of the nuclear experience in Caithness.
Why was it open cheque book engineering when Britain's nuclear reactor programme was being built and "producing" and now it's "cost realities", despite contracts being "awarded" to companies within the nuclear loop, when it comes down to the dirty dancing ground of decommissioning? Today, Dounreay is the site of one of the Nuclear Decommissioning Authority's (NDA) most technically challenging projects.
The NDA is the government body given the job of cleaning up Britain's old nuclear power stations but has recently warned that taxpayers will have to help plug a looming multimillion-pound gap in its finances left by shrinking revenues. David Peattie, chief executive of the NDA, told the press in December that revenues would fall more than 10% annually in coming years due to the end of an era of nuclear waste reprocessing. Peattie is a former oil man who spent years in Russia with BP and was appointed to his present post in spring 2017. His job is to tell the unsuspecting British people the bad news, which is this: the group has a £3bn annual budget to clean up 17 old nuclear sites around the UK, but "only" earns £1bn a year from services including "repurposing" spent nuclear fuel. "I don't think we can fill the hole completely," Peattie has said.
The chief executive was talking, of course about Sellafied – Dounreay doesn't seem to exist in any of his press communications, even though it has a huge 65-metre hole in the ground which early in the morning of Tuesday 10th of May 1977 exploded. The results were dramatic. The sodium and potassium which had been dumped down the shaft reacted violently with the groundwater. The explosion blew off the shaft's huge concrete lid, threw its steel top plate 12 metres to one side, badly damaged the 5-tonne concrete blocks at the mouth of the shaft, and blasted scaffold poles up to 40 metres away. An eyewitness reported a plume of white smoke blowing out to sea. In 1995 government watchdogs reluctantly revealed that the ground around the shaft was littered with radioactive particles hot enough to injure and kill. But, hey, that's science.
After closing the DFR (the famous blue dome) for decommissioning in 1977 most of the reactor fuel was removed. During follow-up work, metal casing in the reactor was discovered to have swollen and jammed. These stainless-steel casings, known as breeder elements, are natural uranium "makers". When exposed to radiation the elements 'breed' to create new fuel, plutonium. The discovery of the damaged elements stopped further decommissioning work for 20 years. Efforts to clean up all this mess were reawakened when the decision was made in 2000 to close Dounreay, and the creation of the NDA a few years later.
Decommissioning of Dounreay was initially planned to bring the site to an interim care and surveillance state by 2036, and as a brownfield site by 2336, at a total cost of £2.9 billion. This timescale and budget appears to be under review now that the NDA's cash flow seems to have exploded like the shaft, or rather, imploded like Brexit. Current decommissioning projects at Sellafield alone have an expected combined cost overrun of £913 million. NDA chief executive David Peattie said work had progressed faster than expected on the most hazardous part of Sellafield (their main concern), the so-called legacy ponds and silo, where cold war-era waste was dumped. "People just didn't know what was in there. The guys who built it are all dead." This is more or less the same set of circumstances at Dounreay with the infamous waste shaft. It is incredible to think that those people who built and managed these nuclear installations in the 1950's and 60's had no conception about decommissioning them. For a so-called "energy of the future" it is ironic that no-one seemed to think very much about the future. However it is unsavoury to witness contemporary nuclear management blaming their inefficiencies and toxic realities on the deceased.
The need for nuclear fuel during the Cold War was the prime objective. In reality there is no "civil" nuclear industry. Every nuclear site is a military site. That is why everyone who works on them signs the Official Secrets Act. Plutonium is used for making nuclear weapons. That is why every nuclear installation is surrounded by heavily armed MOD and Civil Nuclear Authority Police, everyone of them carrying assault rifles and pistols.
For all of you who have seen the David Mackenzie film about Robert The Bruce, "Outlaw King", I give you these lines from Book One of John Barbour's poem "The Brus" (written in 1375 approx.)
"A! Fredome is a noble thing!
Fredome mays man to haiff liking.
Fredome all solace to man giffis,
He levys at es that frely levys!"
(A rough English translation)
Freedom is a noble thing!
Great happiness does freedom bring.
All solace to a man it gives;
He lives at ease that freely lives.
There are a few ways David Peattie hopes to offset some of the losses. None of them will ever come close to filling financial the hole that the nuclear business constantly digs. For example, he suggests, they could make better use of the NDA's fleet of four ships that operate out of Barrow-in-Furness, Cumbria. The ships are used to bring spent fuel from Dounreay and as far afield as Japan back to the UK for reprocessing. Converted to cruise liners, maybe? Peattie also hopes to secure more non-nuclear work such as the non-food cargo it handles for Tesco using its rail business, which runs around 100 locomotives. The rail unit transports waste from nuclear power stations to be stored at the NDA's biggest and most costly site, Sellafield in Cumbria. Where else? Tesco – nuclear waste – non-food cargo? Marrying Tesco to the nuclear industry might make sense in a business plan but it is the stiff of nightmares for everyone else. Rationality has made the transition to desperation. Living in Thurso I, and many others, have always suspected the whole nuclear dog-dance was slightly mad. Dane Dare is now Thomas the Tank Engine. No-one here gets out alive.
The bottom line for savings has at least (at last) been mooted, if not as yet reached. It goes like this: the final decommissioning bill could be reduced, said Peattie, if the public accepted that not all old nuclear facilities would be returned to a pristine field of "buttercups and daisies".
By this he means that people already tolerate the "industrial clutter" left over by the industrial revolution. It's ugly legacy litters the island from Duncansby to Dungeness. "It would be cheaper and could be more sensible to leave some of the concrete remains of old nuclear plants and simply fence them off, once they had been declared safe", David Beattie suggested. But he warned. "If we want to take sites back to moorland for people to enjoy or build houses on … if society wants us to go to that extreme of clean-up, there's a cost to society."
At Westminster the Public Accounts Committee have been critical of the NDA, citing projects costing hundreds of millions of pounds which have been cancelled and other financial jigs and reels which in any other industry would mean that someone would be going to jail. But not here. David Peattie has the quick feet of an oil man. This was due to changing technology, he claimed, logically. "It's like the horse and the car" he told MP's. "We are getting the horse to go faster and then somebody invents a car. What we can do better is fail faster." At Dounreay the modus operandi is to "fail slower"; this is the preferred option as far as the local authority is concerned. All the local councillors want Dounreay to last forever. Or at least until we are all dead. Only one of these things will happen.
If there is one issue, other than the anti-democratic extraction of our country from the European Union, which should alert the Scottish people to the benefits of independence, then it is the nuclear industry and all that it entails. As long as Scotland harbours nuclear weapons and nuclear complexes there can be no meaningful democracy. The EU exit, the tragic debacle and comedy of that, has awoken in the majority of Scots, probably like nothing which has gone before, to the cynicism of the British State. I would suggest that this cynicism has been manifestly clear for everyone to see on the north coast of Caithness for over sixty years. When a nuclear worker, or a defence related worker, signs the Official Secrets Act they are not entirely signing away their human rights, but they are betraying their ability to tell the truth. The truth is something the nuclear industry does not tell.
A second independence referendum should take precedence over a second EU referendum which will only go towards highlighting the increasing democratic deficit Scotland suffers from in any British election. To create new political structures requires courage and foresight. Waiting and seeing, as history shows, means that the cavalcade of possibility of passes you by. Make no mistake, and as everyone can see (without waiting), we are in a period of political crisis. "Steady as you go" is not the message the Scottish people need to hear at this time. "Here we go" is what our glorious leaders should be telling us in no uncertain terms. "Here we go, into our new country!"
Cleaning up the nuclear mess should not be seen as going to the "extreme", as David Peattie calls it. Also society should not be confused with government. It has been because of the decisions of governments that we have had a nuclear industry to clean up after in the first place. Margaret Thatcher may have denied the existence of "society" but if we desire to live harmoniously together in geographical or socialised territories – let's just call them countries and let us call our one Scotland – then we have a duty of care to pass on our environment and natural world in as pristine as we can to those who follow us. We cannot afford to deny the past and ignore the future. We cannot afford any more conservative, self-centred British governments which foist their undemocratic and hostile schemes of war and death upon us. Unlike David Peattie, the NDA and their corrosive cost cutting, I dream of "buttercups and daisies", the long and broad machair of freedom. "He levys at es that frely levys!"