Profanity Filter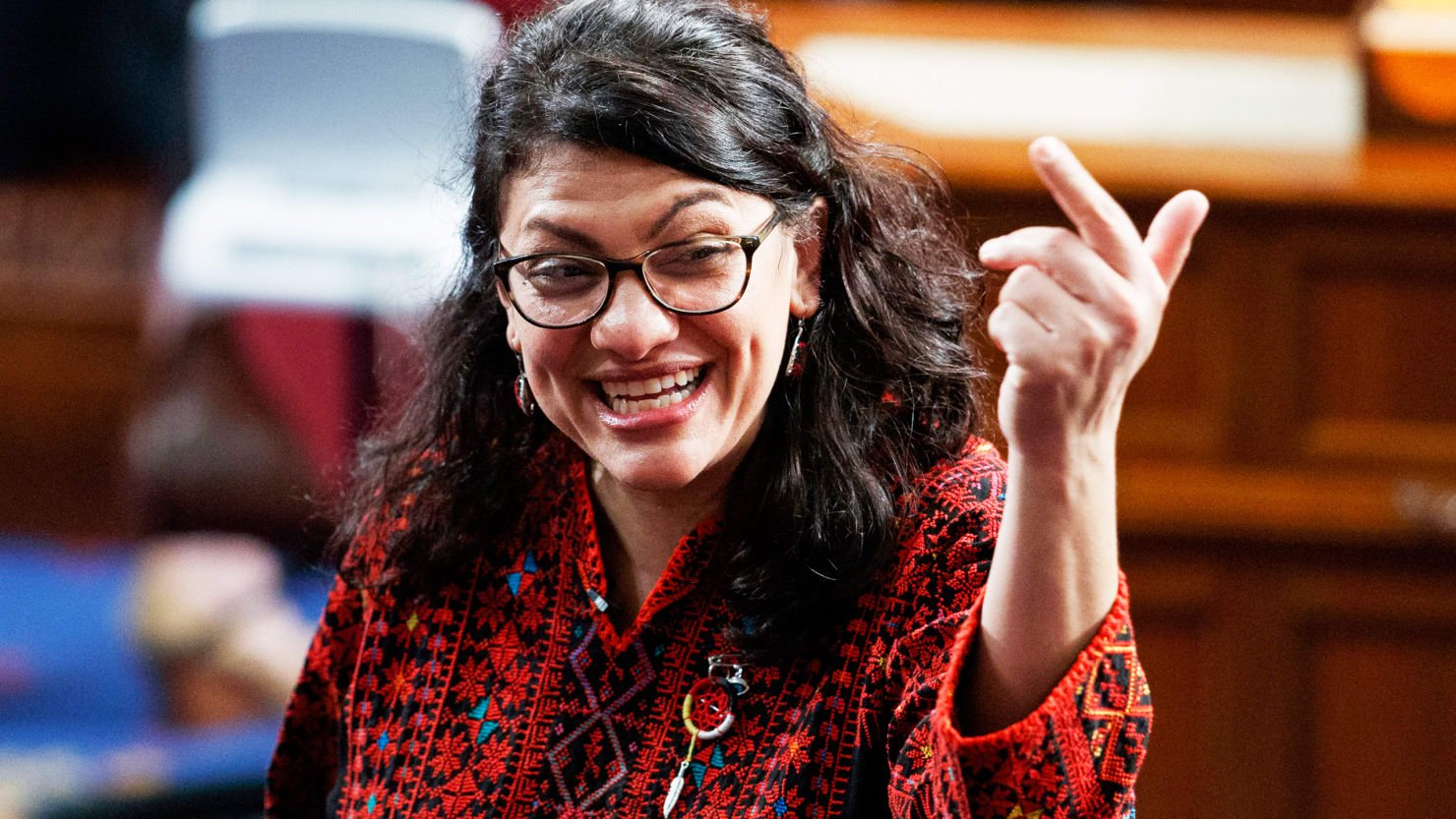 Fuck this shit.
As elite rule takes a turn towards chaos and authoritarianism, ruling class barbarism and increased social violence, it seems we are getting more potty-mouthed in our response. This is long overdue.
Way back in December 2018, your digitally-addled mind may faintly recall, Jeremy Corbyn got into trouble for allegedly calling Theresa May a "stupid woman" (*advanced memo to anyone I don't give a flying fuck whether he did or not). Whilst fake-TV-sofa-couples creaked with indignation and a thousand columnists wailed in outrage most people just shrugged in mildly comatose disinterest.
Now the question of swearing and conduct has snapped back to our attention with newly elected Muslim congresswoman Rashida Tlaib (pictured above) being filmed suggesting to a crowd of cheering supporters in DC: "We're gonna go in there and impeach the motherfucker!"
[if anyone globally is any doubt the Motherfucker in question is Suspect No 1].
Setting aside the spectacle of Trump and Trumpistas lecturing anyone about social etiquette, the outbreak is a breakthrough.
As Rebecca Traister writes it's: "Impossible to know if the vow to impeach the motherfucker will turn out to factually correct, but it's certainly imaginatively correct. I therefore give it zero Pinocchios & a million dancing-women emojis on my scale of hilariously true things that women are finally saying out loud."
If there is a strange policing of language and political etiquette as a distraction and a misdirection from what's actually going on its multiplied for those sections of society who are expected in all normal circumstances to shut up and know their place.
As Mona Eltahawy points out on the importance of profanity: "I say f**k because profanity is an important tool in defying, disobeying and disrupting patriarchy and its rules. Patriarchy punishes women for profanity because it wants us to forever remain within the straitjacket of niceness and politeness, despite the violence it subjects us to. We are not fighting on an equal battlefield. The shock and the offence profanity causes are necessary and important. Surely, misogyny and the violence it visits upon our bodies are more offensive than words? Girls missing school because they cannot afford sanitary is more offensive. Poverty is more violent than insults lobbed at any nation's president. F**k being polite. F**k being nice."
Of course there's a danger that we just end up screaming death threats at each other across the Twittersphere as the world burns, and the descent into frenzied spluttering madness is complete. But learning sanctioned language in a time of unprecedented authoritarianism isn't useful. Anger needs to cultivated and disobedience needs to be given permission. This isn't always culturally easy. If the French Gilets Jaunes take down the Champs-Élysées, the English pen a strongly worded letter to the Telegraph or a petition their local LibDem councillor.
Affairs at Westminster (the Motherfucker of all Parliaments ™) is conducted under bizarre arcane rules in which abusing Mhairi Black or mocking peoples language or accent is fine, but clapping isn't, barking at Tasmina Ahmed-Sheikh is okay but opposing the imposition of disability cuts is rude.
In Britain political language and behaviour is policed by the tabloids and the social media drones, corralling and highlighting 'bad behaviour' whilst being oblivious to social violence and accepting as normal the actions of parliamentarians and the super-rich.
For many of this group Trump acts as a sort of Godfather of Deviant Transgression. The 'Locker Room Talk' was just the last spluttering of male power under threat.  But Trump is the first elected politician that has made people actually ashamed to be human, so the idea that being rude about him is somehow verboten is odd.
The idea he is now putting forward now is that he may introduce "emergency powers", nationalise the land around the border and send in the army to build his wall while keeping the US government shutdown. This may require more than some sweary words.
As political cartoonist Brian McFadden had it, the complaints against Rashida Tlaib's comments amount to:
"Please don't dance and cuss. It sets a bad example for the babies in our concentration camps."