What is an Environment Correspondent?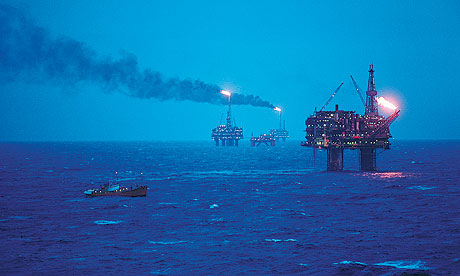 You might think that this is a trick question. An Environment Correspondent is supposed to report on the live issues and news relating to the environment, and to have, one would assume, some passing knowledge of the key environmental issues of the day.
As the best funded and globally networked media organisation in the UK, you'd have thought the BBC would have the resources to produce environmental journalism of some quality. Indeed the BBC itself only last year had to admit its own environment and climate change coverage was poor – based on the daft idea of false equivalence – and had to re-set its entire policy, sending a briefing to all relevant staff.
Which is all strange because Kevin Keane, apparently Scotland's Environment Correspondent, wrote an article a few days ago that is astonishing.
Titled "Oil exploration in North Sea 'to bounce back' in coming year" Keane explained that: "Oil exploration in the North Sea is expected to begin a bounce back over the coming year, according to analysts Wood Mackenzie."
In a gushing piece Keane faithfully cites Research analyst Kevin Swan:
"Norway will be at the heart of the uptick, with drilling expected to reach pre-downturn levels.
"We forecast over 40 exploration wells will be drilled, up from 26 in 2018.
"Exploration is back in the UK too. It languished in 2018, with just eight wells drilled, the lowest number since the 1960s.
"We expect the UK sector to see between 10 to 15 wells this year."
You might be waiting for some context – say for example – the IPCC report – or some commentary on how this relates to the Scottish or the UK climate change targets – or, well, anything at all really relating to the – you know – 'Environment'. But nope. Nothing.
Keane's report continues…
"Siccar Point's Blackrock and Lyon wells, west of Shetland, are those analysts believe carry the biggest potential.
Equinor – formerly Statoil – is expected to drill around 20 wells in UK and Norwegian waters."
There's no mention of Statoil's greenwashing their name change, there's no mention of the climate crisis, and the pivotal role of fossil fuels, there's just talk of the "biggest potential".
This is very likely just churnalism.
The 'Environment Correspondent' is on his first week back and look – here's a press release.
But this is really dire inexcusable bad journalism.
It's utterly lazy and bereft of any critical thinking at all.
We are used to business journalists covering oil and gas and coal as if there is no imminent ecological crisis that threatens humanity's existence, but for the Environment Correspondent to treat the subject with such complete contempt it should be questioned.