On French Protest Culture and Brexit from Brittany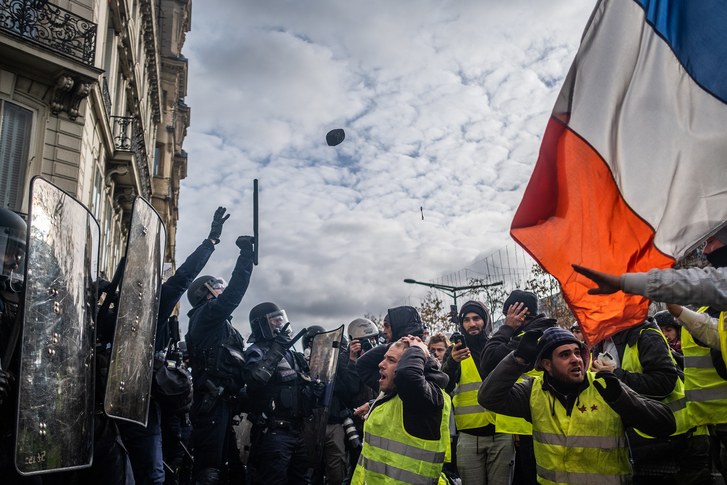 Ever since a child, I have seen images of protests relayed from France invariably appearing on the BBC. You know the ones, burning tyres and tractors blocking roads. Yes, there were regular reports of other protests from around the globe, but it seemed like there was a particular focus on France, a comparison of some sort, between our French friends and good old Blighty (read England-centric, Empire-loving, 'head' of the commonwealth version of Britain). It always seemed to me as if the BBC were – look, things may be bad for you (read the working class, unemployed and any disenfranchised group) but we don't want any of that French stuff going on here, it's just, well it's just not cricket, not British.
As I aged, I thought to myself, those French don't mess about when it comes to letting their Government know they are not happy, good on them and Why don't we do that here? I mean, can we say that those living in Scotland are quick to get off their bahookies and start blocking the roads in large numbers? Yes, the Poll tax protests and anti-nuclear demonstrations saw prolonged demonstrations and effort, and the G8 protest and anti-war in Iraq marches moved the masses, but can we lay claim to be a country of prolonged active protest when it comes to the continual drip of unjust treatment as it flows our way from Westminster. That is not to say there is no effort, there is – lots of it – all the time, from groups and individuals across the country and beyond. But warming our hands at a fire located at the edge of a roundabout and blocking tolls and roads for weeks on end. Can't say I've noticed that type of protest too often in my 45 years as a Scot (I'm happy to be proven wrong). It is not a criticism, it is an observation, I haven't either, my protesting has always been through organised marches. One or two days then finish.
So, when I moved to France some 6 years ago, I was interested in getting a feel for what it was like 'on the ground' as it were. Do the public support such protests? Is it as bad as the BBC make out? Do I prefer Brittany to Blighty? Is it a successful method of protest? Such were the questions floating about in my head as I sailed La Manche to begin a new life in the Côtes d'armor.
It takes a while to integrate into a country, not least learning the language and getting rid of all those stereotypical notions we have had planted in our head by newspapers, television series and news programmes (I've never met anyone who eats horse or frogs, my partner doesn't stop for a cigarette during sex, there are many more bunnets than berets and no-one has put a plate of snails in front of me yet). So, it hasn't seemed right to comment before this. I now feel 'at home' in Brittany, not least because the people here are similar in a lot of ways to people I know back in Scotland. They are generally down-to-earth, can laugh at themselves, have a strong sense of pride in the positive aspects of their culture, are welcoming to outsiders and don't like getting told what to think or do. I have felt welcomed and at ease from the first day and now that my French is better than shite, I can converse about the things around me – such as politics. It also helps that the Bretons have an affinity for Scotland due to a perceived Celtic connection, they celebrate Celtic culture and there are regular festivals celebrating the music etc. People have been very open.
The recent Gilets Jaunes (Yellow-vest) movement has given me a chance to really get a flavour of how the wider Breton public view the protest movement. I work as an English teacher (I know, a Dundonian teaching English, it makes me laugh too!) and am now in a good position to 'test the water' of opinion across the societal spectrum as it relates to Brittany. I teach adult classes in a variety of situations – working for; a school for social educators, a business school, a computer college, two local associations, a private school and with individual clients. All-in-all, this group of over 200 people of all ages consists of teachers, nurses, accountants, factory workers, campsite cleaners, unemployed, stay-at-home parents, police, young people starting out in their careers, budding footballers and even a retired fighter pilot. I work in towns occupying both ends of the socio-economic scale. I also know a handful of local people and have picked up on conversation wherever possible. Not a perfect research sample but as someone who has a research Master and has laughed at many a Newspaper headline extrapolated from social surveys, I think it provides for a fair sample group from which to test that water.
In all my classes, Brexit has been a recurring topic (and source of bewilderment, amusement and shock) and I have done my best to explain and encourage discussion, regularly explaining the Scottish context so as to widen understanding of the complexity of the UK (because often I find Britain is synonymous with England in the minds of those I converse with). This has given me the opportunity in recent weeks to discuss the yellow-vest movement and I have dug deeper and deeper as the weeks have went by in an attempt to discover the level of support and if it has sustained through the various events that have passed as the 'pro' and 'anti' groups (and Russians) have fought it out on social media with their memes, videos and 'statistics'.
The people of Brittany are no stranger to protest. In fact, they are quite proud of the fact that they will not accept being told what to do by Paris or any other 'distant' body politic. If anyone wants, they can look up 'les bonnets rouge' for a flavour of that, when they mobilised to bring down a proposed 'ecotax' that they found unjust – the tax was eventually delayed then abandoned by the state. So, as the protest began, it was with no surprise that I ventured out to see my local roundabout (in a rural location) well-populated with yellow-vests, fires burning away and make-shift campsites popping up. Each time I passed many passing cars displayed a yellow vest on their dashboard and much honking of horns was heard. They have a chant here in Brittany that I knew would be heard (you can replace the word Macron with whatever or whomever is the target of their ire).
"Macron est foutu les Bretons sont dans la Rue! "
Roughly translated it means – Macron is fucked because the Breton people are in the street protesting.
Now, when Macron (eventually) responded to the weeks of unrest in a televised address to the people last week, he promised a 100€ rise for those on the minimum wage, offered tax-free overtime working, he stopped a proposed tax for retired people earning under a certain amount and other measures intended to placate the movement, or at least diminish it in strength and turn the tide of public opinion. All this came after the decision to stop the tax-rise on fuel (the initial impetus for the protest). I don't think I have ever seen such offers from a British Government in the face of protests. The last 10 years of Austerity unnecessarily imposed by the Conservatives has seen enormous rises in the use of foodbanks, homelessness and suicide. The roll-out of Universal credit has caused even further damage to the already disenfranchised and cuts to services have damaged the very fabric of society, so it now flutters in tatters. Maybe I am wrong, but we seem to grumble and accept our lot in the so-called United Kingdom a lot more than we should. Yes, there are marches and protest, however, maybe a little bit more direct action could have gone a long way in the past.
Following Macron's address to the people, I reflected,
Well, a 100 bucks is a move in the right direction and placating the retired with a stop on a proposed tax rise is a good move, add that to the no-rise in fuel tax and tax-free overtime the yellow-vests may still grumble but public opinion will surely be – 'ok, that's not bad so let's move on'.
Not the case. Here's a selection of the comments:
'He thinks he's the God Jupiter."
"He said I, I, I as if it is his to give, it belongs to the people and he needs to share it out better"
"Too little too late, why only act when people feel forced to come out onto the street"
"He sat behind a gold desk to deliver his message and it was pre-recorded"
"He's arrogant, too distant from the people he is supposed to serve"
"He should've imposed a tax on the rich but then they are his friends"
"He's spending 300 thousand on rugs for the Elysée and have you seen the bill for his wife's hairdresser?"
"He thinks everyone voted for him whereas the reality is that lots were voting against Le Pen."
One of the most common comments relates to one of his initial responses – the people don't understand what I am trying to do. If there is one thing the Bretons don't like, it is being called stupid. He really blew it with that one.
That is not to say everyone agrees with the methods employed by some in the protest movement. There is concern on the impact of small businesses who can't trade, there have been complaints that the movement should focus more on the symbols of power (banks, supermarkets, Government buildings, refineries etc.) and not retail parks and commercial centres. There are some in my classes who took part in the protests of 68 and they are against the levels of violence on display at the protest marches in Paris (though they accept that most Gilets jaunes don't cause the violence), and there is worry about the wider impact on the economy as it relates to inward investment. There is also a worry that the movement is being exploited by nationalists and those with anti-immigrant sentiments. However, all, without exception, believe the protesters have legitimate concerns and give them support on that basis. When given the choice -Do you support Macron or the Yellow-vests, the protesters win easily.
If my little enquiry is anything to go by then Macron's popularity dive is very real and his address to the people did not do enough to change that. In fact, in some minds, it cemented the idea that he thinks like a king and he may find that hard to shrug off. He may have bought himself some time, but he needs to do more if he wants to regain lost ground. His proclamations thus far have seen him considered as somewhat of an egoist and distant from the reality of what a Presidency should mean. It is said, by respected journalists in the French media, that even his Government don't know what they should be doing and are often waiting for him to proclaim from up high what it is they should say and do. Time will tell.
So, there it is, a peek into the conversations of the Breton French. I just wanted to give some insight into the way it is 'on the ground' as it where, because the agenda-driven media manipulations we see across so-called mainstream media can, at times, miss out some of that (thought here have been many good pieces on the situation). In relation to my reflection on what it means to Scotland, I'll say only this – fortune favours the brave, and that in no way references anything other than the fact sometimes we really do have to stand up and fight (peacefully) for what we believe in because the Conservatives certainly won't offer anything other than more cold sick. I wonder why I was of the opinion that he had offered a lot whereas the French seem to think it wasn't enough. Is it because we have had so little from our protest efforts in the past? I wonder.