The Bigger Picture of Little England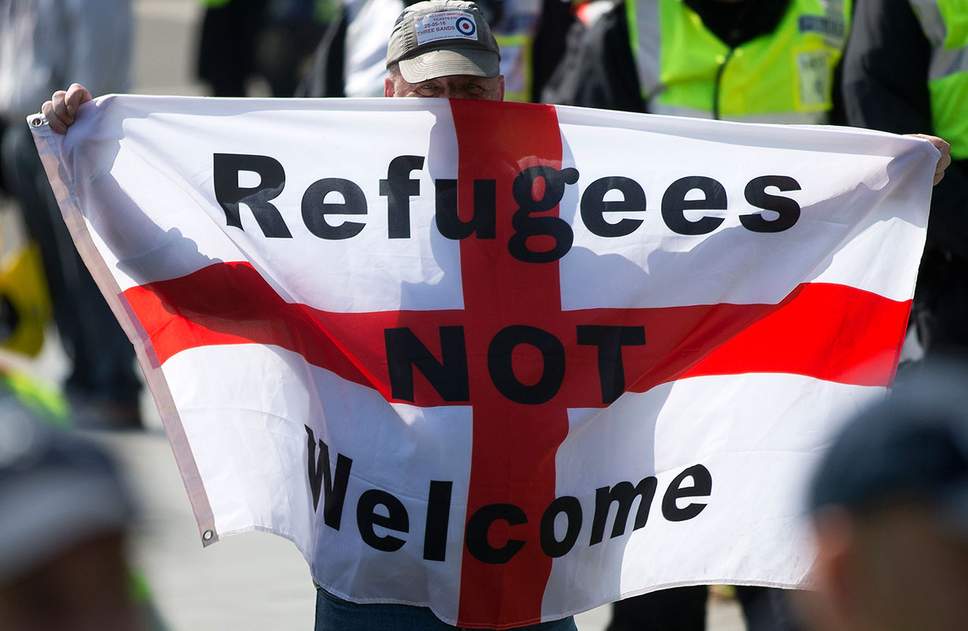 The pictures of the women espousing the politics of Enoch Powell, or the Tory peer urging Britain to re-colonise Zimbabwe may seem like social media flashpoints through which we can project a picture of an entire nation in the grip of the dark forces of racism and nascent fascism. But smearing a whole group of people from these 'moments' is misguided: the Covington Boys are no more representative of American Catholicism than the No Deal cheering men on Question Time are representative of the city of Derby. People are complex, societies are diverse, countries are confused by regional and demographic variation.
But being immune to the signposts of the new right is equally absurd.
"Britain is getting more tolerant, not less" argues Alex Massie in an opinion piece at CapX "Don't believe the myth that this is a nation of Little Englanders". Miraculously Massie argues that: "We may hazard that if Leave voters were — as some Remainers believe — driven by xenophobic obsession in 2016 they have, or at least many of them have, shed that xenophobia in 2019."
How do you "shed xenophobia in 2019"? Is there a gym for this?
White men writing about racism not really existing is always problematic, but this analysis not only ignores the signs and symbols of racism that people experience in Britain today but it Massie's own privilege.
The reality is well documented.
Hate crimes involving racial and religious discrimination soared at an unprecedented rate after the Brexit vote, prompting warnings that minority groups feel "more vulnerable than ever". Police figures obtained through Freedom of Information (FOI) requests showed incidents surged by 23 per cent – from 40,741 to 49,921 – in the 11 months after the EU referendum, compared with the same period the previous year, marking an unparallelled rise.
Eleven of the 32 police forces in England and Wales saw reports of race and faith-based hate crimes increase by more than 40 per cent, with several regions including Gwent, Nottinghamshire and Kent soaring by more than half in a year.
Massie's argument that attitudes to immigration have softened ("something startling has happened: the salience of immigration as an issue has plummeted. Before the referendum, nearly half of all voters (45 percent) named immigration one of the most serious issues facing Britain; now fewer than one in five voters tell IpsosMORI migration is that important") – is a mute point. It's a bit like saying that support for UKIP has reduced now that Brexit has been won. Well, yes it would wouldn't it?
Islamophobia, visceral reactions to immigration, people seeking asylum and xenophobia are apparent and very real and emboldened by Brexitland.
Home Office figures reported that race and faith-based hate crimes had decreased by 0.4 per cent in 2011/12, before climbing by seven per cent the following year, 16 per cent in 2014 and 17 per cent in 2015 — making the latest 22 per cent figure an unprecedented annual rise.
Nor has it gone away – despite wishful thinking from those it makes uncomfortable:
Police today have expressed concerns that the "febrile atmosphere" around the Brexit debate risks growth in strength of far right groups. We all need to be wide awake to this and developing strategies to combat it. #No2Hate pic.twitter.com/v3bIqgSWjf

— LeanneWood 🏴󠁧󠁢󠁷󠁬󠁳󠁿 (@LeanneWood) January 23, 2019
Massie's line has an echo back to his own magazine The Spectator, who worked hard to dismiss any Brexit-related rise in hate crime. In October 2017 Tom Goodenough wrote glibly:
"Perhaps the referendum did lead to a rise in hate crime. Then again, perhaps it didn't. But despite the angry reports blaming Brexit, the only thing that is clear is that there is little proof either way."
The white columnist tapping away reassuring us that racism doesn't exist or has just disappeared is a real thing.
However Daniel Devine (University of Southampton) has studied the phenomena and has the following conclusions:
"The evidence on all available data points to the referendum causing a significant increase in hate crimes. But there remains the question of why. Elections and referendums happen all the time across Europe without historically remarkable increases in race-hate crime. Whilst it isn't possible to offer a conclusive answer to this in this post, there is a potential clue in the dynamics of public opinion, media coverage and hate crimes. Figure 3 shows the number of articles in UK national newspapers containing variations of the words "immigrants" or "migrants" (dotted line), the salience of immigration (solid line) and hate crimes (dashed line), for each month in 2016. These values are standardised to fit on the same graph."
Figure 3: Immigration Salience, Coverage and Hate Crimes
Both salience and coverage of immigration increase before the referendum (during the campaign) and peak during it. Hate crimes follow in July, peaking about a week after the referendum. All three then decline. Since we know the media has a potent effect on anti-immigrant attitudes and right-wing party support, and that events and media coverage have a large impact on hate crimes, it is not implausible that this dynamic of media coverage and immigration linked the referendum with hate crime, particularly if one considers the dominance of immigration and immigrants as an issue during the campaign. Similar evidence has also been found following Donald Trump's election in the US. The subject merits further research. Since the data used does not include hate crimes against White British individuals (though this is still classified as a hate crime), we can be sure it isn't a 'backlash' effect.
You can read his full study here.
Of course you don't need an academic study for validation of your experiences if you're beaten up, threatened or your friends or family are deported.
You don't need a CapX article explaining that none of this is really happening if you are an EU national living in the Britain being charged and pressured to leave – or if you are an MPs staff barricaded into their offices by the English Defence League (EDL)'s thugs – or if you are one of the minorities who experience the surround-sound of tabloid racism day in, day out.
There's no place for a smug complacency about racism or the rise of fascism.
Building solidarity and resisting racism has to start by acknowledging its existence.