England, a Love Letter
England. I want to say something about England (as if the naming of a place could ever account for its rich complexity).
As we head towards a tragic crash out from the EU, so much current chat I hear in Scotland and Ireland is obviously both incredulous and despairing, while acknowledging a truth about Brexit being a crisis of identity and political representation in England. And that it would seem, is a big part of it.
That rich complexity of England (its cities and shires) has been and continues to be ill served and ill represented by Westminster democracy, pretty much since feudal times (the 1945 Labour government is the exception that proves the rule). Among the many things that Brexit is. It must be this too. A howl of English anger. At its unrepresentative democracy. At first past the post and gerrymandered constituency democracy, which is as never changing as pond water. And yet, though these are probable causes, they remain unspoken. Unarticulated. Brexit being their lightening rod.
I also do need to say how much England means to me.
My own personal connection.
The very dear family and friends from England.
My own grandmother being a Portsmouth girl.
It's towns, cities, countryside and of course it's people
I've been a fortunate beneficiary of English wit, warmth, and generosity
Their sense of fair play.
Courtesy.
Open mindness (much more than the Ireland I grew up in the 80s).
The casual diversity of England.
In their local accents.
In the range of ethnicities that are now all English.
I have spent significant time in a only few of its cities (Leeds and Newcastle in particular).
And I have loved those cities.
England and English culture is a huge chunk of my life. I owe it a huge debt. It's made me laugh tears Les Dawson to Python to Stanshall.
It's filled my head with Byron to Greene to Orwell to Priestley. And so many more writers too numerous to name.
And then there's the incredible music. Beatles. Zeppelin. Pistols. Sandy Denny. Floyd. Smiths. Ian Dury, Roses. Straits. Prefab Sprout. Massive Attack. Supergrass. Again far far too many to even begin to account for. I'm sure we all have our own lists and favourites. No doubt we could all argue and agree on other completely different lists.
And all this is but a sliver of England's great richness.
I grew up in the West of Ireland obsessed with English football. That's where the best Irish players went. Brady. Stapleton. McGrath. But enough of them. Who else knew Brian Marwood played for Arsenal and Sheffield Wednesday? (and; by the way, what a fantastic name for a team). I did. Because I had a poster of him on my wall in both kits pulled out of Match and Shoot. I didn't even support either team (and who the hell is Brian Marwood anyway?)
I dreamed, as many boys do, of scoring the winning goal in an FA Cup final (I still do!).
I still remember the excitement of my friend's Dad trying to catch the English signal. The TV full of ghost shadow from the fuzzy black and white TV pictures. And every so often the 1985 Manchester derby would emerge from the snow, and maybe if we were lucky a flicker of colour in the kits .
An Irishman up on the roof, braving the Rod Hull legacy before poor Rod Hull, adjusting a primitive aerial as we shouted out the window to acclaim every flicker of colour.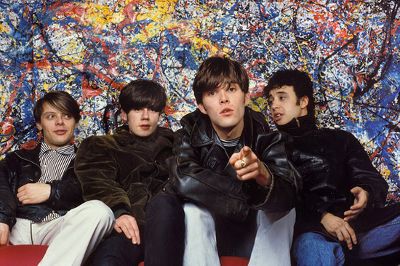 Even flickering images from that same aerial of Saturday's Late Late Breakfast show on the BBC with Noel Edmonds (I know, I know!) seemed so incredibly exciting. A world like ours, but not.
England. Always close. But also exotic.
So yes, this isn't some patronising pat on the head for my English friends and family, I make no apologies for loving modern England and it's culture.
Of course there's the Empire stuff, and that's still problematic in the suppression of native cultures in Ireland, Scotland and Wales; but it should be noted that many Scots, Irish and the Welsh were also beneficiaries and partners in that dubious imperial enterprise.
And now England appears to be on the verge of some kind of retreat from it's best bits, even temporarily.
But as it does, to contemplate England's absence is to appreciate how much amazing culture it's responsible for. How much it has given. A hugely rich cultural history far in excess of its size as a country. England is an inspiring place. Full of inspired people.
However, I do have one fond wish.
A wish that schools and popular media in England would focus on this rich vein of culture and history, (a bit on Irish and Scottish history is also very necessary) rather than, as it seems, anglo-centric empire, monarchy and the world wars. Stuff that quite frankly (from recent events) is clearly not being taught or understood with any kind of critical eye.
Coming from Ireland, I can reflect on our turbulent history (often with England); that countries can't move forward into the future, if they don't properly understand or appreciate their past. Good and bad. And sometimes things in the murky grey.
England just needs to know how truly great it is, without having to always dig out the Empire tropes, or Churchill, or the two world wars and one world cup stuff.
But I cannot bash England. Because Westminster isn't England The Queen isn't England. BBC Question Time isn't England. News from the England camp isn't England
Neither is May, Johnson, Rees Mogg, Or Stephen Yaxley Lennon.
England is and will always be worth so much more than all of that.