Time To Convert Those 80-Minute Nats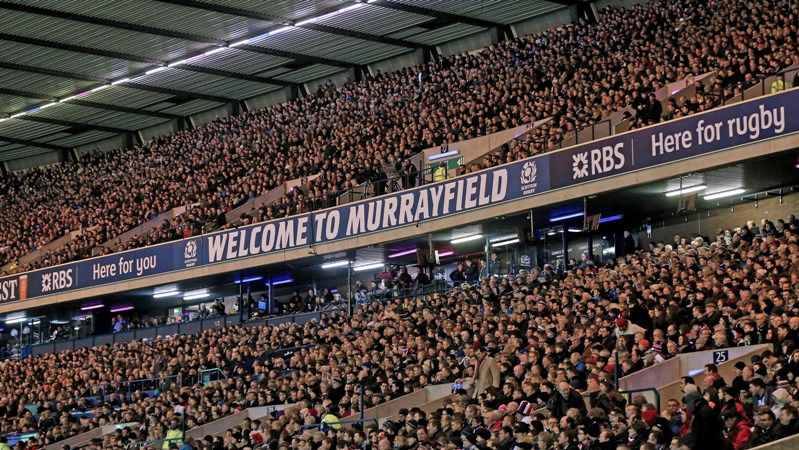 Best scoop I bagged when working as a reporter in the old STV studios at Cowcaddens came from cajoling Jim Sillars into doing a camera interview in the aftermath of the 1992 General Election. Completely scunnered by the loss of his Glasgow Govan seat, the former SNP deputy leader got stuck into "90 minute nationalists" – fellow Scots whose fervent patriotism was confined wholly to Hampden. A belter of a soundbite, it made the frontpage splash in The Scotsman the next morning.
Sillars' seething outburst on Scotland Today struck a raw nerve with teatime audiences across the central belt, partly because it distilled a bleak truth about Scottish politics in that period. No longer. Survey the swaying ranks of the Tartan Army nowadays and it's a fairly safe assumption the vast majority of those laughable tammies and ginger wigs belong to SNP voters.
Now let's go over to Murrayfield as Scotland line up against Ireland in the Six Nations. What a spectacle all those perjink Edinburgh executives, lawyers and accountants in their Pringle sweaters and Burberry jackets, bawling Flower of Scotland as if they were on the battlefield at Bannockburn.
Don't be fooled. The second they exit the national rugby stadium, virtually all of them will revert to their usual selves – adamantine Unionists to a man and woman. For this stratum of Scottish society is a sad manifestation of what we might term 80-Minute nationalists (with a very small 'n').
Apart from in the old Borders mill towns, rugby is predominantly a passion of the possessing classes – the haves and the have-yachts. All too tempting to mock them as they thunder back in their giant four-wheel drives to a bijou bistro in Bruntsfield or Finnieston for reflection on the match over an exclusive malt. Easy to become all Billy Connollyish and recite that hilarious skit about how they all have surnames for Christian names.
But Finlay's and Crawford's form of patriotism isn't all phoney. It seems like a crazy contradiction yet for many folk – from all socio-economic backgrounds – (upper case) Unionism is very often interwoven with (small 'n') nationalism. And since Britain entered the Common Market in the early 1970s, such nationalist Unionism has been further intertwined with varying degrees of Europhilia.
Big problem now is that this intricate tartan plaid has started to unravel – rapidly. This ancient European nation is being wrenched out of the EU against her will. Simultaneous membership of two hitherto prosperous unions – always brought prosperity to the rugby crowds, anyway – cannot continue. C'est pas possible! Night möglich! Farage and Boris have seen to that.
Make no mistake, the UK's imminent exit from the EU has shaken the Edinbourgeoisie to its core. As well as returning a firm but polite 'No, thanks' to Scotland becoming an independent country, the Athens of the North gave an emphatic Non and Nein to Britain 'taking back control' from Brussels.
Scotland's well-heeled want to remain in the two unions – the UK and the EU – and these are people accustomed to getting what they want. How ghastly not to be in control of events this time also. Dazed and confused by such a vulgar denouement, the double-unionists feel like they've been kneed in the nose during a particularly nasty scrum. As well as their blood vessels, Brexit has burst their oval-shaped ball.
What is it about exiting the EU that the Edinbourgeoisie find so utterly awful? Much the same as their counterparts in London or Oxbridge, no doubt. As the great radical historian, E. P. Thompson, told us during the 1975 Common Market referendum campaign, 'Going into Europe' was always for the great British bourgeoisie blurred into 'a haze of remembered vacations, beaches, bouganvillaea, business jaunts, and vintage wines.'
Oui, bien sûr, monsieur but didn't European integration also stop us all slaughtering each other? It is perfectly possible to argue against that, but it's probably better not to – especially if you want invited back to bohemian dinner parties in Stockbridge, Broughty Ferry or around Byres Road.
That gastronomy, second homes in rural France and budget air fares could never turn Europe into an imagined community in every sense possible – especially political and cultural – would not have come as any shock to Thompson. A true English patriot and tireless peace campaigner (in Eastern as well as Western Europe), he wrote prophetically in the Sunday Times on 27 April 1975:
This 'going into Europe' will not turn out to be the thrilling mutual exchange supposed. It is more like nine middle-aged couples with failing marriages meeting in a darkened bedroom in Brussels for a Group Grope. The gruppensex will rejuvenate no one. But in the recriminations of the bitchy afterglower expect a resurgence of bourgeois nationalist rancour of sensationalist intensity.
Lordy, a historian who could see into the future! How prescient was that ageing scholar and anti-nuclear campaigner with the mushroom cloud of white hair. Brexit, Spexit, Itexit, good old Grexit, you name it…Even some minor mutterings about Irexit in Roddy Doyle territory and among the culchies, although the southern Irish elites in Dublin are currently far too bogged down in Brexit damage limitation even to notice this embryonic threat.
Scexit ensues automatically from Brexit, of course, which is what is really getting to Scotland's double-unionists (as well as most Nationalists). So much so, even a few their favourite members of the Unionist commentariat – and what passes for a loyalist intelligentsia – are so radically revising their positions on the Scottish Question that this stratum no longer seems beyond salvation.
Consider the case of Professor Colin Kidd. A distinguished historian at St. Andrews's University, he's never been kidding about the fact that he's a dyed-in-the-wool Unionist, popping up on the pages of various metropolitan journals to provide a high-brow justification for preservation of the Anglo-British state. Buffeted in his ivory tower by bracing North Sea gales, he's getting a bit gloomy after becoming all evangelical about nationalist Unionism.
Don't write him off. In the stunned aftermath of the 2016 European Referendum, Prof. Kidd wrote dejectedly in the London Review of Books: 'In Scotland the SNP no longer needs to appeal for independence. All that's required now is that the SNP persuade Scotland's double-unionists to support continued 'union' with Europe…The balance of risk – reputational as well as economic – has shifted decisively. Better Together with whom?'
Sounds like this once bolt upright defender of the 1707 Union has started to wobble a wee bit, doesn't it?
Last autumn, another ink-stained rubbisher of all things pro-Indy posted an equally unexpected think piece in the Independent. 'Brexit has surely made a mug out of me,' confessed Chris Deerin. 'I'm not sure how I'll vote then (in a second Scottish independence referendum). But I'm pretty sure I won't be writing tear-stained pro-Union columns about British values and our moral importance to the world. That country's gone. Fool me once, and all that.'
Deerin wasn't foolish enough to pitch that piece to his old paper, the Scottish Daily Mail, which would never have published such a political confession, of course. The daily bible of Middle Scotland (there is a Sunday edition as well, alas) can always be counted upon to keep churning out tear-stained pro-Union columns all the way up to IndyRef2 – and beyond, if the Yes side triumphs next time.
If it is to achieve a solid indisputable mandate for self-determination, the nationalist movement needs to expand rapidly beyond its natural base and really home in on all those Chris Deerins and Colin Kidds out there in all walks of life – successful Scots averse to voting Yes in 2014 but whose previously closed minds have been prised open a tiny bit by the terrible pains of Brexit.
It won't be a dawdle, of course, to undo centuries of mental self-colonisation so deeply embedded in their DNA and reinforced by the steady dripfeed of insidious indoctrination throughout our education system. For all their current despair and disgust with Little Englanders, when the crunch comes most of these slight switherers will doubtless return to telling us once again all about their love for TINA (There Is No Alternative).
We simply must maintain a customs union entered into more than three centuries ago, mustn't we? Don't we comprehend Scotland's very economic survival rests on staying in what will remain, until kingdom come, our most crucial common market – Her Britannic Majesty's United Kingdom of Great Britain and Northern Ireland? And so on and so on…
For homo economicus Britannicus everything in the end boils down to The Market. But the problem for this species is that, as E.P. Thompson acutely observed, The Market 'has no mind, no direction, no other identity…no head, eyes, or moral senses.' And that's a big, probably fatal, problem.
People everywhere yearn for more than this. Just as Europe took too long to evolve from the Common Market into the EEC – and even still isn't close to being a proper political union – so Britain is doomed if it continues to be reduced to nothing bigger or better than the BEC: the British Economic Community.
Man (and woman) does not live by bread alone – even if they're making a lot of bread. Which is why the Indy movement should roll up its sleeves and strive to convert (pun intended) those 80-minute nationalists who gather merrily at Murrayfield. It's not so long ago, after all, that Sillars was voicing his frustration about 90-minute nationalists, and look how they were turned.
To conclude with one very final rugby pun, it's worth a try.