The SNP's Great Moving Right Show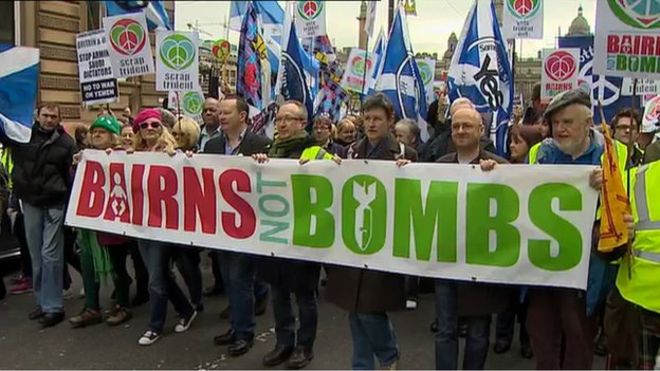 In January 1979, four months before a triumphant Margaret Thatcher was standing on the steps of Downing Street quoting St. Francis of Assisi, the celebrated sociologist Stuart Hall penned an astonishingly prophetic political analysis. Published in Marxism Today – the journal that would go on to capture the Zeitgeist by critiquing Thatcherism with more intellectual incisiveness than any other publication – Hall's article announced and exposed 'The Great Moving Right Show'.
That classic MT magazine cover sprang instantly to my mind as I was scrolling through the The Times website and saw the splash in its Scottish section: 'Campaigners accuse SNP of going soft on Trident renewal'.
Responding to the abject surrender of the party's Westminster defence spokesman, Stewart Macdonald, to the Tory Plan for Defence in Global Britain, Jonathan Shafi, the co-founder of the grassroots movement Radical Independence, claimed the SNP had been taken over by "necons" preparing to "sell out on Trident".
Isobel Lindsay, the vice-chairwoman of Scottish CND, told the Commonspace blog: "Not a single mention of the money committed to Trident…no critique of the delusions of imperial grandeur. SNP members deserve better than this."
It really has come to an amazingly sorry pass when the only counterblast to gung-ho Gavin Williamson the SNP's defence spokesman can summon is to splutter that Scotland's dominant party will work with the embattled UK government to strengthen defence of the North Sea and the Arctic, improve working conditions for the armed forces and find more sustainable funding.
The The Times' Scottish bourgeois subscribers in leafy suburbs like Bearsden and Broughty Ferry must have been chortling over their fresh brewed coffee and butter croissants. But nothing should anymore shock or awe Scottish peace activists, or those who dream of any sort of radical independent Scotland.
The SNP's Great Moving Right Show has been on the road for a number of years now. It's only a matter of time before they complete their ideological journey and Faslane's nuclear submarines become altered in their eyes from obscenity to necessity.
It was on 19th October 2012 that the Scottish National Party suddenly transmogrified into the Scottish Nato Party. A yellow and black plaque will come to be erected on the front entrance of Perth Concert Hall marking that historic day when the SNP lost its soul and wrote its own political death warrant, clearing the way for the eventual rise of a rainbow coalition for real radical independence.
I just hope Jean Urquhart and John Finnie are still both around to savour the obituaries for Neocon Nationalism when they appear in not only the The Times' tartanised edition but all legacy media still staggering on at that stage. This courageous and principled duo – alone out of all the serried ranks of SNP MSPs (and MPs) – valiantly defended the party's long-held outright opposition to a pro-nuclear weapons organisation.
Shoulder to shoulder in a tragically doomed defence of the party's radical tradition stood 332 conference delegates. That amounted to 44% of the total votes cast – a remarkable rebellion within a party whose dictatorial leadership at that time could have given both Stalin and Mao lessons in how to snuff out any flicker of dissent.
MSM reported it totally differently, of course. Another triumph for Alex Salmond's and Angus Robertson's deft stewardship of a party on its missile-like trajectory from protest to power. The Nats, according to the likes of Brian Taylor, had listened to Alyn Smith MEP and were ready at last for "the big league". What a shindig at the Salutation Hotel this triumphant trio (joined by Big Brian, no doubt) must have had afterwards.
Meanwhile, the sound of over 300 party members being sent hamewards tae think again about what sort of movement they'd traipsed round the doorsteps for went unrecorded, apart from a couple of brief soundbites from Jean and John. (Britain's semi-state broadcasting service must abide by those pesky impartiality rules occasionally, after all.)
And so, the SNP's Great Moving Right Show rolled on. There had to be a very slight swerve to the left when Corbynmania emerged on the horizon without advanced radar warning, threatening to sweep Caledonia along with the rest of Britain. But a tiny nod to progressive income taxes and minor amelioration of social welfare cuts kept the lefties inside the tartan Tory tent for as long as necessary.
Then, as soon as it became apparent that ancient Labour was going to stop advancing like the Roman army at Hadrian's Wall, normal business could resume. With attention switching again to the Lazarus-like revival of Scottish Conservatism in an oddly familiar orange glow, the call went out to a strategic communicator to convene the Sustainable Growth Commission and make sure there was absolutely no input from any trade unionists.
The fact that wee Andra looked as though he might be starring in an amateur production of The Book of Mormon in his spare time only added to his aura of American neocon zeal. Whaur's yer Mitt Romney, noo?
Wilson delivered what the leadership had ordered – a 354-page doorstopper documenting how an independent Scotland would not shy away from further waves of austerity as the Scottish ship of state embarked, with buccaneering determination and puritanical fervour, on a long voyage towards the foundation of a mid-Atlantic colony called New Caledonia. (Not to be confused with the Darien scheme, of course, the last time – long before RBS under Fred Goodwin – Scottish bankers dreamt up a grand idea to bring about national bounty and prosperity).
But, the best laid schemes…and a' that. Immediately the SNP leadership found themselves in stormy waters. Chrissakes, even the Herald's Iain MacWhirter (no enemy of the Nats) was reporting: "Nicola Sturgeon, who was always thought of as a dedicated left-winger, has found herself defending a document that reads in places like one of George Osborne's Budget speeches."
That that point the frazzled First Minister had to call upon another of wee saintly Andra's wondrous skills in order to resteady the boat – crisis PR management.
Still, there was no way he was getting to deliver his indefensible document to the delayed SNP Spring 2018 conference. Just imagine the reaction around the Aberdeen Exhibition and Conference Centre when wee Andra reached his Martin Luther King-style climax:

Friends, I won't get there myself. In fact, none of us in this hall or anywhere in this wonderful wee country, nor our children or grandchildren, will get there. But I have stood on the top of Ben Nevis and seen the Promised Land. Just a couple more decades of savage austerity, then our great-grandchildren shall get there. Just bear with Nicola and me.
As if the longest suicide-note ever penned for any political party in the history of democracy – from Plato to Nato – wasn't enough to have Richard and Ruthie jigging with delight through the heather together, wee Andra now has a pulpit in The National, which he mounts once a week to sermonise to the fainthearted faithful about the stony endurance the Anglo-British state.
You probably don't read his epistles in the print version of that paper – for obvious reasons very few Nationalists buy The National – so let me break the really bad news to you: the Sustainable Growth Commission has not been decommissioned. Instead, it now "seeks a prospectus that can unify a settled will behind Scotland's next step along our 'journey without end'."
(Aye, you read that right, Esther. Noo wee Andra is tellin' us that even oor great-grandweans and their offspring winnae reach the promised land eether).
The former MSP has taken to preaching the most softly, softly approach to regaining national sovereignty ever adumbrated in any restless nation. "In the parlance of Brexit, we offer the softest of possible changes to the current arrangements, not the hardest," he wrote in his latest column. "We recognise the level of integration and all the ties that have bound us for centuries".
He lost his Cherry with that one: Joanna Cherry instantly leapt to her feet to denounce this "softest possible" path to independence.
Perhaps she (and we) shouldn't rush to judgement – a mortal sin, remember – and just listen for a moment to his holy rationale: "The reality is that all change of such significance in any organisation, let alone a major country, is a process rather than an event. Transitions take time as issues are worked through, new institutions built, agreements struck, and strategies put into place and then into action."
Andrew Wilson knows all about managing change within complex organisations: before founding Charlotte Street Partners, he served for a number of years as Deputy Chief Economist then Head of Group Communications at that wonderfully successful organisation RBS.
In fairness to this extremely dismal scientist and Fred the Shred's former PR flunkey, Wilson is wholly correct when he says we must all learn lessons from the 2014 referendum defeat. It's just some of us don't agree that we would "benefit from further research and reflection from Angus Robertson and the team at Progress Scotland."
For sure, there's no denying Big Angus has done much reflecting on defeats and setbacks in recent years. Not only did he lose his Moray seat in 2017 – after having the most expense claims knocked back of any Westminster MP, north or south of the Border – he also masterminded the ultimately unsuccessful 2014 referendum campaign.
Think back for a moment to one of his spiffing strategies for securing victory in that plebiscite: convince your hairdressers and taxi drivers of the case for separation so they, in turn, can persuade others! Such a shame there just weren't enough clippers or cabbies to carry us to national liberation.
Angus's brand-new polling organisation can be counted upon, however, to produce irrefutable survey evidence that the SNP's new Unholy Grail – economic renaissance in none of our lifetimes – has captured the excitement of the Scottish electorate. Fellow Scots cannae wait to be subjected to even more excruciating austerity – so long as Saltires are fluttering on every front lawn in the land, of course.
Not that Angus Robertson would like too many flags waved in his own face. In 2012 – just as the SNP started to stand for Scottish Nato Party – he thought it strategically smart to tell an Austrian newspaper on-the-record that he was not a nationalist. Half-German and thus possessing a fluent command of Deutsch, he assured readers of the Wiener Zeitung that he was "not a 'Nationalist' in the sense it can be understood in the German language."
Gross Angus got a lot of Scheisse for that, but there's probably a very reasonable explanation. During all those long, lonely nights down in London – when he wasn't filing his House of Commons expense claims – the Honourable Member for Moray possibly overdosed on the History Channel. Dubbed the Nazi Channel due to all the documentaries about Hitler and the Third Reich it used to churn out on an endless loop, too much exposure to that could make any of us end up thinking that nationalist was just shorthand for national-socialist.
Or maybe the problem was he whittled away too many hours mulling over his ideological soulmate Mike Russell's classic contribution to Scottish political philosophy, Grasping the Thistle. Repeated reading of such a deep treatise could plant existential doubts in any Scottish Nationalist's cranium.
Probably none of the idealistic Young Nats reading this ever learned about Russell's right-wing ruminations in the Holyrood-authorised version of Scottish History, so let me very quickly educate them…
Way back in the devolution dark age (2004 to be precise) after losing his first seat in the Scottish Parliament, the former chief executive of the SNP went off to live like a hermit in the wilds of Argyll. After years of deifying social democracy, monkish Mike Russell suddenly saw the light and realised that right-wing heresy had to become the new orthodoxy within the national movement.
He devoted all his spare hours – when not praying for a swift return to that most holy of shrines, Holyrood – to reading the ancient runes with a businessman called Dennis MacLeod. Together this Druidic duo co-authored a tome dissing almost everything the SNP had stood for in its modern incarnation. Even that most sacred and patriotic of mediaeval parchments the Declaration of Arbroath got debunked in the first few pages.
The SNP, Russell and MacLeod jointly pontificated, should banish devilish notions of national independence and instead seek to negotiate a "New Union" with England. Once Westminster conferred its blessing on full fiscal autonomy for Bute House, in return for abolition of the Barnett formula, auld Scotia could then be administered all the shock therapy she so desperately required to be jolted out of her zombie state.
Our semi-independent government could then go on the lion rampage against the undeserving poor, the idle and the feckless. Scotland's welfare state and taxes would be slashed, with vouchers introduced to marketize provision of schools and hospitals – none of which would be supplied through the NHS, since this would be dismantled in favour of an insurance-based health service.
Oh and (almost forgot) Russell and MacLeod also floated the idea that foreign affairs and defence should become a shared responsibility with Westminster.
None of their madcap manifesto ever had a hope in hell of being enacted, Danke Gott. After scanning the first draft of Grasping the Thistle, Alex Salmond grasped Mike Russell by the lapels and told him to delete the most politically-dangerous passages or he would probably never sit again in the Scottish Parliament – certainly not within the SNP's ranks.
Plainly petrified of being forced to remain roaming out on the windswept wilderness of Argyll, Michael Russell (to give him his full nom de plume) instantly stopped preaching his new gospel or gifting signed copies of his heretical parchment to even his closest friends and acquaintances. Rumour has it many copies got pulped. Certainly, he's never penned a sequel.
Whether the Cabinet Secretary for Government Business and Constitutional Relations grasps any of those thorny thistles again now that Salmond has other concerns on his mind, will be most interesting to behold. After all, there couldn't be a more auspicious time to refloat 'New Unionism' now that its virtues are being extolled even on the pages of The National and soon to be backed up by a spanking new polling organisation.
Just you wait until wee Andra gets his act together with Big Angus and monkish Mike. Then the SNP's Great Moving Right Show will really hit top gear.