Scottish Junior Football: The Beautiful Game?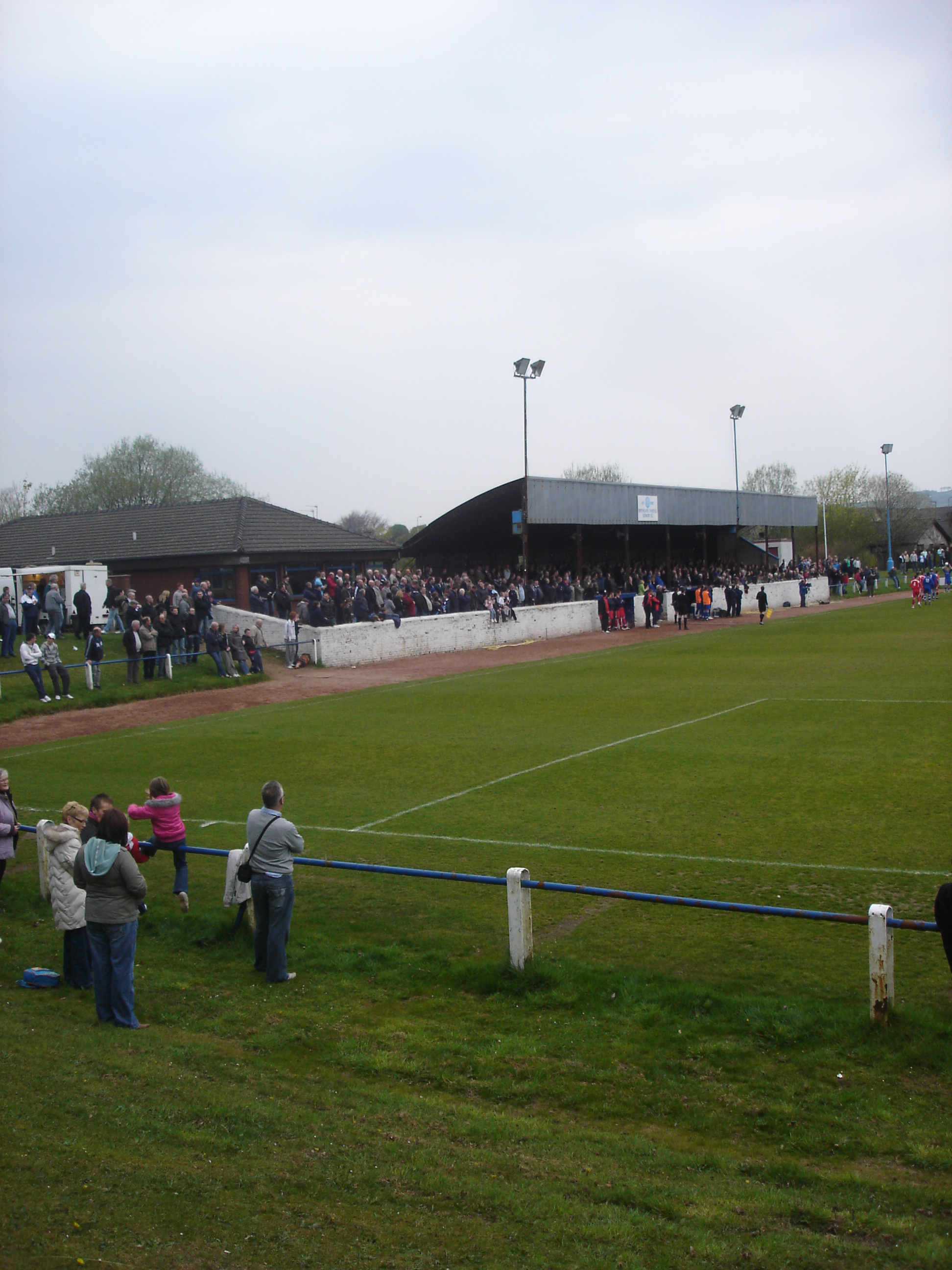 We are delighted to publish the winner (and runners-up) of the second Ian Bell New Writing Award. Here's the winning entry by Peter Stewart. Congratulations to Peter and the other writers.
None of those semi-mythical Alex Ferguson quotes about football do the Scottish junior leagues justice. It's a world so far removed from the money and polish of professional sport that it feels like a different game. But to the people involved, it is their world.
Linda is the secretary of Whitburn Junior Football Club, and as she does every other Saturday, she is taking official match photographs of the team. This sodden October afternoon, "the Burnie" are taking on Kennoway Star Hearts in a cup match. Through the lens of her DSLR, she sees Whitburn midfielder Gary Russell barrel into a horrendous tackle – a truly dangerous attempt at getting the ball, which he misses by a further ball-width and instead assaults the lower-leg of the Kennoway player, who yelps and crumples onto the pristine grass.
Despite every other match in the area being called off that morning, Whitburn's Central Park looks in remarkable condition. The team has played on this ground – named after its location in the town – since 1933.
The Kennoway player writhes on the ground. This is not an unfamiliar sight to anyone who watches Match of the Day, but unlike the multi-millionaires who simulate anguish on the turf of Old Trafford or Anfield, this young man looks in real pain. He lost a shin-pad in the incident, and it lies a few feet away having failed in its purpose. Linda turns her eye from her viewfinder and remarks to one of Whitburn's coaching staff on the touchline:
"Think I'll leave that one aff the website".
Something catches her eye over the coach's shoulder. A commotion is building.
Even the juniors have supporters. The Kennoway contingent is around a dozen men in their 40s and 50s who made the hour-long, 50-mile trip from Fife on this stormy autumn day. Their analysis of said tackle begins in earnest.
"AWAY YER ARSE!"
"FUCK'S SAKE! Get him aff ref! A fuckin' disgrace!"
"HE'S AN ANIMAL! Dirty bastards, man!"
They remonstrate from the sleeper terrace that runs along the park's south side. Covered by an industrial-looking shelter, the terrace has been in place since the club's founding in the 1930s. On the opposite side, the recently constructed clubhouse catches the eye, built in 2014 after the roof was blown off the old pavilion the previous year. Overshadowing it is a large social club, the haven of all associated with Whitburn Junior F.C.
The most interesting terrace reaction comes from a small man in a blue-grey jacket. He's one of the older members of the group, but he's bouncing excitedly, gesturing with a couple of fingers in the direction of the offending Whitburn player, who has just been shown a red card by the referee.
"WHEEEEY! YAASSSSS! WHEEEEEEY! GET IT ROOND YE!"
The other Kennoway faithful have by now calmed their protests, satisfied with the ruling and the departing Whitburn player, who trudges towards the clubhouse with his head bowed. They turn their attention to their excitable friend, and half-heartedly try to calm him. One puts his arm around the man's shoulder. By now he's attracting dirty looks and retaliation from the locals, who outnumber the travelling support five to one.
"Fuck off ya old cunt."
"He got the ball ya prick. Get outta' here."
"Yer cheating bastards! Wife let ye out the day aye? Time tae go home."
The play has been stopped for almost five minutes by now as the referee attempts to restore order between the players, also irate, and as the injury forces a substitution. Linda swings her camera around.
"Ah, ha, ha!"
Blue-grey jacket man can't contain himself. He waves with both hands and grins gleefully, eyes wide.
"Take a photae ae that ya old bag! Aye! Ha, ha, ha. Get it up ye!"
Linda obliges. Maybe that one will make the website.
The final whistle sounds and Whitburn lose the match. The supporters trudge as one towards the small alley by the social club which leads to the main street and its few shops, Central Park's secluded entrance and exit. The turnstiles at the north-west corner have been disused for a number of years, now closed off by large metal gates.
The departing supporters barely glance at the red Ford Focus, parked in an odd direction, facing the gates which allow the slightest glimpse of the pitch beyond. On the car's dash is a folded scarf in the Whitburn Junior colours: claret and amber.
Davey is usually given access to Central Park's grass verge to watch the game from his car. By the scarf is a blue badge, indicating a disability. Davey opens his window barely a third of the way, as the rain is lashing down aggressively. He sighs.
"They forgot about me the day. Did we win?"
***
Colin has a smartphone in his left hand, and a flag in his right. When the ball goes out of play, he sometimes waves the flag as an afterthought. More often, he doesn't bother. As the treasurer of Livingston United Football Club – the home team – he can hardly be a non-partisan, reliably objective match official. But every match needs a linesman.
"Whit time did you get oan that goal?"
He is trying to post score updates online, and turns to no-one in particular. There are about 15 people watching from behind the "Livi" dugout, and a voice offers that the goal was scored in the third minute of play.
"No' a bad start, eh?"
Colin's grin is toothy, but friendly.
"Took us fuckin' ages last time," he laments.
"Hope we can keep it together this week."
The ball suddenly trundles into him, mud splattering up the right leg of Adidas tracksuit bottoms.
"Fuck," he says, forgetting to raise the flag.
Station Park sits adjacent to Deans Primary School's grass field, which appears in far superior condition to the East Region Premier League team's home. Compared to Whitburn's pitch, it is a marsh.
The ball is now in one of the trees that separates the two fields. Colin grabs a replacement and boots it in the direction of an impatient Kirkcaldy player. Mud flies up his other leg.
A young lad behind him, in new-looking skinny jeans and trainers, takes a couple of wary steps backwards. Colin produces yet another football from a kit bag and lobs it at the one in the branches, which is dislodged and falls directly onto the head of the lad who had just moved. A roar of laughter goes up, led by Colin.
"Ma bad, pal", he chortles.
Livingston United is the oldest of two football clubs in Livingston, the fourth of Scotland's post-war "new towns" after East Kilbride, Glenrothes and Cumbernauld. Deans is one of several residential areas that make up the town.
Much of the sixties architecture has not aged well and is in varying states of repair; a stone's throw from Station Park is a row of disintegrating council flats that were occupied at the start of the decade. Now a sign warns: "KEEP OUT: UNSAFE STRUCTURES."
Speaking of which, one must be careful underfoot on the terraces of a junior club. If not, a cracked piece of concrete step may come away from beneath one without warning, and one may end up on one's backside. Most people will be too absorbed in the match to notice. Colin might, though, and he does.
"Ha, ha, ha ­­– careful pal!"
He nearly drops his phone into the dirt.
"Shit. Close yin."
A Livingston player pursues a bouncing ball a few feet down the touchline. Colin raises the flag distractedly, cautiously slipping his phone into a mud-covered pocket.
The ball never went out.
***
No-one seemed to be believe that Stuart was American, but it was just another one of his stories that, true or not, everyone at the Cawburn Inn loved to hear over their pint on a Saturday evening.
Everyone accepted he was an ex-professional and everyone accepted he was now a youth coach – those were the only facts people seemed sure of. He had finished his playing career at Pumpherston Junior Football Club some fifteen years ago.
Pumpherston is one of those places with more takeaways than anything else. A small dormitory village for Livingston, it was rapidly outgrown after its neighbour was designated in 1962. Its main street is mostly housing, but it has one shop, one pub and five small takeaways. Six if you count the Indian restaurant that offers take-out. The people of Pumpherston care for their sport: there is a bowling club, a golf course and Recreation Park, home of Pumpherston Junior.
"So they're nearly up there – St. Andrews, a swear tae fuck – an' some cunt says on the bus: 'We've forgoat the kits!' Ha, ha, ha! Class! They turn up an' they have tae stick oan St. Andrews' away gear – it's blue an a', half the boys are Celtic fans an' they were lovin' it. Staunch as fuck, mate."
Stuart sways alarmingly, and lager splashes from his glass onto the wooden decking designated as the Cawburn's "beer garden". Beyond the decking is a dusty car park which separates the pub and Recreation Park, which can just about be seen beyond some trees. Occasionally, on a match-day, a stray ball will appear and bounce towards where Stuart now stands.
"Biggest park in Scottish fitbaw," he announces sensationally, vaguely gesturing with his pint-hand. More spilt drink.
It sounds like one of his less likely claims, but there are various noises of agreement from the assembled outdoor drinkers. Indeed, Recreation Park is remarkably wide. Surrounded by sloping grass verges and towering hedges, its size and enclosed feel presents a daunting prospect for opponents.
Pumpherston sit atop their division, and are reigning East Region champions. Even the pavilion on the ground's east side is intimidating: a concrete fortress splashed with the team's yellow. Behind the south goal is a hut that sells refreshments, including alcohol, during matches.
"Mind that game last year," Stuart laughs, barely able to begin the latest anecdote.
"Mind last year – ah ken you do, Jimmy – we were playin' the Fulshie an' one ae the boys gave oor 'keeper a pint when we were five-nuhin' up, and the lad tanned it! Ha, ha, ha! He was fuckin' buzzin'. Heard the gaffer did him fur that. Proabably why he fucked aff. Whit wis that lad's name again?"
You don't have to spend much time around the juniors to realise how fine a line separates this level from the next. Pumpherston are the best side in West Lothian, and several the squad have flirted with a professional career. One had to take the step down due to a volatile temperament; another is on loan from a Scottish Premiership team. Many players now in the top leagues cut their teeth in the juniors.
"Fuck me," Stuart says, suddenly serious. He turns and gazes wistfully in the direction of Recreation Park. This one is from his playing days.
"Ah mind this time we'd got pumped, an' the gaffer didnae say a word in the locker room." Stuart throws back his glass and the dregs of Tennent's slide into his mouth.
"Then he turned roond an' just leathered this boy. Flat ontae the grund. The lad wis knocked out." Stuart shook his head.
"Gid player tae. We were aw shook, like. Wouldnae get away wae that now."
Someone murmurs that you probably would, and the laughter resumes, but Stuart is already plodding towards the bar.
Junior football. Bloody hell.