Through the Eyes of The Doomed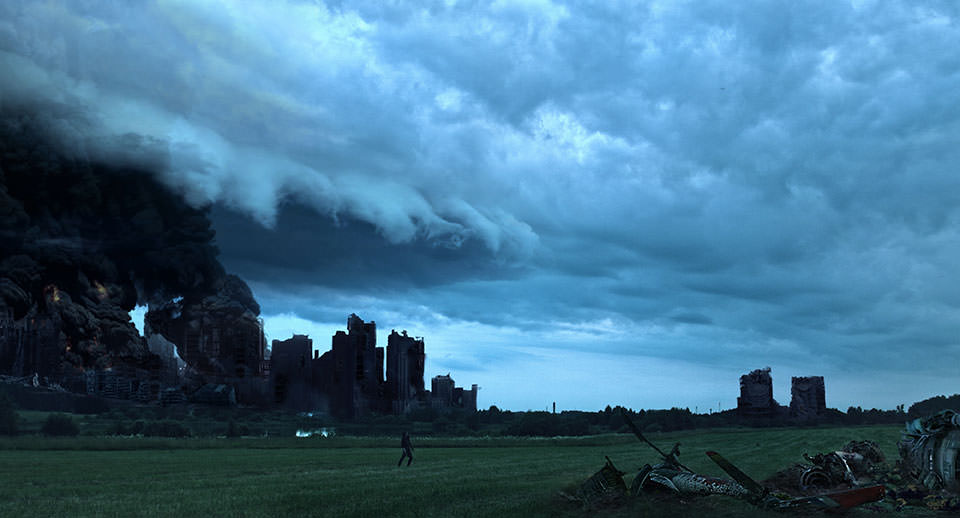 Through the Eyes of The Doomed – Perceiving a world that is soon to end by Mark Wilson. Mark Wilson was awarded 'highly commended' by the Ian Bell Award judges 2018, more details here.
The world is coming to an end and nobody wants to pay any attention. The news with its desperately screamed warnings makes me want to scream right back. Read any article online about global events and you can either find yourself sucked into a fatalist view for earth, or you can find a big enough distraction to bury the truth under mountains of clickbait. There are whole communities online dedicated to avoiding distraction and remembering the narrative, and in the panic it creates, I find a relaxing read before bed.
I discovered a new crisis filled niche forum when reading a conversation between other emergency fetishising users trying to decide why it was labelled as, a conspiracy forum. A forum that gives off mixed energies of alarmist, isolationist, and an impossible to ignore blinding truth, r/collapse. I had subscribed within a week of visiting. Its focus as a forum is to share information on climate change and other factors that will lead to the inevitable demise of how we live our lives. Acting as a place of comfort, fear, and all the mixed emotions in-between. As I look on the twenty-fourth of November the three top read posts are shared from New York Times, Times, and the Washington Post. They detail of the palm oil catastrophe, scientists pleading with the destruction climate change is causing, and how the US administration denies all these effects due to it being 'cold out'. The fourth post suggested was asking if anyone else on the forum is choosing to opt out of Christmas this year. I chose to read that one instead.
Some readers may be surprised to learn that most of the users and regulars in this forum don't live in a cabin out in the woods with lead lining the roof. Caring doesn't have to be crazy. The post about Christmas shows how many users have family and friends they don't want to forget at Christmas but will deliver them hand-made clothes or food and instead focus on experiences this holiday. I think about my own Christmas celebrations where my home transforms into a festive light-house to guide extended family to their gifts of whatever we can import in time. Even within the forum there are examples of the devastating effects of climate change being ignored for something more comforting. Maybe a one-off flash of headlines won't convince you but allow yourself time to understand the ground beneath these mountains of claims. The world is reaching its boiling point.
On November the 11th, breaking the chronology so far in this article, I made a post within the forum in order to gain a general response and interaction with the regular users. I wanted to gauge how manic the population was. Most users had un-subtle identities like 'VirginiaIsDoomed' and 'VisionsOfUtopia'. Once you get in this mindset of disaster seeking it must be difficult to not make it your personality. I asked vague questions to give the users a soapbox, a microphone to scream however they wanted. How have their views affected their life so far?
'It has affected my performance at college to a very big extent, failed 4 out of 6 semesters this year ever since learning about collapse last winter…everyday I wake up I wonder when all this is going to end'.
'I've since decided that even though there is probably no point, that doesn't mean I won't try keep my loved ones safe'.
'Personally, it's the absolute knowing that we are destroying the biosphere and have obliterated a huge part of it. I will never be able to enjoy the natural wonders at this rate of ecological destruction'.
Most responses sort themselves into a nihilistic view of the world or a holistic view of the world – either approach stays concerned with their day to day. What were their long-term plans for an inevitable collapse?
This is the difference in this forum from other online communities of 'doomsday preppers' and conspiracy lovers. These users do not have a solid plan. They don't have posts judging the best shotgun to defend their off-road civilian tank, they have very little foresight. Having spent so long indulging myself in the worries of the forum, I feel myself panicking just a little bit too. To try find a good quote, and to ease myself, I asked about a plan on escaping the soon-to-come fires.
'One could argue that I will almost certainly die an empty and brutal death before doing anything useful'.
'Considering where I live, don't think I can do anything to survive the collapse here, and I wouldn't mind seeing the end sooner than later anyway. The only way out seems to be migration and seeing how first world citizens are treating refugees now, it seems like I will be escaping one hell to another.'
'Embrace the suck'.
'Suicide'.
There is no secret safe house or uncharted colony up North that runs off bio-energy and accepts those lucky enough to survive. There is no plan. I know I'm out of my depth collecting these responses.
I have become engrossed and obsessed with an ending now, I cannot see a world where it continues to tower at the same height in fifty years. On the 9am bus to university on the 15th of November, I count how many cars I see with only one driver, and how far apart they are in the stand-still traffic from a shared car ride or a bus. I look over at the twenty cows that stand in the field next to the road who will be shipped across the country to feed into meat consumption, even though numerous studies have shown the climate benefit of a meat free diet. I end up having a ham sandwich that day, as do all my friends. None of them shop from charity centres, despite fashion being a leading cause of pollution due to sourcing of materials and transportation. Very little shows up on my timeline about the recent wildfires spreading over the Californian landscape. This is only information discussed in r/collapse.
I had a chance to share nerves with a user of r/collapse in a skype interview on the 18th of November. His username is collapse2050. I realise now going over my notes that his username is in relation to his own predicated date of the end. 2050 is 17 years old, three years younger than me, and was willing to wake up at 9am PST to have an hour-long unprepared interview. I made small talk for the first five minutes and apologised for my headphones being tangled up and the loud Christmas lights celebrations happening outside my window. I couldn't find any studies into how much energy is used to light up the town centre for twelve hours a day, two months a year.
For someone who only found this forum a year ago, 2050 is as informed and active within climate change prevention as someone can be. Working with COAST, an Eastern seaboard environmental observation group, reading peer reviewed science publications on the effect of climate change, and email correspondence with Guy McPherson. (A Google of McPherson displays his multiple talks as a scientist from the University of Arizona warning of sudden climate change and a near extinction. There is also an hour-long video of McPherson at a 9/11 Truth Group talk in San Diego.)
I asked 2050 how he first started getting into such a depressing passion for preserving life. He said living in the Pacific North West of America he was privilege to a close-up experience of nature deterioration, even seeing his own backyard slowly decay due to wildlife erasure. I questioned on if he spread his found information to many people: were they ignorant, did anybody listen? His answer was typical of the general response received within the forum, some people took a while for their foundation of denial to melt and plunge into truth, while most people just told him to 'shut up'.
Throughout the entire hour interview conducted over Skype, 2050 is feeding me constantly with information on scientific theories. The methane burst that happened roughly 15,000 years ago causing temperatures to rise ten degrees Celsius, and it may repeat in the future due to melting ice sheets. Global dimming which creates a heat shield around the earth, temporarily preventing up to sixteen-percent of sunlight in the UK and the probable cause behind several North African droughts. With sixty-percent of all wildlife becoming extinct since 1970 due to mankind. This is amongst numerous other warnings that I don't yet have the will to absorb. In my eyes 2050 transformed into a certified expert and not just the only person on the forum willing to speak face to face.
I'm desperate to know at this point what his survival plan is, surely someone so well researched and prepared must have a safe house, a contingency plan, anything. He gives me some of the many possible causes of a collapse; blue ocean event, super volcano, nuclear war. He has no plan for any of these scenarios. Just suggesting that I mentally prepare myself for the time to come. This is upsetting but not surprising, as learned earlier this is not a doomsday preppers forum, there is no escape route. He did mention to leave and avoid cities as fast as possible,
'Bad people will have a time to shine, they'll be after your tin of beans'.
I thank him for helping me with research for this article. This interview happened on the same day protest groups blocked five London bridges early morning to have any change, or any slight acknowledgment that something was being done to benefit the climate crisis. Traffic resumed at 4pm that day.
I've taken on a lot of the suggested reading that users posted within the forum. My day on Friday the 16th was spent researching the water crisis that struck South Africa last year and is currently now attacking Mexico. When I got home from work on Saturday the 25th I was reading about the ultra-rich in America armour-plating their homes in preparation of a class war. I managed to read a couple of articles on the train on the 26th about cutting down meat consumption to prevent methane gas pollution. I consider myself fully indoctrinated but clinging to a calm stage.
Considering how it will take more than just several users having anxiety attacks online to make a change I decided to pay my dues and personally raise some awareness. I spoke to my Dad about his thoughts on renewable energy, he claims that there will always be more sources of oil for us. I spoke to my friend about the rising temperatures and erratic weather patterns the past few years, he likes that Scotland is becoming more tropical. I bullied people in my bar to try and get them to listen, as the barman they don't really have anywhere else to go. They manage to agree, and act concerned for a long minute, then go on to order several plastic products from 500 miles away to be delivered within two days. I felt myself going mad, and still do, trying to get people to feel as scared as I am.
I think of something 2050 said in our interview. He's been much happier since embracing the thought of a collapse. The pressure put on him, and users of the forum, and anyone else awake to the crisis has created a clear goal. There is something to stop. So far, we still have a life to fight for, even if others do not.; 'For you and me it hasn't happened yet, we can live life'.
It acts as comfort for the present.