A Positive Vision for Scotland
Today the National is publishing the McCrone report. Editor Callum Baird writes: "Gavin McCrone's 1974 report, which was delivered to the UK Prime Minister 45 years ago, said that Scotland – if independent – would "tend to be in chronic surplus to a quite embarrassing degree and its currency would become the hardest in Europe with exception perhaps of the Norwegian kroner".
If it acts to open the eyes of people to the duplicity of the British government to undermine and deceive then this can only be a good thing. This is a historic and important document that reveals the dysfunctionality of the Union operating against the economic interests of one whole part of this "family of nations" (sic).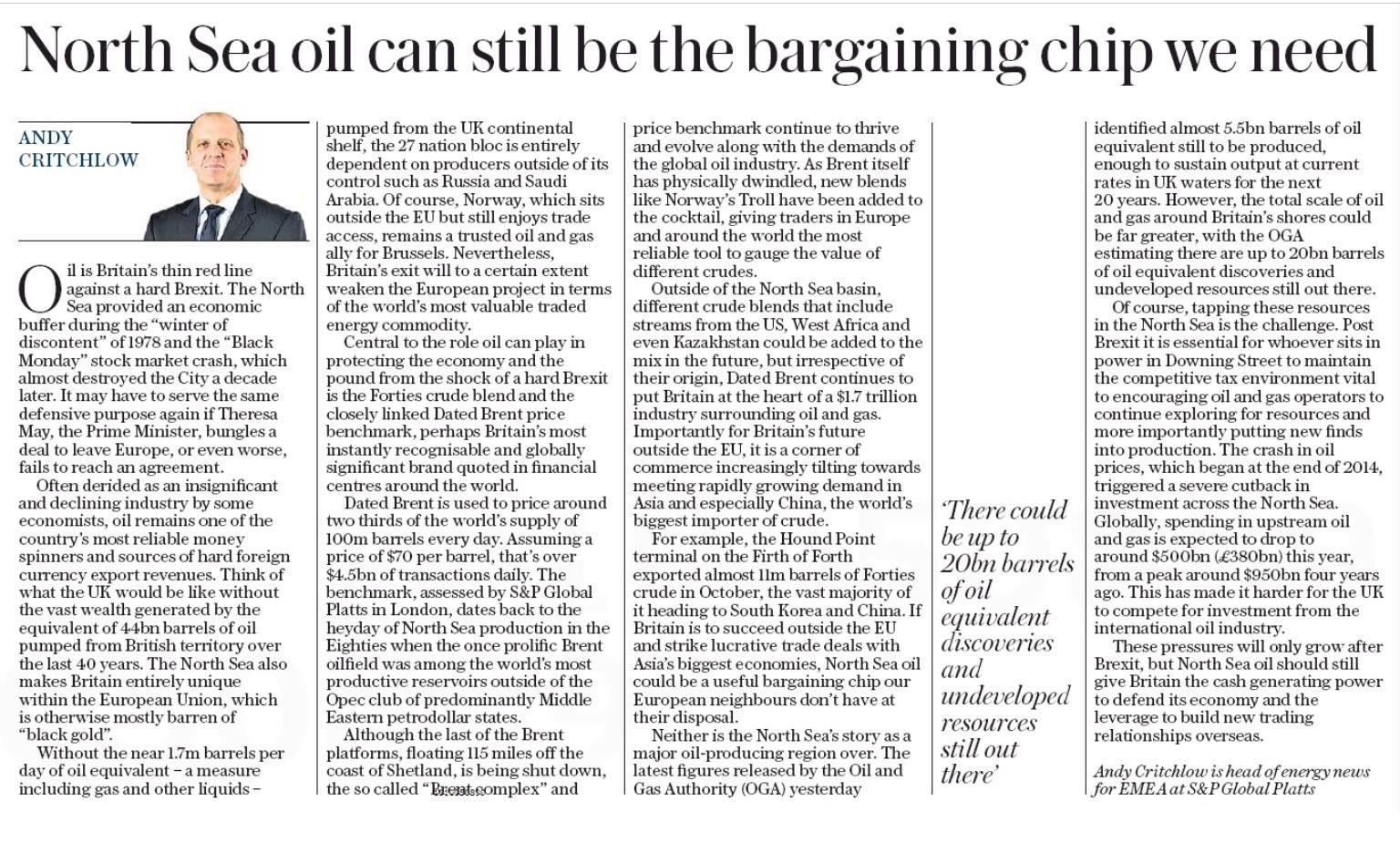 Only yesterday the strategic importance of oil sea revenue was flagged up in a hilarious article by Andy Critchlow, head of energy news for EMEA at S&P Global Platts (click on image right).
It's a bit of a giveaway replete with some killer lines:
"Oil is Britain's thin red line against a hard Brexit. The North Sea provided an economic buffer during the "winter of discontent" of 1978 and the "Black Monday" stock market crash, which almost destroyed the City a decade later. It may have to serve the same defensive purpose again if Theresa May, the Prime Minister, bungles a deal to leave Europe, or even worse, fails to reach an agreement."
"The North Sea makes Britain entirely unique within the European Union, which is otherwise mostly barren of "black gold".
The irony klaxon was sounding all over social media yesterday, though I suspect the publishers of the Telegraph would have been deaf to it.
There's no need to repeat the epic mismanagement of this resource over time, or replay the envious glances across the North Sea to Norway and its sovereign oil fund. There's no doubt that the lies, distortion and hypocrisy of those who simultaneously argue that oil is insignificant and then salivate at the prospects for propping up the British economy (again) are remarkable, but there are some real problems with framing the case for independence in this way.
1. The first and most obvious problem is that by fetishising oil we are ignoring the biggest problem we face as a species. The National doesn't seem to have anything to say about this at all. Instead, unlocking oil is presented as a sort of magic rather than the most significant contributor to our mass decline. This is odd.
There's really no need to link to another article about the realities of climate breakdown but here goes … "The 20 hottest years on record have all happened within the past 22 years; the five hottest were the last five. Yet the beaches and the beer gardens fill up, while the papers describe the weather as glorious and expend more words on the latest Westminster soap opera than on the looming climate crisis."
Arthur's Seat, Saddleworth Moor (Manchester) and Ashdown Forest in East Sussex are all on fire – because in February moorland has become a tinderbox. But you know all this.
Or it may be that you take the view that the emissions from North Sea Oil are too insignificant to make a difference to global C02.
If you are taking a that line as a Scottish nationalist you are perversely mimicking the "too wee, too poor, too stupid" line that you rightly mock others for. Do you really think Scotland lacks agency and is insignificant in the world?
Or maybe you take the contorted line that Scotland should use all the oil but make a fund to – at some unidentified time in the future and in forms not specified – convert our society and "go green"?
2. It locks us into a grievance story. I know that people think grievance is motivating and if enough fire and fury can be generated the scales will fall from people's eyes and liberty will be had for all. It doesn't really work like that.
Building a credible positive long-term vision for our economy is far more likely to persuade people to back an independent future.
3. It's not new. We published this in 2012 and its been written about many many times since 2005.
4. Focusing on oil (or any energy resource) without looking at the ownership and means of production is one-dimensional. If we start from the basis of: What resources do we have and how can we manage them? we should also start by thinking through what is the best model for owning and controlling these resources and these public utilities? Otherwise it's not Scotland's it's BPs and Exxon's Oil.
Also absent from any of this debate is how oil – and the North Sea in general – works as an energy mix – and how we can transition to clean renewable energy sources.
If the argument is about jobs and economy – then the idea of a Just Transition needs to be present.
In Katowice at COP23 Nicola Sturgeon announced that she was forming a "Just Transition Commission." She said Scotland had created 50,000 jobs in wind and tidal energy production. She said leaders have to tell people that "there was nothing to fear and everything to gain" from the transition—new jobs, higher skills, and better wages. "It can be unsettling, but it has to be done."
Ahead of a Scottish Government debate in January this year the Just Transition Partnership argued that he concept of a just transition is central to building popular support for action to cut emissions and must:
Put protecting workers' livelihoods, creating new jobs, and delivering a fairer Scotland at the centre of the move to a low-carbon economy
Be embedded across and supported by Government priorities and infrastructure projects including the Climate Change Plan, the Publicly Owned Energy Company, the Scottish National Investment Bank, future economic strategies and the work of the enterprise agencies
Involve trade unions, communities and environmentalists at the heart of the process
Be put into statute under the Climate Change Bill
5. It's backwards facing. Scotland has new and emerging economies and industries that need to be nurtured, boosted and celebrated.
6. It's out of sync with the world. This week Spain proposed a $53 billion public investment in climate change plan – and – in January Germany, one of the world's biggest consumers of coal, announced it was to shut down all 84 of its coal-fired power plants to meet its international commitments in the fight against climate change.
Imagining a future is a key part of building a case for independence. Basing that vision on fossil fuels which are undermining the basis for our existence is mind-blowing. Thinking strategically and long-term has to be part of the independence vision, not engaging in the equivalent of burning your furniture.
I agree absolutely with Callum Baird when he says that:
"We are being dragged out of the EU against our will. Our children – my own daughter is just five months old – may not have the same right to travel, live and work in Europe that our generations were so lucky to have. It is unforgivable that Westminster and the UK parties should attempt to impose this on us."
The reality is that if Brexit is a disaster for our children and our future, fueling runaway climate change is a cataclysmic event.
If the McCrone report exposes that the UK governments cannot be relied on to tell the truth about oil reserves and revenues, then its beholden to tell ourselves the truth about future and the choices we have to make. These choices are clear and an independent Scotland can be a positive and viable part of the changes we all know we need to confront.