Brexit Vote: the Storm before the Storm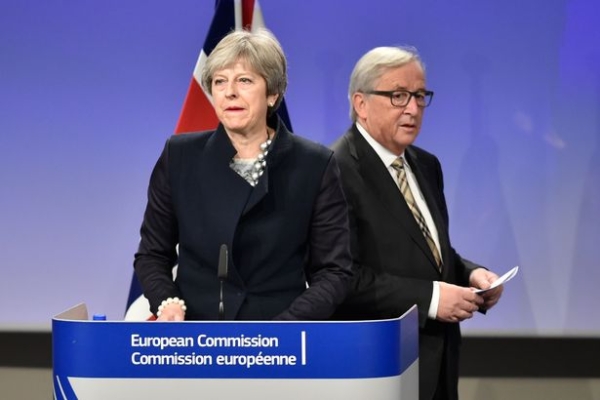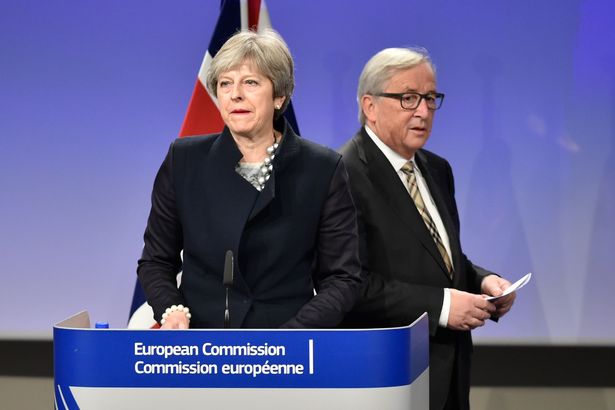 Effie Samara on Brexitland England: the absurdity of non-presence: determining one's essence by what one is not.
As the rude awakening of Brexit looms in the horizon, the recent splintering of the Labour Party and its echoing across the Conservative benches seems like the inevitable storm before the bigger storm. Keir Starmer's polite sadness at this development and his oblique criticism of Labour's approach does little to resolve the most serious post-war dilemma in British post-colonial history. At the highest level, Theresa May and Jeremy Corbyn's symbiosis is a sight to behold. It would be impossible not to surmise the obvious: Corbyn, is desperate for Brexit to happen. He cannot define Brexit but, nonetheless, wants it. He insists that he can do it better, more politely, full of civility and good manners. He will not, and, despite the posturing, he knows it. That is why he prefers May's signature on the bloodiest act of modern British history so that he can always offer his followers the moral tranquilizer of "a better Brexit, had Labour been in charge".
As Great Britain- or what is left of it- prepares for some bizarre form of self-inflicted civil war (the delights of the Contingencies Act 2004) Boris Johnson's "f*** business" resonates as a chilling prophesy. It can now be trans-languaged across every vein and every artery of our former "Great British" life: f*** the constitution, f*** human rights, f***foreigners, f*** Ireland but above all f*** respect for oneself: Anything goes. We're great, we will survive "it". The mysterious and sacred "it" of post-modern Britain. And yet, some of us are too dense to get "it", whatever "it" may be. But sadly, tragically, there is no "it" in Brexit; Brexit does not exist. They tried to make it up, imagine and design it in the most Frankensteinian mode, prop up its brittle bones, make it stand on non-existent legs and pour oxygen into its plastic veins. And they failed. Brexit is a fantasy which is only there to remind us of what England is not. England is "not colonised", England is "not defeated", England is "not snow-flaky" England is "not a rule-taker", England is "not Europe". In philosophy, this is what we define as the absurdity of non-presence: Determining one's essence by what one is not.
Labour's detached attitude through these cataclysmic events possibly points to their gearing up to facilitate Mrs May's romantic Brexit. Half-explained by Emily Thornberry, their latest U-turn on the possibility of a People's Vote is no surprise to anyone. Thornberry's nausea at the idea of the UK taking part in the European elections is telling. Turbo-charged by the passion of ethno-state enthusiasts, the Tories and Labour have set 29 March as the apotheosis of national self-immolation, the wet dream of a most English Resistance against a most imaginary enemy: the European. An enemy, whose dehumanisation, the present labour leadership has done all it could to encourage. Let us not forget Corbyn's shameful silence on the settled status scheme which promises a re-enactment of the Windrush scandal under the unreassuring gaze of Sajid Javid. Corbyn remains unaffected. He continues to remain unaffected by the British State's opprobrious record in opposing European legislation on matters which, he claims, are close to his heart: Workers' rights, exploitation, gendered rights and minority rights.
A people salivating over the prospect of their government preparing to strip them of fundamental human rights and imposing martial law (which would include travel bans, curfews and the deployment of the armed forces on the streets of Britain) is without precedent but still understandable given Mrs May's urge to assist the Empire Two movement. But Jeremy Corbyn's Labour is notable in its complicity in this ideological reboot of Thatcherism, complete with sado-monetarism and drunken xenophobia, bellicose patriotism and Blitz spirit for the generation whose closest encounter with rationing is being unable to obtain their favourite recipe of chicken in KFC on a Friday afternoon. Out of the 650 Members of Parliament, the SNP and the Green Party have been the only two groups to maintain a solid and ethical stance of opposition. The Labour party, despite internal pressures, continues to oscillate between meaninglessness and downright falsity. It swims between misrepresenting facts about European regulations on nationalised utilities to ignoring the UK's continued and sustained favouring of deregulation and outright denial of Human Rights and minority concerns. It is beyond the rational mind why Mr Corbyn's Labour chooses to ignore the hard fact that, over the last twenty five years, the United Kingdom has steadfastly opposed legislation to promote basic human freedoms and consummers' rights. Let us remember the UK's strong opposition to: Ban on livestock growth-boosters with hormonal, thyrostatic or beta-agonist effects and carcinogenic residue in meat (Directive 96/23/EC 29/04/1996), food additives and sweeteners (Regulation (EU) No 1130/2011), livestock sanitation, fiscal evasion and the computerised system for monitoring the movement of excisable goods, and working women's rights (Pregnant Workers' Directive).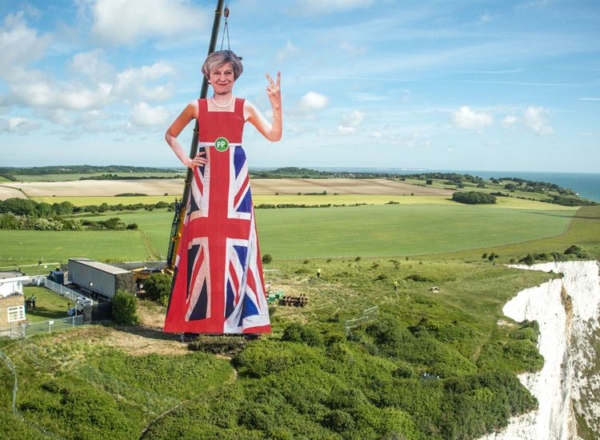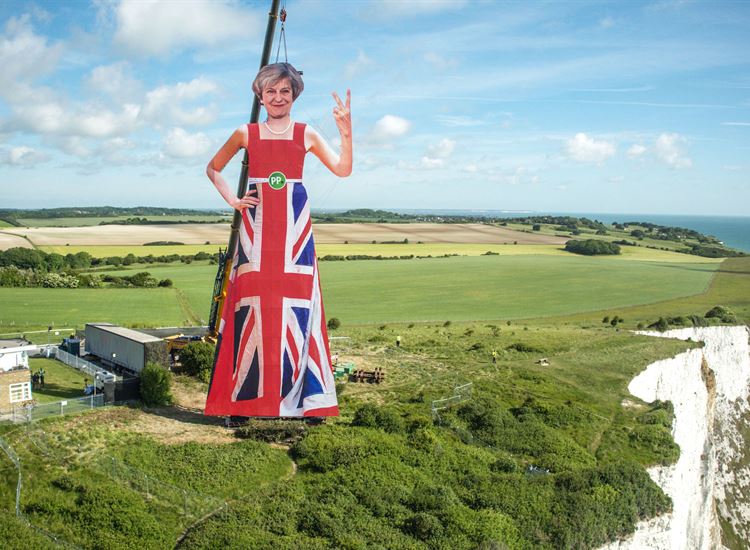 Well before Brexit, in its long history steeped in exceptionalism, the United Kingdom has been the rock and roll star for 'reluctant Europeans'. The UK's puritanico-capitalist ideology which has framed Britain's Atlanticist approach to human rights, and, to a large extent, its repugnance for them, is founded on a narrative, or mythology, that frames the British approach to human rights as a type of 'rights entrepreneur' underpinned by parliamentary initiatives rather than legislative protections. The last two years have sadly revealed that the once revered parliamentarian can be bought, sold and openly be at the service of controversial interests which, without the oversight of an independent judiciary, could imperil rights especially for those who can least bear to loose them.
As today's Labour party sees no impediment to sounding more and more like the DUP, I would like to ask Mr Corbyn why the SNP is the only political party in the UK today to assert the primacy of freedom of movement for people over the free movement of capital. He is, to some, the Messiah of modern socialism and as such, capital prevailing over people should be his red line. Scotland's demographic concerns aside, why does the Labour party side with neo-conservative politics and new patterns of exclusion just to "please" certain groups rather than educate them on some tangible realities.
Mrs May has good reason to. God is guiding her. Her very Brexited-type god. A god who does not offer salvation. He is the essence of the divine postmodern, post-truth, salvific poster-boy of capitalism. Ironically, this is Jeremy Corbyn's world order, too. Is is not incredible that Corbyn's allotment asceticism, his second Coming, threatens to reduce this country to a xenophobic, petulant, racist pariah? A country subject to her Atlantic friends' mood swings, their toxic phyto-sanitary cheeseburgers, a scary place of gated privilege and Victorian-style self-flagellation for the masses who attempt to dream above their station. How tragic for a man who, legend has it, once romanced Dianne Abbott on a bike-tour of East Germany. How tragic that he has decided to prostitute his party's internationalist stance on workers' rights to what he thinks voters in certain constituencies "would like to hear". Truth, principles and solidarity between human beings cannot and, ultimately, will not be prostituted to any party political agenda, Left or Right. The history of contributions to this country by Europeans and all others beyond the Continent is the making of this country, its essence and its undisputed identity. It now has to swim against this avalanche of deliberate ideological stupidity. Against the the Conservatives' unending internal strife and Labour's "endorsement" of the DUP's "concerns over the backstop", even against Corbyn's very own, very real support for the Irish cause whose very existence is now threatened by Brexit.
Scotland has taken a different course. Scotland has, historically and through present legislation, sought to establish a foundation of constitutionality in the protection and application of Human Rights, welfare and equality. According to the Equality and Human Rights Commission, in Scotland:
"Human dignity is an overarching concept in human rights law. Protecting dignity means respecting and fulfilling a range of human rights, particularly rights to a minimum standard of living, autonomy and cultural participation. Social security is crucial to the fulfillment of these rights".
Scotland has many challenges to confront, not least an ageing population which leaves her with a demographic deficit in terms of the dramatic increases in non- working class population with rises up to 73% predicted for areas such as Moray over the next thirty years. A Scottish Government analysis found the average EU citizen in Scotland adds £10,400 to government revenue and £34,400 to GDP each year – contributing around £4.4 billion to the economy every year. While the Nation is being held hostage under the threat of limited supply of medicines and food in as early as five weeks' time, the DUP's Sammy Wilson urges the SNP's Westminster leader Ian Blackford to "go to the chippy". After 70 years of prosperity, progress and peace in Europe, let us ensure it does not come to that. Scotland deserves better than martial law imposed by the monocled Politburo of the ERG and tragically spectated on by the limp and fractured Labour benches.It is now, more than ever, absolutely crucial that Scotland is able to map her own destiny and ensure that anyone who is willing to make a home here and contribute to the life, culture and economy of this Nation is welcomed and their talents and skills are enriched and supported to the benefit of all.
Brexit does not have to happen. And, of it does, we, in Scotland have no obligation, historical or constitutional, to join our neighbours on this most extraordinary Titanic adventure.