The Ghost of the Troubles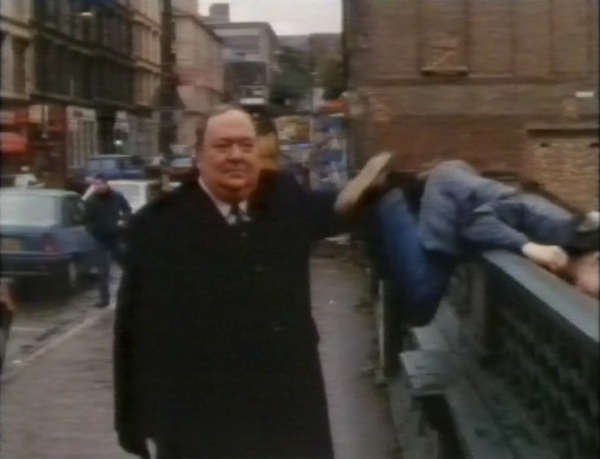 Rob Brown puts the recent bomb scares in both Glasgow and Edinburgh and the move to prosecute a soldier over the Bloody Sunday killings in context.
Switching on the TV news to learn that the bomb squad had been called in to deal with a 'suspicious package' at Glasgow University's mail-room, I immediately saw a callow undergad out for an early morning jog. Suddenly he is stopped in his tracks when he witnesses a wee boy being casually pushed off the cast iron Kelvinbridge. And the man responsible just gives him a menacing wink.
The TV adaption of Frederic Lindsay's intelligent political thriller Brond – which featured John Hannah in his first starring role – opened with that spine-chilling scene. Maybe because I myself studied on Gilmorehill and walked a thousand times along that stretch of Gibson Street, it has always stayed with me.
Glasgow-born Lindsay's stroke of literary genius was to weave together in his serpentine plot Ireland, Scotland and the secret British State. Ostensibly, Brond (marvellously portrayed by Stratford Johns) is out to snare a dangerous IRA terrorist. But we are left thinking he's on a double mission.
"This is a useful piece of real estate," booms a professor as he lays into Scottish nationalism at a campus cheese-and-wine party, attended only a few hours after the shocking murder by both the murky undercover agent and the still dazed student.
The novel is even more resonant today with Brexit raising profound questions about the survivability of the UK on both sides of the North Channel. Is it merely coincidental that a whole series of 'suspicious packages', linked immediately to dissident Irish republicans, turned up at a whole list of high-profile institutions – including RBS's headquarters at Gogarburn – barely a week before this week's crucial Commons votes?
While the explosive device denotated at Glasgow Uni was neither deadly nor sophisticated, it was unsettling that Scotland featured at all on the address list. That 'wee parcel' may have contained a dark warning that, if political violence does re-erupt on a serious scale across the North Channel, Scotland might not necessarily be protected from the bombs and bullets next time.
We seem to be dealing with a new breed of IRA terrorist now. Fringe fanatics who don't seem to have the cunning combination of ruthlessness and restraint Gerry Adams and Martin McGuinness displayed when they were the front-men for physical force Irish republicanism.
Throughout the three decades of The Troubles (1968-1998), Scottish cities were spared the atrocities visited upon London, Birmingham and Manchester. The standard explanation for which was that the Provisional IRA took a principled decision to confine its 'armed struggle' to the originator of the empire – England.
In 1972 its military council made an announcement that "[the PIRA] stands with our Celtic brothers and other subjected nations of Europe". This was followed up at Sinn Féin's 1976 Ard Fheis (national convention) by a motion supporting the formation of a Pan-Celtic organisation akin to the Nordic Council.
Both these policies are believed to have been instigated by the IRA's then chief-of-staff Sean MacStiofain. Born John Stephenson in Leytonstone in east London to a Belfast mother, he was not just a hardline republican but a committed pan-Celt.
Still, it is hard to believe that Celtic connections adequately explain why Scotland was insulated from the Semtex and the shrapnel. A far more plausible theory is that the Provos didn't dare open the gates of hell in Glasgow.
Even without bringing the west of Scotland into its 'theatre of war', there was sporadic Loyalist gun-running from Ayrshire to Antrim. A single IRA atrocity in Glasgow – or anywhere else in the central belt – would have had incalculable consequences.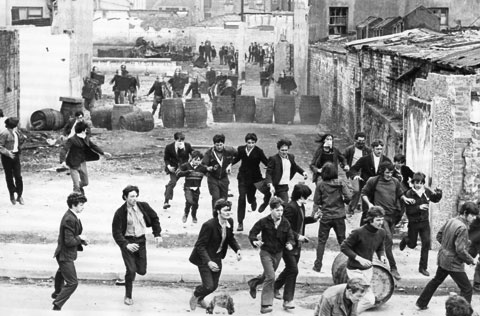 As it was, sectarian violence was volcanic in Northern Ireland but merely vicarious across the water. Watching a war unfold so near, yet still at a safe distance, led to a blasé belligerence within both of Scotland's sectarian tribes. 'The violence thrilled us,' Liam McIlvanney observed in his penetrating debut thriller All the Colours of the Town.
'All the northern carnage. Bombs and executions just out of earshot. Army choppers shot down over hills that looked like Ayrshire. We were close to this slaughter. We understood it. More at least than the English did. People were fighting and dying in the name of those acronyms that littered our walls. It was our war too. Only it couldn't touch us.'
Even more provocatively, McIlvanney posits: 'Across the West of Scotland, in the clubs and lodges, the stadiums and bars, people missed the Troubles. They mightn't admit it, but they rued a little the ceasefires' durability, the Armalite's silence.'
Like a spectre from our all too recent past, an unidentified Scottish soldier appeared on our plasma screens recently to defend his role in what even a former chief-in-staff of the British army Lord (Richard) Dannatt now accepts was the worst atrocity committed by the British Army – Bloody Sunday.
Despite the Savile Inquiry's verdict that all 13 of the civilians gunned down on the streets of Derry were entirely innocent, 'Sergeant O' (his face pixelated apart from his lips) appeared on camera to tell the veteran BBC reporter Peter Taylor – in a calm, clear Scottish accent – that he still considered the paras' berserk rampage a "job well done".
I doubt that this sad old man's unrepentant outlook is representative of the hundreds of Scots who enrolled in their naïve youth to fight the Provos in the back lanes of Belfast and Derry or down in 'Bandit Country'. Most of them, I reckon, are simply anxious in their dotage to try to forget a dirty war, from which none of the belligerents emerged with any justified pride or honour.
For all the IRA leadership's talk about Celtic brotherhood, no mercy was shown to Scottish squaddies cornered or captured by the Provos. The first British soldiers cold-bloodedly executed by the IRA while off duty were in fact three unarmed members of the 1st Battalion Royal Highland Fusiliers – teenage brothers John and Joseph McCaig from Ayr and Dougald McCaughey from Glasgow.
In March 1971 this trio were befriended in a city-centre bar in Belfast and persuaded to share a lift to a party. Driven to a remote location, they were shot while relieving themselves by the roadside. Their bodies were discovered the next day by children out playing.
Their ghosts have also returned to haunt us in the form of the Three Scottish Soldiers' Campaign for Justice, which pulled in almost £13,000 from 465 individual donors in an initial crowdfunding effort and is backed by Maurice Corry, a Scottish Conservative and Unionist MSP.
That 'unionist' tag, it is often forgotten, refers to the union between Great Britain and Northern Ireland not the Anglo-Scottish treaty of 1707. For some, of course, the Scottish Question is now becoming totally entangled with the Irish Question – especially online. To many 'Yoon' trolls, 'Sep' is synonymous with Weegie or Dundonian Fenian. For them, Alex Salmond's conversion of previously wary Catholics to the separatist cause was all too skilful and successful.
Conflating these two constitutional battles is unconscionably reckless and irresponsible as things do seem to be kicking off again across the water. On a busy Saturday night at the end of January, a car bomb planted by militant republicans was detonated outside a courthouse in Derry city centre – close to a group of youngsters. Vans have also been hijacked by masked gunmen.
The PSNI's soon-to-retire chief constable has warned that any armed checkpoints or security installations along the Border with the Republic resulting from a hard Brexit could be viewed as legitimate targets by such fanatics, who seem bent on wreaking carnage amid the current chaos at Westminster and the prolonged suspension of power-sharing at Stormont.
"The remnants of the IRA will try to revive the murder and mayhem," the acclaimed Glasgow-born novelist Eugene McCabe told the Irish Times in a recent interview. The author of Death and Nightingales – adapted by the BBC into a compelling three-part drama series starring Jaime Dornan – moved with his parents at the age of nine to Co. Monaghan, where he managed to combine writing his one-off literary masterpiece with farming.
In a celebration of his work, published by the Centre for Cross-Border Studies, Andy Pollack observed: "McCabe – perhaps uniquely among Irish Catholic writers – is able to see the wounded humanity of both communities and evoke sympathy with the most unlikely people, people driven demented by religion and politics and death and drink and bigotry."
With several of these toxic ingredients of the Troubles apparently resurfacing, the challenge for supporters of Scottish independence will be to summon Eugene McCable-like empathy in order to stop orange against green enmity poisoning the Scottish body politic again.
The key to maintaining the hard-won harmony that has prevailed for the last two decades could be sweet commerce. On a first ministerial visit across the water Nicola Sturgeon spoke of creating a "Celtic corridor" through closer business dealings between Scotland, Northern Ireland and the Republic. Hopefully, active steps are being taken to make that vision a concrete reality.
Amid all the Brexit bourach, it has been notable how the most effective pressure being exerted on the DUP to cease their shenanigans and support a soft Brexit has been coming from Northern Ireland's business community and farmers – Protestants as much as Catholics.
Obviously, it's going to be a rough ferry ride as we navigate the treacherous political waters created by the most serious political crisis to beset these islands since the Second World War. But the vast majority of people in both Northern Ireland and Scotland simply want to get on with their lives in peace and prosperity.
They certainly don't want children being slain again in the name of Irish freedom or Ulster's liberty. So, whatever murderous or Machiavellian plots may be brewing, pan-Celtic statesmanship in Dublin, Belfast and Edinburgh can ensure that nightmare never returns – pre- or post-independence.