The Dragon Has Two Tongues Again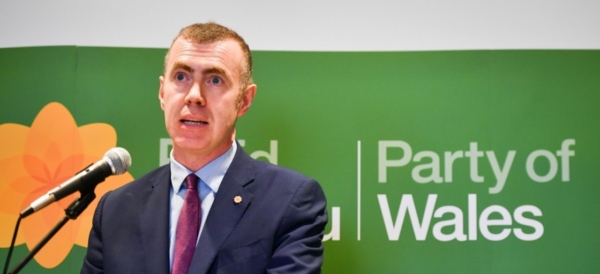 As a Welsh history war hots up, Rob Brown finds Plaid Cymru's new leader has launching an assault on English colonialism – still stoutly defended by the BBC, of course.
Back in its fearless infancy, Channel 4 did something few beyond Offa's Dyke would ever have thought possible: it made a 13-part television history of Wales riveting viewing throughout Thatcher's Britain. I used to count down the days to the next episode – and not just because I was studying journalism in Cardiff.
Transmitted in 1985, The Dragon Has Two Tongues broke the mould of this previously bland and predictable TV genre. It did so by pitching two diametrically opposed historians against each other in a prolonged slugging match waged everywhere from the summit of Snowdonia to the valleys of South Wales.
Wynford Vaughan Thomas provided the plummy Anglo-Welsh perspective while the pugnacious radical scholar Gyn Alf Williams danced effortlessly, despite his slight stutter, from the Merthyr Rising to the thoughts of Antonio Gramsci.
"A Marxist magpie," Thomas called him at one point. He was getting exasperated because he knew Williams was winning hands down.
The pompous windbag later penned an article headlined 'On being a reactionary' to describe his frustration at being outflanked on the left.
Thomas's intellectual humiliation came as no surprise to me since I had already witnessed Gwyn Alf delivering a searing emotional speech to the doomed miners at Maerdy Colliery in the Rhondda Valley. Tears were streaming down his face – and mine too – by the end of it.
Far cooler and composed is Adam Price, the new leader of the welsh nationalist party Paid Cymru. He is even, dare I say it, a bit Blairite in his smooth and jocular connection with the crowds. But he seems just as cerebrally passionate as Gwyn Alf about bringing back dignity and social justice to the Welsh people.
Intellectually head and shoulders above anyone in the upper echelons of the SNP, Price clearly understands the key Gramscian concept of hegemony. He also comprehends the meaning of that crucially important line in Orwell's 1984: "Who controls the past controls the future; who controls the present controls the past."
Consequently, one of the first things he has done since forcing a leadership contest (which he won hands down) is to challenge his compatriots to think deeply about what has been inflicted upon the Welsh people throughout their history – and what could be inflicted upon them in the near future if they don't take back control of their country.
Wales: The First & Final Colony is the title of a collection of speeches Price has delivered to audiences on both sides of the Atlantic (including the commencement address at Harvard University when he was at the Kennedy School of Government there). Its overarching theme could not be bolder or more subversive:
"Post-devolution, we're a post-colonial country still waiting to be decolonised."
Originally delivered to the Institute of Welsh Politics at Aberystwyth, the core chapter is unabashedly didactic, seeking to drive home three potentially revolutionary propositions: the longue durée of English imperialism began in Wales; the deepest legacy it has left is psychological; national liberation, if it is to mean anything, must be a liberation of the mind.
Failure to achieve emancipation pretty damn fast, Price concludes "will be condemning ourselves to be not just the first but also the final colony."
Sadly, but all too predictably, one potent colonising influence Welsh nationalists are still up against is the BBC. As if delivered on cue to discredit the Plaid Cymru leader's intellectual rallying cry, good old Auntie has just baked a brand-new Welsh history series entitled (would you believe it) – Wales: An English Colony?
Its answer, you've doubtless already guessed, is: No, it's not! A verdict delivered to us with smug assurance by its sole presenter, Professor Martin Johnes of Swansea University.
Don't get me wrong, this two-part series is most engaging and educational, (particularly for those of us who aren't Welsh). I learned a lot about Owain Glyndŵr and the guerrilla war he waged in vain to end England's subjugation of Wales. Also got a fascinating Hello magazine-style peek inside one of the many ostentatious mansions built in Cardiff by the coal and steel barons.
But that good stuff is soon forgotten when the final segment descends into a weasely party political broadcast on behalf of anyone opposed to Plaid Cymru. Professor Johnes, dwarfed by an oversized blue cap, delivers a stern lecture to viewers with an astonishingly impartial sign-off: "England is no longer a coloniser!"
Later, leaning his stubbly face into the camera for the umpteenth time, he sneers: "Some still carry a sense of oppression, but the truth is we've not been oppressed for centuries and thinking we are, seeing ourselves as victims, takes away our sense of power."
The same unionist propaganda was imparted (albeit more silkily and subtly) by Huw Edwards when he slipped off his news anchor a few years back to front a five-part series entitled The Story of Wales. "Time and again, our country has shown its canny ability to change and adapt," he rhapsodised in the accompanying coffee table book.
"It is still doing so today. Wales in the early twenty-first century is once more a country in the tumult of rejuvenation. The Welsh people, more culturally and ethnically diverse than ever before, are a nation in renewal…There has never been a more exciting time to be Welsh."
I'm sure that is the case if you're jammy enough to be in monthly receipt of the obscene amount the BBC lavishes (at license-payers expense) upon its newsroom divas and managerial directors. Or, for that matter, if you're on a professorial salary at Swansea University.
But try telling that to the inhabitants of Cardiff's Tiger Bay who must fight like tigers to get their first measly universal credit payment. Or the council tax payers in Blaenau Gwent who are now dreading their streetlights getting permanently switched off in the latest round of austerity. Life is a lot darker for them.
The truth is Wales is a wealthy country – a wealthy country in which too many of its people (like ours) live in poverty. Adam Price summed the state of the nation at his party's spring conference in Llangollen last year:
"The paradox of Wales is that we are a rich country, in both material and non-material terms, which has been condemned to poverty of circumstance and of ambition; a rich country that has learned to be poor with a legacy of sickness, under-achievement, under-investment and a lack of self-confidence in the very existence of our nation." (Sound familiar?)
Whatever ways the British state broadcasting service might seek to defend and justify internal colonialism, thankfully the digital revolution means the dragon has two tongues again. Plenty other platforms exist in cyberspace – including the ever-excellent Planet magazine – upon which Plaid Cymru can advance the intellectual case for independence.