Why is Everything so Shit?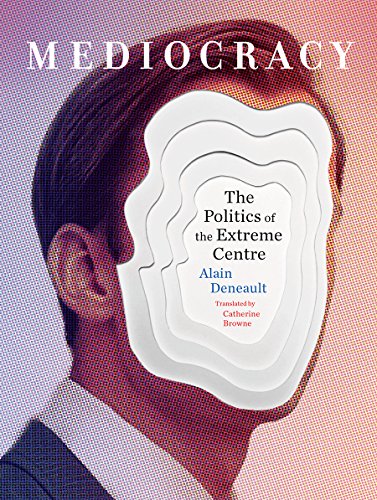 In a world where Mark Francois and Fat Cops actually exist; a world in which the crowds shuffle through IKEA like slow-moving cattle blankly eyeing poor quality Swedish lifestyle goods; a world in which the hellhole of contemporary British and American politics isn't a sick joke but a lived reality, the question Why is Everything So Shit? has to be faced.
Are there structural things about the way we organise that make everything shit? You might respond that it's the combination of the long-term psychological effects of late-stage capitalism, 'Westmonster' or toxic masculinity? But in Mediocracy, the Politics of the Extreme Centre, Alain Deneault suggests the problem lies in the rise of mediocracy: a social hierarchy in which the mediocre prevails.
He quotes the French poet Louis Bouilhet who identified the problem way back in the 1860s:
"O fetid mediocracy, utilitarian poetry, literature of underlings, aesthetic prattling, economic vomit, scrofulous products of an exhausted nation, I loathe you with the full power of my soul! You are not gangrene you are atrophy! You are not the hot, red phlegmon of feverish eras, but a cold, pale-bordered abcess dripping from its source in some deep cavity!"
Laurence Peter and Raymond Hull suggested this was a structural problem in The Peter Principle way back in 1969 in which they argued that mediocrity was a systemic problem that promoted the mediocre above the very competent and the incompetent:
["The Peter principle states that a person who is competent at their job will earn promotion to a more senior position which requires different skills. If the promoted person lacks the skills required for their new role, then they will be incompetent at their new level, and so they will not be promoted again. But if they are competent at their new role, then they will be promoted again, and they will continue to be promoted until they eventually reach a level at which they are incompetent. Being incompetent, they do not qualify to be promoted again, and so remain stuck at that final level for the rest of their career (termed "Final Placement" or "Peter's Plateau")."
Is it worth considering this as part of the explanation about British politics and public life alongside the rivers of corruption, vested interests, failed archaic institutions and corrupt structures that haunt Britain? It's difficult to figure how the current Brexit shitshow can be explained other than some deeper systemic problem about mediocre politicians delivering mediocre policies filtered through a mediocre media.
Deneault's theory is that people are trained to fit the system and get promoted for fitting in and smoothing over problems rather than anything else. The process is insidious he argues:
"There was no Reichstag fire. No storming of the Bastille. No mutiny on the Aurora. Instead, the mediocre have seized power without firing a single shot. They rose to power on the tide of an economy where workers produce assembly-line meals without knowing how to cook at home, give customers instructions over the phone that they themselves don't understand, or sell books and newspapers that they never read."
We are dumbed down not just by the moron culture of lifestyleism and popular entertainment but the mechanisation and automation that is about to be hugely accelerated.  People will be so deskilled that by the time 'automation' arrives we will not know what to do with all our spare time.
Deneault identifies the blurring of ideology and the rise of the "extreme centre" and what he sees as the lefts endless capitulation and erosion of principle as part of the mediocre contaminating political life.
He suggests one or two responses are in play: novelist Pierre Lefebvre's "broken" or "dead broke" man and George Perec's "man asleep" – a sort of slacker resistance of withdrawal. But what starts as a funny critique develops into something more. Deneault ends up deriding the surrender of "Yes but what can I do about it?" pleas.
In his epilogue he writes:
"What can I do, poor Little Nothing" trapped in my sterile individuality, forced to eat frozen pizza in my half-basement apartment because of the high unemployment rate, rising rents, police brutality and all the money I owe?"  This is a rhetorical question, meaning: please confirm that I cant do anything about this, for I don't believe that I'm up for the sort of resistance that the situation calls for."
Deneault's book is a devastating critique of modern life but he ends with a flourish. What can you do about it?
"Stop getting indignant and move on to the next question; work relentlessly to bring about a synthesis of valid causes; organise with others beyond cliques and sectarian withdrawal; mock ideology; transcend hegemonic ways of organising; see if you can establish structures that look like us."