Witness the Days of Gammon Rage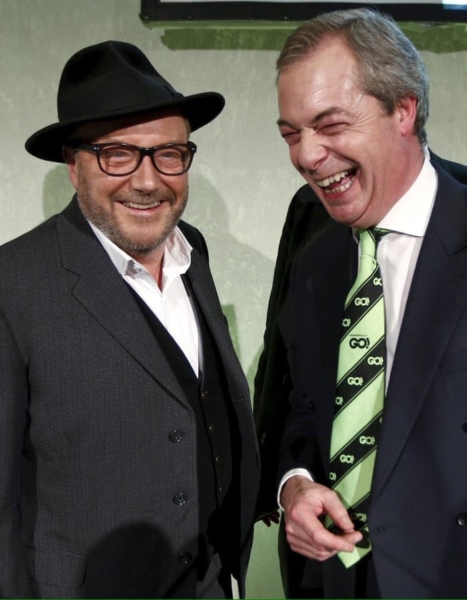 The times we are living through are so crazy that we are led by children wiser beyond their years while older men behave like spoilt brats.
This week observers of Donald Trump's social media activity – such a role exists – were confused as he wailed on Twitter then mysteriously stopped mid-sentence, as if coitus interruptus he had lost his train of thought. The president had sensed the mood turning on the much redacted Mueller Report and his pudgy-digits went into overdrive. As David Corn reports, "there is no exoneration".
Reports have less impact when they aren't published it seems.
Whether it's Trump tweeting through the night, Tommy Sheridan failing to overturn his conviction for perjury, Peter Hitchens and his ilk howling at the moon about the new public understanding of our climate breakdown, or Carl Benjamin paraphrasing 'Millennial Woes' and justifying tweeting to Labour MP Jess Phillips – "I wouldn't even rape you", this is the cesspit of the internet seeping into public discourse and the despairing cries of a lost generation of men confused and disoriented by the times they themselves have created.
As Nigel Farage talks the language of violence and George Galloway confirming what many have known for a very long time, that is he is an opportunist and a hypocrite and a charlatan. Whenever has been elected he has always represented a constituency of one.
George Galloway (2014): "I'll be campaigning to remain in the EU as anyone with any brain cells will be doing"

George Galloway (2019): "I will be supporting Nigel Farage in next months elections"

Life comes at you fast. pic.twitter.com/uLeR5tRD2u

— Laurie Macfarlane (@L__Macfarlane) April 18, 2019
Those on the left who have apologised for Galloway's behaviour for years, on the grounds of rhetoric or fedoras, or some undefinable loyalty should take this moment to have a word with themselves.
The rage takes many forms but at root is the sense of innate assumed privilege being checked and questioned. For many this is intolerable. The reality is the new climate  consciousness challenges the very heart of our economic system. Endless growth and consumption is no longer tenable and this is intolerable for many who will find this a challenge to their core worldview.
Adam Boulton couldn't contain his rage at a young Extinction Rebellion spokesperson on SKY News in an outburst that, in different times would have been a sackable offence:
Adam Boulton and Jayne Secker are no aberration. Establishment media journalists routinely reserve their most visceral questioning & criticism for dissidents & challengers to the status quo. It's often why/how they land their perches in the first place pic.twitter.com/roYoNoOLpY

— Hicham Yezza (@HichamYezza) April 17, 2019
But as Jordan Peterson and Slavoj Žižek whitter-on in a bubble of self-importance it's not just the right-wing media that are exposed in their terrifying bewildering rage. Here Andrew Marr, for many the paragon of liberal media goodness, lost the plot in an incredible outburst:
"Waves of migration and globalised culture washed among us, eroding our sense of self… but the self-confidently multi-ethnic, liberal, urban class… barely noticed."

Not a UKIP broadcast, but the authoritative voice of Andrew Marr. (26/6/16)pic.twitter.com/8YAP05kSYS

— Property Spotter (@PropertySpot) April 20, 2019
The Marr Show has long been a forum for establishment back-slapping and anglo-normative editorialising. Marr is a journalist completely embedded, along with other celebrity interrogators, this is media as show-business. As
Noam Chomsky famously schooled him
: "If you believed something different, you wouldn't be sitting where you are sitting".
It's an extraordinary outburst of victim-blaming and a marker of how far we have come for views which used to be thought beyond the pale are now openly expressed by the radical centre.
As Gary Younge remarked: "Eton, Bullingdon, Oxbridge, Westminster. There is a group of people who have struggled to integrate into British society and fuelled the far right. They're not migrants."
It's a deep irony that for all these privileged white men it took another privileged white man to shake them from their climate slumbers.  This week saw the BBC's Our Planet screen and articulate simply what many of us have been saying for a decade and more.
David Attenborough said simply:
"I find it hard to exaggerate the peril" … "This is the new extinction and we are half way through it. We are in terrible, terrible trouble and the longer we wait to do something about it the worse it is going to get."