Devo Max Not; Independence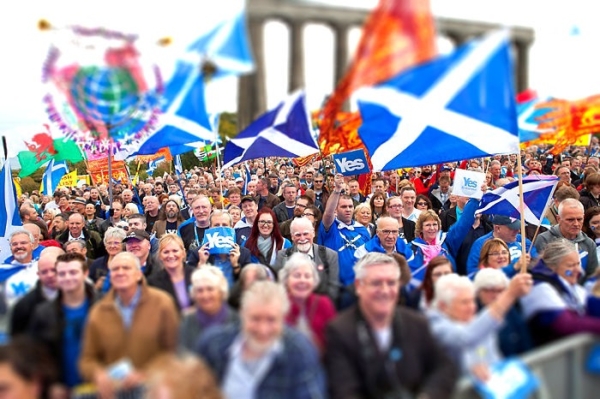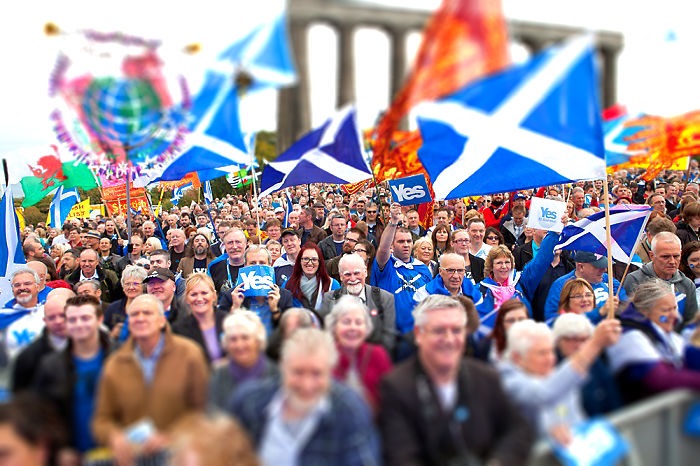 The Oracle of Delphi was famed for her ambiguity, for prophesies which could be interpreted as proving true whichever of two outcomes occurred. A probably apocryphal tale tells of a man soon to become a father who travels to ask what sex his child will be born.
The Oracle's answer was "boy not girl". So off they went and decorated the nursery in gender-stereotyped colours (or the classical equivalent). When the child was born it was a girl. Non plussed, the man returned to the Oracle demanding a refund. But it was explained to him that the prophesy was actually correct – he just missed out the punctuation.
"Boy not; girl!"
And that is where the independence movement stands – "devo max not; independence!". Hear what you wanna hear, believe what you wanna believe.
I have been commenting for some time now that in the approach to every SNP conference and National Council we suddenly receive a series of nods and winks about independence – which melt into nothingness as soon as the First Minister can escape the 'grunts' and get back to hanging out with Britain's leading celebrities.
This time, I was told by quite a few people, it would be different. No equivocation, no ambiguity – a plan, a clear plan. It would be a great step forward.
Instead we have taken a step back. On independence we got nothing more than a statement of one person's general view – that there SHOULD be a referendum before 2021. As in my daughter SHOULD tidy her room, the sun SHOULD shine on Gala Day and I SHOULD have learned Spanish when I was younger.
The reason why I think this is a backwards step is because I rather expect the punctuation to fade, for the balance of the ambiguity in this position to shift. Until, before we know it, the position is:
"Devo max not independence."
The risks are enormous – what happens if opposition parties come forward with radical plans (whether they intend to deliver them or not)? What happens if the only referendum they will consent to has two options – Devo Max or Independence?
The First Minister doesn't like to polarise but aspires to a kind of 'mother of the nation' status. To balance that role with her need to manage the expectation of her parties, she's put Devo Max right back on an agenda which desperately didn't need it.
I can't say I'm happy about this. The opposition parties were stuck in a kind of Ian Paisley cul de sac where all they could do was shout 'No!' while the UK fell apart. That was quite a helpful position for the independence movement to fight against. But for some reason the First Minister thought it would be a good idea to say 'Scottish Labour, you're lost and irrelevant on the constitution, so why don't you come over here and HAVE THIS BIG FUCKING PLATFORM".
If we were previously in a constitutional tennis match we're now in a game of four dimensional ping pong. There will be so many constitutional options flying around ("Duck! Here comes federalism again!") that it will just become harder for us to get our message across.
There are three credible directions from here; the status quo, the federalisation of the UK or independence. And since the only federalisation that would work would require England to federalise itself and set up ten regional parliaments with the full devolved powers of a federal Scottish Parliament, and since this isn't going to happen, there are really only two options. Revisiting the Smith/Calman Commissions is pointless.
And yet here we are again, partying exactly like it's 1999 and we've not road-tested devolution yet.
It's sobering when you strip back the Delphic ambiguity from the Sturgeon statement. She's committed to 'Section 30 or nothing', but she's not getting one. So she places a lot of weight on some unspecified change at Westminster which could allow one.
What, some kind of election which means Westminster doesn't have a pro-Union majority? That seems unlikely, so is this a genuinely-held opinion or subterfuge?
She places even more weight on Brexit. In fact, she's so far down that rabbit hole now that no light reaches her. It literally matters not a jot what opinion polls say, what her party says, what logic says – independence for her is now framed wholly as an antidote to Brexit.
So are we now supposed to hope that there really IS a Brexit? If there isn't, can we credibly shift to saying 'no, actually it wasn't really all about Brexit after all?'. Will the leadership ever accept that roughly a fifth of the independence vote is pro-Brexit and nothing like that many pro-Union Remainers have shifted the other way?
But let's assume that Brexit does happen and Sturgeon manages to convert her 'should' into 'will' – and she asks for a Section 30. How many times exactly do you think it is credible to signal a definite referendum and then fail to deliver? Personally I'd go for zero, but since we're already at one I would certainly caution against it becoming two.
I'm pretty sure that there won't be a Section 30 order during Sturgeon's tenure. What is she leaving behind for her successor – the sheer mess of a multi-option constitutional future? A Section 30 Groundhog Day?
I've spent a career involved in political linguistics, judging whether to describe something as 'pressing' or 'urgent' to get the tone just right. There is a very fine line between doing it well and doing it badly. When you do it well there is that feeling of admiration, the surprise of 'ohhhh, they got me' that you get after a magic trick. When you do it badly there's a kind of contemptuous feeling of 'do you think I"m stupid and can't understand what you actually just said?".
Setting aside the strategic concerns above, there is one overriding reason why I'm not feeling admiration. I grew up in SNP circles from when I was in a pram. My Proustian madeliene is probably the smell of the dust and old varnish of a cold town hall, of home-baked scones in Tupperware containers, of tea being pored, of wax crayons keeping me busy in the corner. It was the late 1970s, the SNP was energised and those young local men and women fighting for Scottish independence in those local halls inspired me.
It's 40 years later and they're not young any more, but they're still my friends. One I knew well, loved very much and remember as a constant in much of my life; I was at his funeral a couple of years ago.
Since then I have spent much of my life in this new independence movement. All these new faces, sometimes a bit naïve but no less inspiring to me than those people I grew up being babysat by. I have made many new friends to go with the old ones.
I've known for about three years now that progress to independence has been utterly mishandled and the results a complete mess. I've watched and seen the window for a possible referendum narrow and close. I stopped kidding myself on this was likely to happen pre-2021 almost a year ago.
But I'm an old hand by comparison. I am now watching as gradually the penny is dropping for all these people I care about. They wanted to believe, they wanted to be led. But their leader wanted only their endorsement for her own agenda. And now they're starting to crash.
That this is happening because those good people were marched up and down the hill again, over and over and all for the cynical purpose of party management, makes the taste all the more bitter for me. (And hell mend you The National for repeatedly announcing referendums as a marketing device.) Hope should not be a carrot you dangle to keep people tame.
Yet here we are, ploughing forward towards the destination Andrew Wilson has been plotting for us – an independence so soft it is actually a Devo Max proposal being cobbled together by Richard Leonard.
The only way to get away with this was to trick people, to let them hear whatever they want without delivering what they actually want. So we now have Schroedinger's Currency and a Delphic Referendum. Together with a People's Vote strategy straight from Dr Seuss and a government generating all the excitement of a instruction manual for a tumble dryer, this is what we got for our investment of faith.
I think I'm getting past anger. I think I'm settling down into a state of sadness. Common Weal has fought for the other thing – for a clear plan, for a proper case, for a united movement and for an effective campaign. We'll keep doing it; there will be no giving up from us (and we'll always say what we mean and mean what we say).
Hope remains; Scotland will become independent. It's just further away than it should be and change must come if we're to get there. For now, let us be strong together and kind to each other. We shall need more fortitude than it was fair or necessary to ask of us.