An Economy for the 21st Century as if People and Planet Really Mattered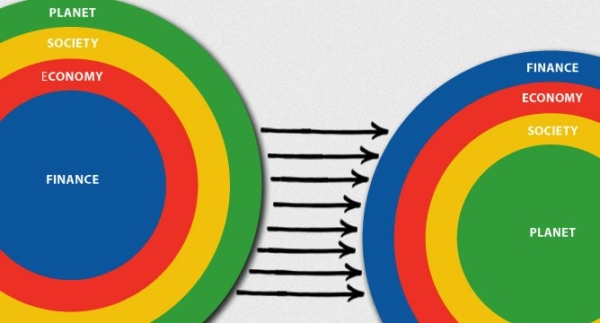 "Politicians may talk of 'inclusive' or 'sustainable' growth, but most are unwilling to challenge a system that disproportionately rewards – in some cases spectacularly – those who put profit above our communities and environment", argues Úna Bartley, as she kicks-off her role as Guest Editor for Bella.

Frustration is in the air. While Brexit is an obvious source, the referendum and subsequent debate have merely exposed a set of tensions that go much deeper and far wider than our relationship with Europe. Many of us look on with a feeling of helplessness at a system that allows poverty to rise across working households while one or two individuals swell their billions by asset stripping companies that once provided meaningful work, fair pay and the chance of a decent pension for ordinary people. Elsewhere we see school children taking to the streets to vent their frustration at government inaction on climate change, rightly angry at the lack of urgency in relation to a disaster which will disproportionately affect them and their children.
The sense that there is something rotten at the core of our economic and political system is not confined to the UK. Witness the rise of the gilets jaunes movement in France or the upsurge in support across the globe for populist parties and 'strong men' as leaders. Yet many people's fears and frustrations are unlikely to be resolved by a change of government, a move away from Europe, some tinkering around the edges of social policy or seeking to meekly placate those who call for a transformation of the current system.
Something much more fundamental is required – a deliberate repurposing of our current economic model, a model so narrowly focused on the pursuit of GDP and short term profit, that it literally fails to count the damage it wreaks on the environment, the cohesion of our communities and the wellbeing of our citizens.
The inherent contradiction of a system built for and dependent on endless growth within a planet of finite resources is well-rehearsed, and yet this system is upheld by all of the main political parties and by the mainstream media. The Scottish press continues to salivate at the prospect of more flight slots at Scottish airports, more oilfields opening in the North Sea and rising house prices, while never failing to sound decidedly upbeat when analysts announce a growth in the latest GDP figures without casting a wider gaze at levels of inequality, the life chances of Scottish families, or our natural habitat.
Politicians may talk of 'inclusive' or 'sustainable' growth, but most are unwilling to challenge a system that disproportionately rewards – in some cases spectacularly – those who put profit above our communities and environment. No wonder people are disillusioned by politicians' electoral promises.
Yet for all the current frustrations and anger, change is also in the air. Across a range of sectors and communities, individuals are channeling their dissatisfaction into alternative economic models and practices.
The Wellbeing Economy Alliance (WEAll) Scotland seeks to further catalyse that growing appetite for change and to support a global movement for a new economic system – one that puts people and the planet before profit and economic growth. WEAll aims to create space for a different narrative on the economy, including safe spaces for business leaders and politicians to explore alternatives.
Scotland has been a founding member of the Wellbeing Economy Governments (WEGo), which brings together a small group of governments (including New Zealand and Iceland) to explore wellbeing and the quality of growth over simple measures of economic output. This is a welcome development although no-one, be they governments or individuals, has a roadmap to a wellbeing economy or a blueprint of what an economy might look like in practice.
WEAll will encourage the development of such an economy by supporting, connecting and amplifying the work of those who are already pioneering alternative practices and demanding radical change of our institutions.
Through a series of blogs published here on Bella Caledonia we hope to illustrate both the appetite for more radical thinking in Scotland and showcase examples of innovative practice which could put us on the road to a different kind of economy.
We hear how feminists have called for decades for a different economic model (that accounts for the unpaid work, mainly undertaken by women). We see how that call has been picked up by the Rethinking Economics movement which is demanding a review of how Economics is taught in our universities so that economic graduates are equipped to understand and propose radical alternatives to address the flaws in our current economic system. One such policy that is explored in more detail here is the concept of a citizen's basic income.
Other blogs highlight the support in Scotland for: alternative business models, such as employee ownership; a fintech sector which focuses on good social outcomes; innovative and ethical financial investment models for communities, individuals and businesses; and community energy projects that have given literally hundreds of urban and rural communities up and down the country a share in their energy resources as well as a say in how any profits are used for the benefit of their community.
At a time of such frustration, these examples illustrate how Scotland can offer inspiration as well as practical alternatives of how our economy could be repurposed for a different end. Our economy infiltrates, underpins and defines all aspects of our lives and, as someone famously quipped, is too important to be left to economists. As such it is incumbent upon us all to understand, participate and promote the alternatives that will bring about the paradigm shift needed to move us to an economy where people and planet really matter more than profit and growth.