A Social Policy as if People Really Mattered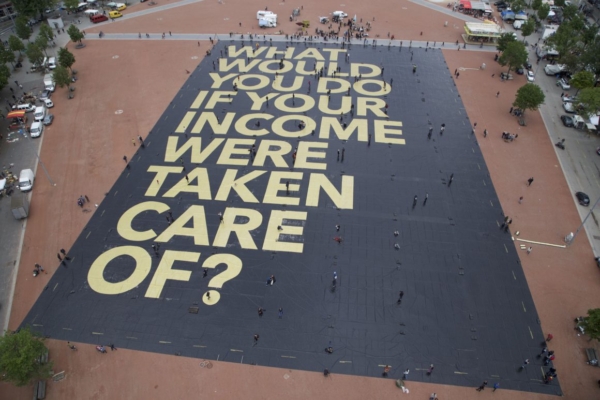 Cleo Goodman explains how welfare reform is an essential part of creating a wellbeing economy.
A Basic Income is a regular payment received by every citizen, regardless of their circumstance, from cradle to grave. It is a radical social security reform; a form of emancipatory welfare that ensures everyone has a financial safety net throughout their lives. A Basic Income, as a policy that ensures every member of society has the resources to fulfil their basic needs, supports a wellbeing economy. Scottish Government has allocated £250,000 to explore the feasibility of a Basic Income, which puts us in the running to be the first nation on the planet to implement a Basic Income.
A Basic Income has 5 key characteristics. It is paid regularly, not as a one off or lump sum. It's paid as cash which can be spent freely, not as vouchers or reimbursement for specific purchases. It is paid to each individual, not the household. It is unconditional; it is not paid in exchange for work, demonstration of a willingness to work or on any other criteria. And it is universal, everyone receives it. These are the fundamentals of a Basic Income; any other elements depend on the model chosen including the level at which the payment is set.
A Basic Income is a genuine safety net through a change in circumstance. If your ability to work is disrupted you are still guaranteed a base level of income. If the paid work on offer does not meet your needs a Basic Income provides the financial support required to say no to it and find more suitable opportunities. A Basic Income gives you more choice over how you spend your time, making unpaid but essential activities like caring, spending time within your community, creativity and volunteering less strained.
Of course, the sum paid dictates the extent to which these benefits are felt, so when designing our Basic Income, we must ask what we want it to do. We then test our models to ensure those aims are met.
Citizen's Basic Income Network Scotland is a grassroots, volunteer run, educational charity which speaks to hundreds of people about their interest in a Basic Income each year. For most, a Basic Income represents hope. It's the antithesis of our current welfare system that has fractured into suspicion, invasive assessments and punitive sanctions. Inequality is rife and unnecessary; some people have everything they could ever need and others have nothing. A Basic Income is a simple way to meaningfully redress this and it can't come quickly enough. There are many future unknowns; automation may eliminate certain jobs, leaving many people without an income. A Basic Income would support us through these changes without creating jobs for jobs' sake, and instead focus on generating more leisure time and interesting, useful work, focused on people and the planet.
Basic Income is an idea that has gained increasing attention from Cellardyke to Silicon Valley, which has led to four local authorities (Fife, Edinburgh, Glasgow and North Ayrshire) submitting a joint bid to Scottish Government to fund research into whether a Basic Income is right for Scotland. This research is now well under way (see here for first update from the feasibility study) and recommendations on whether a Basic Income experiment should go ahead will be made in March 2020. While this is incredibly exciting, it is only the first step towards Scotland becoming the first nation with a Basic Income. A true commitment to an adequate Basic Income can only happen if citizens are vocal and uncompromising in their support of a fit for purpose Basic Income.
A wellbeing economy is based on decisions that benefit people and planet over profit. For this to work in practice those decisions need to be made on an individual level, as well as collectively. We need to be able to make choices that support our own wellbeing and have opportunities to invest our time in ethical activities. At the moment, our paid work is driven by personal profit; we are pushed into paid work to make enough money to support ourselves. Nothing decimates our individual wellbeing like poverty so we compromise, we do work that is not fulfilling, in environments that are bad for us, for companies we disagree with. We turn a blind eye because we have to pay the bills, because it's "just a job".
To shift this we need to fix our institutions, our legislation and our economy to create work that generates social value in a way that does not damage the planet. Alongside this we need to ensure we look after every individual, supporting their ability to choose and to thrive. At the moment, we clamour for personal profit just to survive. A Basic Income would remove this pressure. It would provide an opportunity to pause society's unhealthy obsession with profit, growth and productivity to consider what really matters. What deserves our time? What desperately needs our attention? If you remove the fear of destitution for the individual, we can realistically and meaningfully prioritise these questions. Without that, a wellbeing economy would be driven from the top down. It would leave people behind, with our most vulnerable impacted most severely. A Basic Income is a tool to bring about a wellbeing economy, and a reminder, for everyone who receives it, why we're making these choices it in the first place.