Sea Change: Climate Emergency, Jobs and Managing the Phase-Out of UK Oil and Gas Extraction
A landmark report by Friends of the Earth Scotland and Oil Change International reveals, for the first time, the climate impact of North Sea oil and gas extraction, and urges the governments to prioritise a job-creating energy transition. The report lays out in the starkest terms the simple reality that the UK's oil and gas drilling plans, and Scottish Government's support for them, are incompatible with any coherent response to our climate emergency.
This is a groundbreaking report which shows not only the dire ecological consequences of the business as usual model projected over the next thirty years, but also the huge potential for a just transition.
Mary Church, FoES's head of campaigns, stated:
"Climate science is clear that we urgently need to phase out fossil fuels, yet the government and big oil companies are doing everything they can to squeeze every last drop out of the North Sea. To tackle the climate emergency head-on we must ban oil and gas exploration now, and redirect the vast subsidies propping up fossil fuel extraction towards creating decent jobs in a clean energy economy."

"Real climate leadership means making tough decisions now that put us on a path to a climate safe future. A just transition for workers and communities currently dependent on high carbon industries is an essential part of that."
Just two weeks after the Climate Change Committee's net-zero carbon target and UK, Scottish and Welsh "climate emergency" declarations, the 'Sea Change' report found that:
• The UK's 5.7 billion barrels of oil and gas in already operating oil and gas fields will exceed the UK's share in relation to the Paris climate goals – whereas industry and government aim to extract 20 billion barrels.
• The additional oil and gas extraction enabled by recent subsidies will add twice as much carbon to the atmosphere as the phase-out of coal power saves.
• Given the right policies, clean industries could create more than three jobs for every North Sea oil job at risk, which can enable an "equivalent job guarantee" for every oil worker.
The authors call for termination of the soon-to-be-completed 31st oil licensing round, and cancellation of the 32nd round, which the UK Government plans for later in the year. Instead, they say the UK and Scottish Governments should work with affected communities and trade unions on a Just Transition plan to create new decent jobs in clean industries, alongside a managed phase-out of oil and gas extraction.
The report warns that failing to begin a transition now will mean later action would have to be so rapid as to cause a collapse of the industry, putting tens of thousands of jobs and regional economies at risk.
The report further highlights how the UK and Scottish Governments face a choice between two pathways that stay within the Paris climate limits:
1. Deferred Collapse: continue to pursue maximum extraction by subsidising companies and encouraging them to shed workers, until worsening climate impacts force rapid action to cut emissions globally; the UK oil industry collapses, pushing many workers out of work in a short space of time. Or:
2. Managed Transition: stop approving and licensing new oil and gas projects, begin a phase-out of extraction and a Just Transition for workers and communities, negotiated with trade unions and local leaders, and in line with climate change goals, while building quality jobs in a clean energy economy.
Given the tightness of remaining carbon budgets, each new license, permit or tax break for oil and gas pushes the UK further towards the deferred collapse path. This report however recommends the second course; it shows that energy transformation can meet UK climate commitments while protecting livelihoods and economic well- being, if the right policies are adopted.
Local manufacturing and workforce participation therefore need to guide new approaches to economic development, industrial policy and ownership, together with stronger trade union rights for workers affected by energy transitions, including union recognition and sectoral bargaining to ensure acceptable norms on pay and working conditions.
The report recommends that the UK and Scottish Governments:
Stop issuing licenses and permits
for new oil and gas exploration and development, and revoke undeveloped licenses;
Rapidly phase out all subsidies for oil and gas extraction, including tax breaks, and redirect them to fund a Just Transition;
Enable rapid building of the clean energy industry through fiscal and policy support to at least the extent they have provided to the oil industry, including inward investment in affected regions and communities;
Open formal consultations with trade unions to develop and implement a Just Transition strategy for oil-dependent regions and communities.
The report shows the projected carbon dioxide emissions form UK oil and gas from 2018-2050.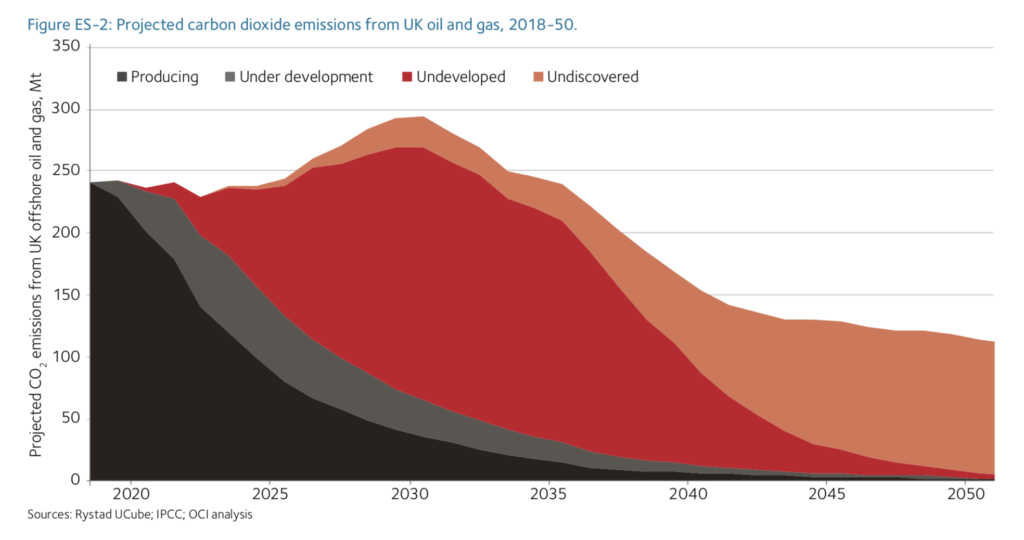 The report explores the potential for a managed transition to new clean energies and de-commissioning. It states:
"To respond to the challenges presented by climate change while avoiding a deferred collapse of the UK's oil industry, a structured and planned transition is needed which covers both phasing out extraction and replacing the oil and gas with clean energy to power our domestic economy. Renewable energy is now cheaper in the UK than gas power. Several UK and global studies have shown that a rapid transition to 100% renewable energy is both technically feasible and affordable. The barriers are political.
The history (and present) of UK oil and gas extraction shows what can be achieved when a government sees a strategic interest in enabling an industry. From the first discovery of oil in 1969, the UK was an oil exporter within just twelve years, and by 1985 was the world's fifth largest producer of oil."
"It was government policy that enabled this rapid expansion, and government policy (through subsidies and industrial interventions) that sustained extraction long after it would have otherwise declined."
"Clearly, it is an ambitious project to transform the UK energy system within a couple of decades, just as the rapid development of the North Sea was an ambitious project. However government intervention enabled the oil industry to develop, and it will be government intervention that similarly enables renewables. This report models the impact on the oil and gas workforce of ending the development of new fields. Taking into account jobs created through decommissioning and forecast retirement in the existing workforce, we estimate that 40,000 existing oil workers (direct and supply chain) may need to be in a different job by 2030. To examine the scale of jobs that can be created in compatible clean energy industries and the level of policy ambition necessary, this report models the numbers of new jobs that would be created in offshore wind, marine renewables and energy efficiency retrofits, sectors that have strong overlaps with existing oil and gas skills."
The report outlines three different scenarios: the Current Trajectory scenario, in which new jobs in the case-study clean energy sectors do not replace the decrease in oil and gas jobs in Scotland; the Existing Ambitions scenario, the case-study sectors create around 1.3 times as many new Scottish jobs as the overall decrease in oil and gas jobs; and the Fully Renewable scenario, the increase in Scottish jobs is even greater.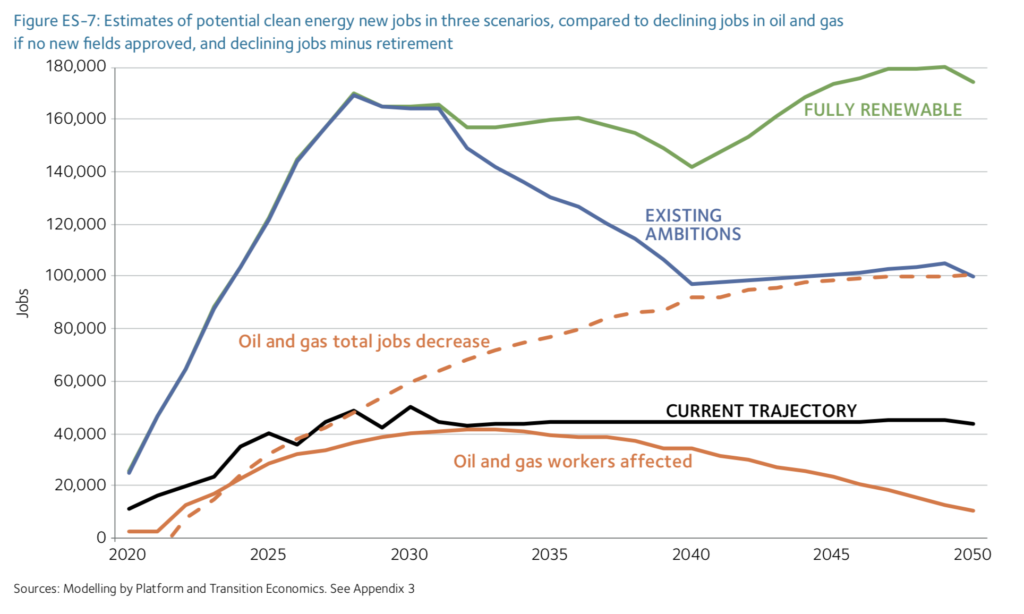 The responsibility for the offshore licencing is not a devolved matter. The responsibility lies with the UK government. The report concludes that:
"The UK and Scottish Governments must align policies on fossil fuel extraction with their commitment to global climate goals. This means cancelling the current and any future licensing rounds, stopping issuing permits for new fossil fuel exploration and development and revoking undeveloped licenses. Furthermore, the governments should review whether existing facilities should be phased out early as part of a Just Transition that protects the rights and livelihoods of workers and communities that currently depend on the industry."
THE UK GOVERNMENT SHOULD:
Cancel the 31st offshore oil and gas licensing round and any future planned onshore or offshore rounds;
Revoke all existing oil and gas licenses on which no work has yet been carried out, and negotiate the cancellation of all other licenses which have not yet been developed;
Conduct a review of how fast existing oil and gas extraction facilities need to be phased down in order to limit warming to 1.5oC, bearing in mind the UK's greater capacity to finance a Just Transition relative to other countries, and taking a precautionary approach to unproven "negative emissions" technologies;
Publish a plan for a managed phase-out of UK fossil fuel extraction and Just Transition in line with the Paris goals.
END SUBSIDIES FOR OIL AND GAS EXTRACTION
THE UK PARLIAMENT SHOULD:
Pass legislation banning future licensing of all offshore fossil fuel exploration and development, and onshore exploration and development in England;
Amend the Petroleum Act 1998 and the Infrastructure Act 2015 to remove the duty to "maximise economic recovery" and replace it with a duty to align fossil fuel extraction with the UK's fair share of delivering the Paris goals.
THE SCOTTISH GOVERNMENT SHOULD:
Revise its Energy Strategy and align policies on fossil fuel extraction with its fair share of delivering the Paris goals.
THE DEVOLVED ASSEMBLIES AND PARLIAMENT SHOULD:
Pass legislation banning future licensing of all onshore fossil fuel exploration and development.
"Sea Change: Climate Emergency, Jobs and Managing the Phase-Out of UK Oil and Gas Extraction". Download the report here.