Inside the Astroturf Networks of the Brexit Party and Friends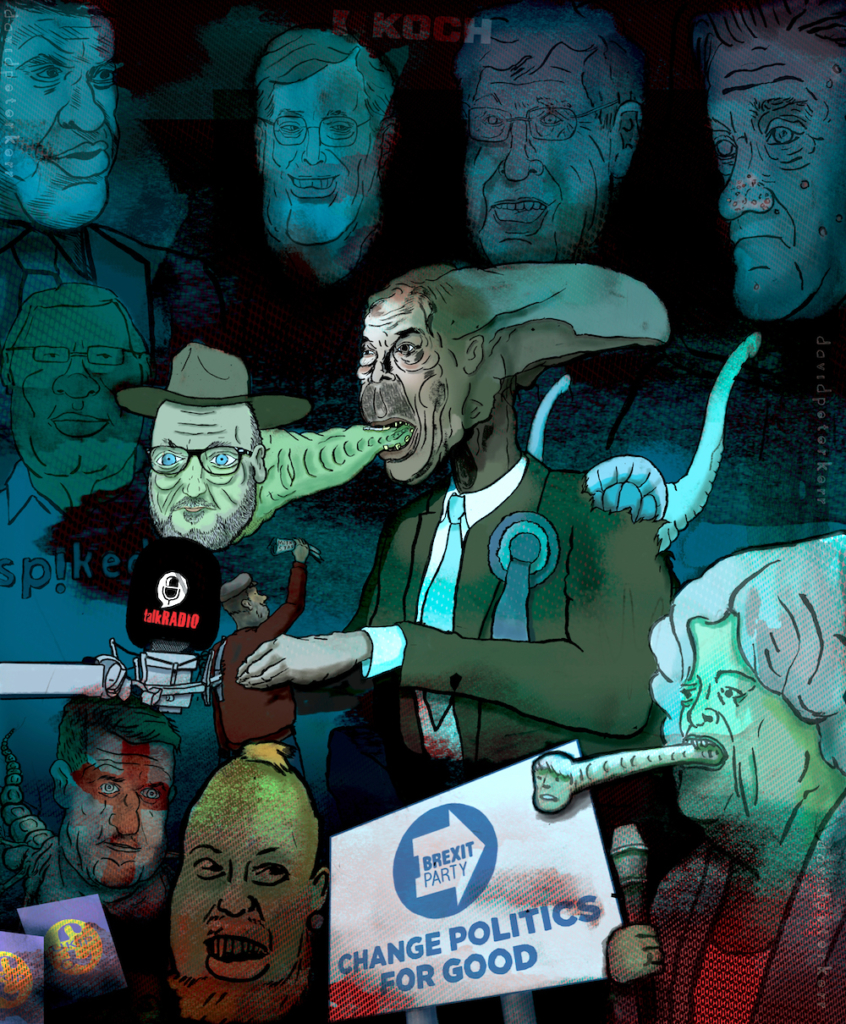 The convergence of the far-right, "libertarians" and exiled Conservatives is the subject of this brand new cartoon by Dave Peter Kerr (@davidpeterkerr) featuring Nigel Farage, Banks, Anne Widdecome, George Galloway, Yaxley-Lennon, the Koch Bros, Steve Bannon, Sp!ked and more.
This is a national and an international network of people organising around a far-right agenda. If you vote for them, know who they are.
This is what happened when Hannah Miller from ITV caught up with Claire Fox/Foster to ask her about the Warrington bombs:
This is what happened when we asked Brexit Party candidate Claire Fox about her support for the 1993 Warrington bombings:

– 'I don't hold those views anymore because there is no war going on in Ireland anymore'

– Won't apologise because 'I didn't do anything' @GranadaReports pic.twitter.com/hw97UWaKvf

— Hannah Miller (@hannahITV) May 19, 2019
*
And we asked Nigel Farage too – he defends choosing Claire Fox to stand for the Brexit Party in the North West, and says he was aware of her stance before she was selected @GranadaReports pic.twitter.com/Bo6paRMqYK

— Hannah Miller (@hannahITV) May 19, 2019
You've got to love Claire Fox/Fosters's plaintive "why now" plea as she dissembles and tries to shift the blame onto "Remainers" as a sidestep from her repellent views.
It might be something to do with standing for election. Some of these individuals aren't used to operating in daylight.
for more background see also…

Claire Fox, The Brexit Party, Full Brexit, the RCP, and Northern Ireland
A recent Twitter thread by Bob from Brockley on the Revolutionary Communist Party, aka Spiked, now the main force in the Full Brexit pressure group and standing candidates for Nigel Farage's far right Brexit Party in the Euro elections in May. See here.
Koch, Spiked, and Mark Lynas: Uncomfortable bedfellows?
This by The Ecologist about Koch and Spiked, see here.
Koch-Funded Peasants for Brexit
On who funds Brendan O'Neill.  See here.
Flutes in Whitehall, Fascists on the Streets
As Tommy Robinson, Nigel Farage, Claire Fox and Toby Young gather on Newsnight, the toxic hatred of the media that has dominated the Trump movement in America manifested itself on the streets of London. See here.
Astroturfers of Britain Part One: the Brexit Party's Artificial Grass Roots
Otto English on the PR person behind the apparently spontaneous
Leavers for Britain
movement and her Westminster Think Tank connections.
Part One here.
AstroTurfers of Britain Part Two: Who is Behind Brexit Party Recruitment and its PR Makeover?
Otto English delves deeper into Claire Fox and Spiked Online's close connection to Nigel Farage's new party, and discovers another PR executive involved in recruiting potential MEPs. Part Two here.
Everything I discovered about >all< of The Brexit Party MEP candidates.From gay conversion therapy advocates to supporters of paedophilia legalisation, from climate change deniers to rampant tax avoiders, from NHS abolitionists to besties of neo-Nazis, from fracking supporters to unabashed profiteers of chaos… Read here.