In the Automagical Age of Surveillance Capitalism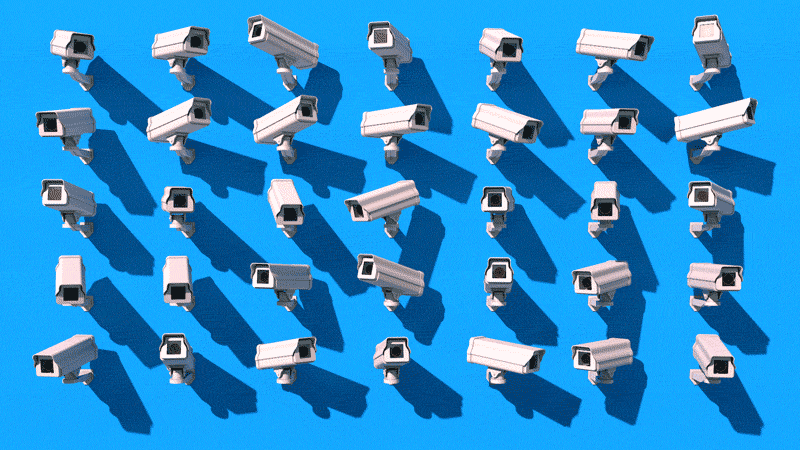 In Britain Brexit gobbles all political and media attention; like a black hole sucking the light out of everything in its orbit. It is part of the Brexit distraction phenomenon that vital matters that will deeply affect us all, decisions that pass almost unnoticed and are even welcomed by us in our ordinary daily activities, are already insidiously subverting our lives. In this real but shadowy, hidden world, that nobody sees, and nobody protests; Brexit is simply irrelevant. 
This is the life you may expect. Your life is now capable of being sliced, diced and served to unknown interests, by your own activities; in plain sight and hidden from view: that is its genius. Your smart phone, your laptop, even your car or your heating system is potentially your master. You are becoming its servant; or rather it's serf, because your choice in the matter is elusive. Your choice was made with a single click, but do you really know precisely what you chose? You may soon become a by-product in your own life, in the service of unknown interests you know nothing about, and whom wish to keep it that way; and you are scarcely aware, or perhaps unaware that it is happening. Every 'click' becomes an authorisation, but you are not fully aware what you are authorising. You will increasingly be watched, overheard, monitored, checked, scrutinised, analysed; you are gathered into larger elements that are packaged and auctioned; bought and sold, and re-sold; constantly, endlessly. You are not even the product anymore: you are a plentiful, free commodity served up on a plate. This is your future: in or out of Brexit. 
The train is late, and Orwell died long ago on the journey; but this is a British form of rail travel: endlessly overdue, in the end the train will finally arrive in 1984, even if you did not wish to go there. In the passing decades Oceania has changed profoundly. It no longer has borders; it exists everywhere and nowhere simultaneously; it is no longer overseen by Big Brother, but by an unspecified 'Big Other': after all, this is not commonplace totalitarianism any more but instrumentarianism (Shoshana Zuboff, 'The Age of Surveillance Capitalism' Profile Books, 2019; Ch.12 and Ch.13, p.351-397, and especially Figure 4, p.396-7 ). The technology is a great deal smarter than in Orwell's nightmare, and this time it is personal; so personal, so close, so convenient, so facile, that unlike Winston Smith, you probably will not quite notice it is happening. The unknown interests, the Big Other are not like Big Brother; they are just unknown people much like you, but making a lot more money and with an almost limitless capacity for self-justification. You are now just 'behavioural surplus'; it isn't personal. It is just business. 
You will soon enough reach the same conclusion as Winston Smith only discovered at the bitter end of Orwell's tragic demolition of a broken man; that Winston had misunderstood the regime all along, that suddenly "everything was alright. He had won the victory over himself" (Orwell, '1984'; Penguin, 1968; final page). Of course you may already think all this is hyperbolic, an exaggeration of the effects of technological advance; let us see. Larry Page, with Sergey Brin founded Google around 1998, full of optimism at the openness and liberalism a new technical age would bring users, and idealistic enough initially to reject advertising altogether. Page wrote this about his ambition for the Google experience for users, to make it "almost automagical because we understand what you want and can deliver it instantly" (Google Management Discussion Q3 2011 Results; Seeking Alpha, October 14th, 2011; quoted by Zuboff, TASC; p.128 – see below).
Automagical? Is that super-magical? Magical on steroids? It is certainly instant. Everything is instant, including the contract. What we want may not prove to be what we want, or everything we can expect. Confused? You should be.
The brief characterisation above is my condensed, subjective, 'reduced to the personal', slightly over-ripe and dramatised distillation of the core human message to be discovered in the revolution described in what Shoshona Zuboff calls 'The Age of Surveillance Capitalism' [TASC]. Zuboff is an academic who has spent most of her working life in the Harvard Business School. This is a free-market, intellectual-insider's profoundly instructive, devastating critique of the nature of modern capitalism. For anyone who has spent their functioning life in business this deconstruction of the new world in which we will live is no mere academic abstraction. Zuboff has detected the characteristics that turned 20th century mass-consumer industrialism into cutting-edge, technology-enabled, 21st century surveillance capitalism. 
Every initial 'click' we make online is typically an authorisation: the term 'click-wrap' refers to the service contract a user clicks to authorise for access on-line the services provided, that in legal terms are 'contracts of adhesion' that virtually nobody reads, or checks, or realistically could read: but the adhesion which holds us may be legal super-glue (see Yannis Bakos, Florencia Marotta-Wurgler, David R. Trossen, 'Does Anyone Read the Fine Print? Consumer Attention to Standard-Form Contracts', in 'The Journal of Legal Studies', Vol. 43, No. 1, January 2014, pp. 1-35; for detailed assessment of the fine print problem. Peter Linzer, 'Contract as Evil', in 'Hastings Law Journal', No.4, May, 2015; pp.971-1010; for the problems of contracts of adhesion).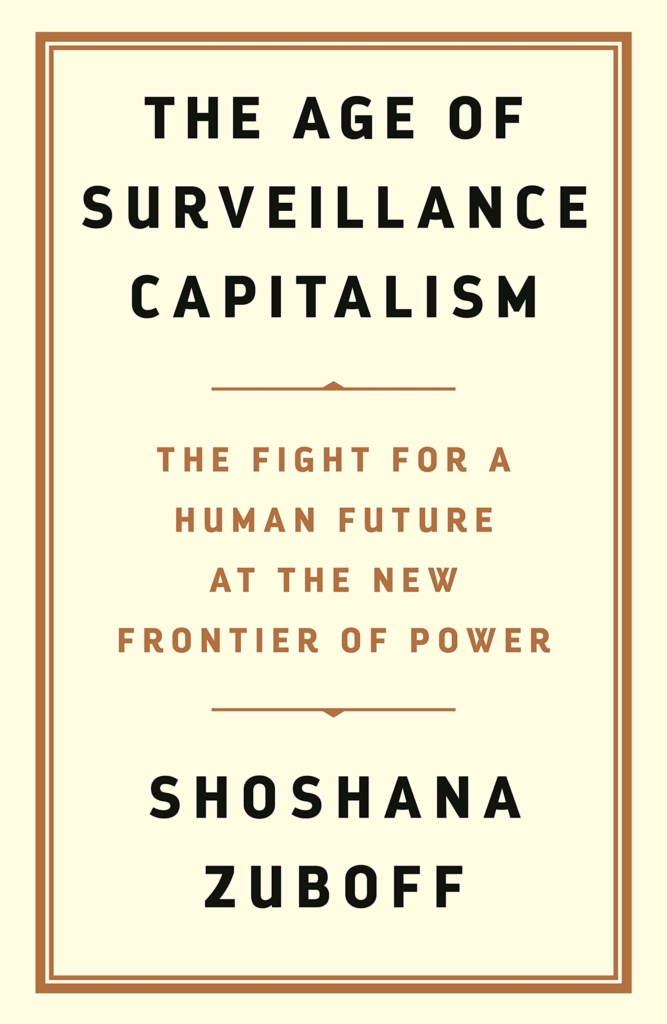 One click; but if you were going to treat this as a conventional contract, it would be advisable to read it first. Wouldn't it? McDonald and Cranor, engineering and computer science researchers at Carnegie-Mellon University, calculated that the average American internet user would require to spend 244 hours per year, just to read the contracts they clicked through on the internet (point estimate: McDonald and Cranor, 'The Cost of reading privacy policies', in 'A Journal of Law and Policy for the Information Society'; Vol4, (3); 2008; Table 7, p.563), and that was a decade ago. That research is long out of date. The world has moved on, at magically automatic speed. We do a lot more with a single click now; and we do a lot more clicking. It also implies the reader has the insights of an accomplished lawyer. If you read the contract, do you understand ALL the implications of all the provisions in the contract, or the legal meaning of the defined terms? Who reads carefully, THAT carefully? Or even skims before they click? That is what you rely on lawyers to do when you need them. You don't need a lawyer here because magic is available at a single click. 
It is easy to check these propositions; just read the next agreement before you click; time it. Did you understand it? Fully? Then do it again; every time you use a web service. I surmise that process won't work for anybody, or for long. It would entirely defeat the fast-service, now-not-tomorrow purpose of a 'click'; it would entirely defeat dot.com as a business model. Nancy S Kim, an American law professor has described such on-line contracts in these terms: "The biggest danger with wrap contracts may be how they subtly push the boundaries of what is considered acceptable business conduct, cheapening the meaning of 'consent' while eroding our rights one click at a time."  (OUP Online Blog, December, 17th, 2013: 'Wrap contracts: the online scourge'). Zuboff both broadens and encapsulates this fast and loose, powerful, empowering and seductive activity in a phrase popular in Silicon Valley, but borrowed from the economist Joseph Schumpeter (1883-1950): as "permissionless innovation", but legal permission has been granted: at both the individual and regulatory level. We may yet ask, what is being permitted, and what is being innovated?
It turns out that the "innovation" for this revolution was, quite simply, 'waste'; residue, sometimes called "exhaust", "digital breadcrumbs". It began as the by-product of something else; the user data collected by a search engine in its turn-of-the-century pursuit of users with the offer of sought-after access to digital information; in these innocent days it was presented as the development of an open, liberal and dynamic internet-driven mass social force. The new, and revolutionary discovery that changed everything was first and crucially made by Google, which set it apart, at the forefront of search engine innovation, with what Kenneth Cukier described as the recognition of "the gold dust in the detritus of its interactions with its users"; which it began systematically to collect. The waste, the by-product, the data chaff supplied by users of search engines, about themselves in the process of a search, suddenly became the core business (Cukier, 'Data, Data Everywhere'; the Economist, February, 27th 2010).  Zuboff describes the early 'data mining' exercises into Google's "accidental data caches"; data logs that provided "detailed stories about each user – thoughts, feelings, interests" which could be constructed "from the wake of unstructured signals that trailed every online action". This trail of signals, cleverly interpreted, in the new terminology became "behavioural surplus": gold dust (Zuboff, TASC, p.72). Zuboff in Ch.2 and Ch.3 of TASC provides a profoundly illuminating exposition of the origins, around 2000-2004, of one of the most important, and genuinely revolutionary discoveries in the history of business. It transformed the business model of Google. It has revolutionised the business world. 
What had been supplied by the user insouciantly as chaff, in this new world of the 21st century was, after all no longer 'waste', but behavioural surplus. Behavioural surplus could be used by the major new Corporations catapulted to success by the scale of their data capture, and the power of their innovative analytics: "Facebook would learn to track, scrape, store, and analyse UPI [User Profile Information] to fabricate its own targeting algorithms, and like Google it would not restrict extraction operations to what people voluntarily shared with the company"; and it would be possible to use behavioural surplus not only to satisfy demand, bu to create demand [Zuboff, TASC, p.92]. The UPI, the volume and detail of the data captured, combined with new and ingenious analytics allowed a further revolutionary step to be taken; from mere description or even unreliable forecasting of human behaviour, to serious predictive power: "Machine intelligence processes behavioural surplus into 'prediction products' designed to forecast what we will feel, think and do: now, soon, and later" (Zuboff, TASC; p.96). This turns marketing and advertising for the data capture and analytics companies virtually into a science, and moved Google into the auction business: "Prediction products are sold into a new kind of market that trades exclusively in future behaviour. Surveillance capitalism's profits derive primarily from these 'behavioural futures markets'" (Zuboff, TASC; p.96). What was collected, free and unnoticed as behavioural surplus was gold dust; but that required assurance that access to the data it collected, and the right to use it remained in the hands of the collector. The technology required, and the companies depending on it have apparently been able to ensure, legal protection of data that was yet essentially, in their own interpretation, outside 'terrestrial laws': or in the words of Eric Schmidt (variously Chairman of Google or its parent, Alphabet 2001-2017) and Jared Cohen (ex-State Department and then Director of Google Ideas/Jigsaw): "The Internet is the largest experiment involving anarchy in history". They continue: "Hundreds of millions of people are, each minute, creating and consuming an untold amount of digital content in an online world that is not truly bound by terrestrial laws." (Schmidt and Cohen, 'The Digital Age'; Borzoi Books, 2013; p.3). Permissionless permission and innovation through detritus and waste, bound dynamically together by high-tech analytics equals 'permissionless innovation' in the modern world. Yet it is all impeccably legal, one click at a time, and there are lots and lots of smooth, urbane, articulate, erudite and very, very expensive lawyers able and willing to prove it.
Permissionless innovation focuses on the structural elements of this revolution. The catalysts, the enablers of revolution were elsewhere: as a matter of economic history enablement was an unintended consequence of the spectacular dot.com bust and soon after, 9/11. The dot.com boom was followed by catastrophic bust that required new search engines and other sector start-ups suddenly and hastily to establish a revised business model that would actually produce the fast profits, and the big returns on capital that had induced the early vulture capitalists to invest in the bold new frontier; and which had very publicly failed, in the same showy excess of publicity with which they had oversold their commercial prowess. At the point capital threatened flight from a sector that ate development capital fast, but produced little revenue, and even less profit; financial scrutiny prompted instant collapse of share prices. This is hard for young, fresh largely academic executives, especially those not long in the tooth in the ways capitalism. Values may require to be transformed. Reality impinges on proclaimed priorities. Suddenly it is discovered that Capital is far more risk averse than is often appreciated. Brilliant ideas are not enough. 
Permissionless innovation provided the mechanism for fast profit under pressure: gold dust – but it comes at a price. Faced with serious financial pressure the traditional priority of the 'user' at the heart of the service, at the core of the business, with the user's needs defining the company mission, the lofty original vision of liberal values, open access, the primacy of user's rights, including the right to be forgotten: all this becomes problematic when the gold dust proves to be elsewhere, serving different ends; accessible, and  just a corporate judgement laced with realism, away. It isn't personal. It is business. The business model throughout the sector was transformed following the dot.com crash, and almost uniquely has revolutionised business models across multiple sectors. Few seemed to notice, save a few perceptive critics, like Zuboff.
The other critical enabler was 9/11. For Zuboff this act of terrorism precipitated a radical shift in US official thinking, from a Federal Trade Commission desire tentatively to propose a self-regulatory regime on the internet to protect individual user privacy in this new wild-west territory; to a dramatic and wholesale precedence in Government for security, over everything. This resulted in an approach which she terms "surveillance exceptionalism". Using a Weberian conceptualisation to represent the natural networking of interests between State and private companies, Zuboff states that: "The elective affinities between public intelligence agencies and the fledgling surveillance capitalist Google blossomed in the heat of emergency to produce a unique historical deformity: surveillance capitalism." (Zuboff, TASC; p.115 but see p.114-121 for the development of the interconnections). 
The extent of the mutuality between the public intelligence and private business parties was quite publicly expressed by a senior CIA insider. Andrea Peterson, writing in the 'Washington Post' quoted former NSA and CIA Director Michael Hayden: "Asked whether the United States's promiscuous surveillance was setting a harmful example for other nations, Hayden suggested that the Internet's origins in the United States partially justifies the NSA's conduct. If the Web lasts another 500 years, he said, it may be the thing the United States is remembered for 'the way the Romans are remembered for their roads. We built it here, and it was quintessentially American', he said, adding that partially due to that, much of traffic goes through American servers where the government 'takes a picture of it for intelligence purposes.'" (Andrea Peterson, 'Former NSA and CIA Director says terrorists love using gmail', Washington Post, September15, 2013). The corollary of this mutuality, and an emphasis on security and secrecy appears to have allowed the freedom of major surveillance capitalists to continue, long after 2001, to capture, hold and dispose of data largely free of close scrutiny, of regulatory oversight, or legislative reform. The contingent proximity of dot.com bust, 9/11 and the machine intelligence developments, particularly at Google, essentially formed a new and powerful species of capitalism: surveillance capitalism.
It is a standard, conventional neoliberal criticism of Zuboff's analysis, that this is merely the natural perturbations of the market, before free market wisdom asserts itself in an open and competitive resolution of the early problems that beset any newly formed market. It is now over twenty years since Google was founded, and it may be surmised that in a sector notable for extraordinarily rapid change at a rate far above historic norms; by the time this market corrects it may no longer exist, or exist in the same form. It is also difficult to determine how this can be described as a market when a single company may have a 90% market share. 
The problem here is the law and regulation. More pertinently, Zuboff quotes Larry Page of Google in 2013 publicly arguing: "Old institutions like the law and so on aren't keeping up with the rate of change we've caused through technology …. The laws when we went public were 50 years old. A law can't be right if it's 50 years old, like it's before the internet" (Zuboff, TACS, p.105 quoting Page, reported by Jay Yarrow, 'Business Insider', May 16th 2013). This, first and foremost, is a dereliction of law, of legislators and regulators. The criticism of Zuboff however also fails because it does not understand the nature of modern business development, especially in new technologies. New companies, perhaps especially in high-tech sectors, are also very high risk; and capital is far, far more risk averse than free-market apologists like to acknowledge; and they demand a great deal – for example, elbowing out Larry Page as CEO of Google quickly in 1999 for their own choice, an outsider; and expecting a new and very profitable business model to be produced (John Battelle, 'The Search', Penguin; p.91). Small high-tech start-ups often initially spend as much time searching for public grants and Government support as they do schmoozing vulture capitalists, who may examine closely the start-up's success rate in raising public sector sources first, or the founder's own investment, before considering investment themselves; and will often demand in return far more than public sector sources; and a lot more than an eye for an 'aye'.
Many of the predominant names in modern high-tech business in the US owe much to original start-up funding from the public sector, rather than exclusive dependence on the private sector, as claimed in the fantasies of neoliberal ideology. Mariana Mazzucato has documented the dependence of major companies on very early, and too easily forgotten or dismissed US Government or other public sector support – including Google and other major names – in 'The Entrepreneurial State' (2014), or 'The Value of Everything' (2018). Mazzucato (sourcing Battelle) points out that a key Google algorithm was funded by the National Science Foundation (NSF). (Mazzucato, 'The Entrepreneurial State'; Anthem Press, 2014; p.27). It is, incidentally quite noticeable that the most perceptive critics of the current conventional wisdom – are women. 
On public sector funding, the National Science Foundation (NSF) website records this of its involvement, through the Digital Library Initiative (DLI) in the early years of Google, when Page and Brin were still at Stanford University: "Page was soon joined by Sergey Brin, another Stanford graduate student working on the DLI project. (Brin was supported by an NSF Graduate Student Fellowship.) Together, Page and Brin constructed an ambitious prototype in their Stanford student offices. The equipment for the prototype, called BackRub, was funded by the DLI project and other industrial contributions" (NSF website, 'On the Origins of Google').
The issues arising from this revolution in global business are profound. I wish to pursue one aspect of this that is speculative, but I believe should not be overlooked. Allow me to begin with a Sky News report of 3rd May, 2019: "A Conservative prime minister [Theresa May], her national security establishment and the vast majority of the business community have lined up to declare that Huawei equipment is safe to use in the UK's 5G network. Yet a group of Conservative MPs – including, we are told, several cabinet ministers, and the widely respected chair of the foreign affairs committee – are speaking out against this normally unassailable collection of interests." By 16th May the Guardian was reporting that Sir Richard Dearlove, ex-head of MI6 was writing that the decision should be reconsidered. The Defence Secretary, Gavin Williamson was sacked for allegedly leaking the decision to approve Huawei; to which he reacted by describing the leak enquiry as a "shabby and discredited witchhunt" (Zahira Ramin, 'The Independent'; 4th May, 2019). From the perspective of a mere public outsider, it almost appeared that the intelligence and security services were intervening publicly in a political matter in which a decision had already been taken. That may have been more optics than reality, but the degree of unrest was exceptional, even by the standards of Westminster.
Meanwhile the United States, and many other states have taken a quite different position on Huawei and 5G: an issue that revolved around the architecture of data handling and data mining; and the implications for privacy and security less on a personal, than a national security and a geopolitical scale. Huawei has $105 Billion in world sales, and is the largest provider of 5G equipment worldwide. On May 20th, 2019 the Washington Post reported that US companies had begun complying with a White House order to curb Huawei sales; sending "US technology stocks sharply lower" (Jeanne Whalen, Greg Bensinger, Ellen Nakashima, Hamza Shaban, Washington Post, May 20th). This may look like part of the US-PRC Trade War, and therefore a function of the Trump White House, but I wish to speculate that it goes deeper, is more resonant and lasting in the fabric of geopolitics. The Washington Post article goes further than may be expected solely from a trade spat, however serious: "The United States said last week it was adding Huawei to a trade blacklist because the company 'is engaged in activities that are contrary to U.S. national security or foreign policy interest'" adding that: "The United States views Huawei as a security risk because it believes the company has close ties to the Chinese government, which Huawei has denied. U.S. officials have said Huawei could potentially tap into and monitor sensitive U.S. communications through its network technology". Google reported it would restrict Huawei's access to its Android operating software, and the company is mentioned no less than twelve times in that single Washington Post article. 
The US is not alone in harbouring security concerns on this matter. Japan, New Zealand and Australia have imposed bans (Hilary Clarke, South China Post, December, 11th 2018). The signals from the EU, however are mixed. Not just the UK, but EU telecom operators appear keen to use Huawei, at least on peripheral infrastructure. It would require considerably more expertise than I can offer to explain how that 'peripheral' or 'core' network technical relationship would work. It has been suggested that the problem European Telecoms have is that: "Without Huawei, they don't have enough diversity of suppliers." (Julia Horowitz, CNN Business, April 30th, 2019; quoting Dario Talmesio of Ovum Market Research). 
I wish to propose that the issue, just because it is over critical communications infrastructure, is more fundamental to Western geopolitical strategy, and the current world order than we may suppose. When the US was confronted by the Soviet Union, at the outset of the Cold War it was confronted by a nuclear power, which possessed an unmatched conventional military force (hence the theory of 'MAD' was invoked to address the imbalance); but the Soviet Union was a technological, industrial and economic minnow. The rise of the PRC is of quite a different scale. A nuclear power, with the largest population on earth; potentially a military giant; a communist country that has totally embraced capitalism (proving decisively capitalism does not entail democracy); potentially with an economy that could outstrip the productive output of the US, and with the resources to match the ambition. It is not just that such a possibility may be surmised; but in the character of its recent responses, could it be that the US is unconsciously acknowledging such a prospect in its policy. Is this just the Trump White House view, alone? Perhaps it is a peculiarity of a specific Presidency; or, for the first time since the world hegemony of the United States was established, and cemented after 1945; with the dollar as, effectively the world reserve currency, and with the power of supremacy in cutting-edge science, technology and communications, and a dominant industrial-military force, US hegemony may now seriously be tested. The unchallengeable supremacy and security of technical, scientific and communications leadership may now be considered more critical for the maintenance of US hegemony. We may find that we are living at the dawn of an age of geopolitical revolution.