Seven Tongues: Modern Poetry In Translation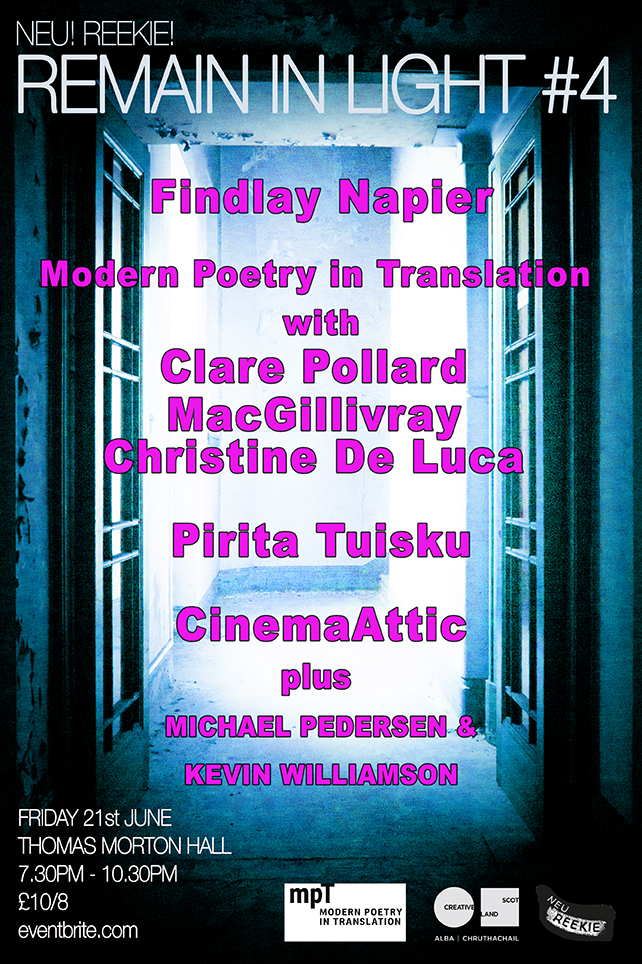 "My culture and my language have a right to exist," said James Kelman, famously, in the incendiary speech he gave after winning the Booker Prize in 1994, "and no one has the authority to dismiss that right." 
Since the post-war renaissance of Scottish literature began it's been a long slog asserting that right, and the job is far from done. From the state broadcaster to newspapers and publishing houses the cultural default is always set to Estuary English.
The same applies to live events. Over the last 9 years of putting on Neu! Reekie! shows we've tried to keep Gaelic and other minority languages in our sights. No matter how avant guide or edgy you think you might be if you ain't engaging with all of Scotland's languages then you become part of a monolingual central belt elite. We could do a lot more but in our defence we've booked Gaelic singers and Gaelic musicians, we've had Gaelic hiphop, and we've put Gaelic centre stage at a big New Year's event to celebrate the great Sorley MacLean.
The question pops up: Is there an audience for Gaelic poetry in the central belt? Hard to say for sure but the Gaelic primary schools in Edinburgh and Glasgow are fully subscribed which suggests an adult audience is out there. If the poetry comes with an English translation read in parallel then that audience can be expanded.
It's not just Gaelic poetry. Poetry in Scots, or poems where Scots words, grammar and sensibilities are to the fore, or even have sprinkled usage, have fought hard for their place in the culture. We can thank poets such as Fergusson, Burns and MacDiarmid for swimming against the tides of their day to assert the legitimacy and vitality of the Scots tongues. But what of Shetlandic? Or Orcadian? Or the other minority dialects, tongues and languages of Scotland?
In partnership with Modern Poetry In Translation magazine we've organised a unique 'SEVEN TONGUES' poetry showcase at Leith Theatre on Fri 21st June. This will feature poetry in no less than 5 of the historic tongues of Scotland: Gaelic, Scots, Shetlandic, Orcadian and English. Added to the mix will be poetry translated from Somalian as well as from medieval Welsh. Aye!
One of the judges at the 1994 Booker prize equally famously took the huff at the decision to award James Kelman the top literary award: "I'm really unhappy. Kelman is deeply inaccessible for a lot of people. I am implacably opposed to the book."
Next Friday we're offering Bella readers a chance to support an event (for free) that sets out to prove that poetry written in languages other than the Queen's English are not inaccessible. They're vital.
EXCLUSIVE TO BELLA READERS
Bella Caledonia has consistently supported the many languages of Scotland, and its readers are, obviously, the most cultured. So we've set aside a bunch of tickets for Bella readers who've never been to a Neu! Reekie! show before but fancy this one. To claim a complimentary ticket just click on the Eventbrite link and got to First Time Neu. We keep our tickets prices low so they're affordable for most folk – just £10/£8 – but if you wanna try this one for free, now is the chance.
Tickets here: https://www.eventbrite.co.uk/e/neu-reekie-remain-in-light-4-tickets-62637189520
It'll be an evening of live music, poetry, solo dance, animation + avante garde European cinema (via CinemaAttic), plus some proper volcanic science. Hosted by Michael Pedersen and myself.
THE THREE POETS
Clare Pollard, who edits Modern Poetry In Translation (which was set up by Ted Hughes), will read from her own work as well as work in translation from the magazine. Claire had her first collection published by Bloodaxe aged just 19 and in the 20 years since has become one of the brightest and most dynamic talents on the UK poetry scene.
Clare Pollard from Bella Caledonia on Vimeo.
Clare is joined by the former Edinburgh maker, Christine De Luca, whose poems are often informed by her Shetland background. Christine will read her work in both English and Shetlandic; a tongue in which she is seen as global advocate.
Christine De Luca from Bella Caledonia on Vimeo.
The third of the poets is MacGillivray. Her work encompasses performance art, song-writing and the use of visual media such as sculpture and photography. Her biog says she has "walked in a straight line with a dead wolf on her shoulders through the back streets of Vegas into the Nevada desert, eaten broken chandelier glass in a derelict East Berlin shopping mall, headbanged in gold medieval stocks in Birmingham allotments, burnt on a sun bed wearing conquistador armour in Edinburgh's underground city, breast-fed a Highland swan in Oxford and regurgitated red roses in Greenland."
MacGillivray's recent poetry draws from Scots, Gaelic and Orcadian.
MacGillivray from Bella Caledonia on Vimeo.
A MUSICIAN
Much acclaimed singer-songwriter Findlay Napier will wrap up the night. His perfectly crafted songs have been compared with Difford & Tillbrook of Squeeze, Deacon Blue, Loudon Wainright, Blue Nile & Elvis Costello among others. Findlay's from a folk music background and gets raved about everywhere.
Findlay Napier from Bella Caledonia on Vimeo.
A DANCER
Finnish dancer and choreographer Pirita Tuisku will perform her 8 minute solo dance piece Drown. Drown is a journey of the human experience of losing someone; the loss of a friend to illness, or someone moving far away. How people get lost in strong emotions and self change. How it affects us and our body? How do we Drown and how do we get up?
Video 5 Pirita Tuisku from Bella Caledonia on Vimeo.
Remain In Light #4 is on at Leith Theatre's Thomas Morton Hall.
Friday 21st June.
7pm -10.30pm
Licensed Bar.
Tickets £10/£8: