On Gaelic Language Development Policy in Scotland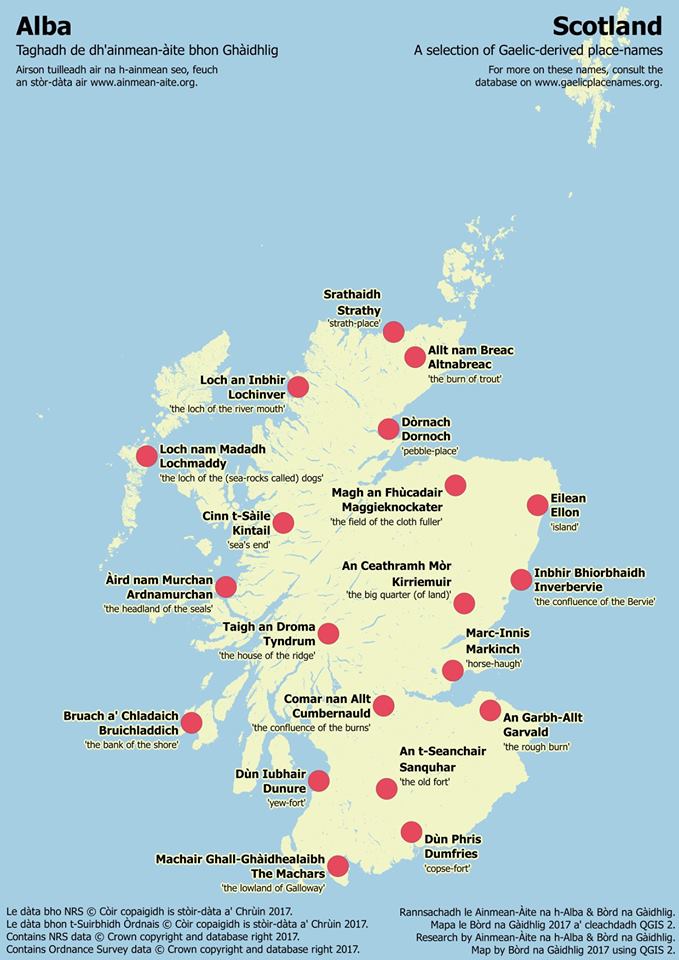 An open letter to the Scottish Government on Gaelic language development policy in Scotland by Màrtainn Mac a' Bhàillidh:
As a young architect I was drawn to working in the Isle of Skye by my commitment to Scotland's Gaelic language. Having been an active member of the SNP for over 15 years, joining shortly after turning 18, I have always had a passionate commitment to preserving Scotland's unique language and culture. Scottish Gaelic is intimately linked to Scotland's national image both at home and abroad, and historically played a fundamental role in the maintenance of an independent Scottish state and national consciousness. I was of the understanding the SNP shared this understanding;
"Gaelic is an integral part of Scotland's heritage and the SNP recognises the strong cultural, economic and social value the language brings to our entire nation. We remain committed to increasing the use and visibility of the language to ensure its sustainable long-term future. Research by HIE in 2014 found that the use of Gaelic by businesses and organisations can generate up to £148.5m a year for the economy – supporting our heritage is about a lot more than that" (1)
Alongside my work as an architect, I am very much involved in campaigning for the Gaelic language in its heartland communities, teaching, using and promoting the language on Skye, as well as helping organise public meetings throughout the Highlands and Islands, in promotion of the voluntary campaign group Misneachd's 'Radical Plan for Gaelic' (2) and 'The decline of Gaelic: 5 key steps to tackle the crisis' (3). It pains me greatly to contend daily with the many challenges facing the language and threatening its survival, including the connected issues of a lack of affordable housing and over tourism. It is abundantly clear, in my personal experience, but also in much of the research commissioned by Bòrd na Gàidhlig, that the language faces a crisis it will not survive without significant additional support from the Scottish Government alongside a change in policy priority, giving much greater emphasis to preserving and restoring the last remaining speaker communities in the islands.
Use of Gaelic in the home in the remaining Gaelic-speaking communities is declining, and fewer children are acquiring and speaking it as their first language. Detailed research commissioned by Bòrd na Gàidhlig and published in 2011, 'The State of Gaelic in Shawbost' (4) showed that the language had reached a tipping point in Western Isles communities and that it would be dead as a community language within one or two generations. This is to be followed up later this year by extensive research undertaken by the inter-university group Soillse which will show a very similar pattern throughout the Islands. My understanding of the challenges facing Gaelic is strongly routed in widespread international recognition among linguists that a living language is the language of home, community and of peer groups. As recognised by Joshua Fishman 5, higher order language props such as education, broadcasting and cultural activities are incapable of reversing language shift, as Dauenhauer & Dauenhauer state, "Languages can be learned by individuals but they are transmitted by groups" 6. There's no recognition of this reality in Gaelic revitalisation which prioritises nationwide education and symbolic cultural activities rather than the essential preservation of the physical Gaelic speaking communities.
Conchúr Ó Gilleagáin, Gaelic Research Professor with the UHI, notes the 3 things a minority language speaker group needs are "density, density and density" (7). All language ability is a skill, and like all skills, practice makes perfect.
The greater the exposure to a language and the greater opportunity for its use, the greater the competency in that language. Very little that is being done in Scotland takes cognisance of this reality and money is distributed to GME schooling and to various cultural projects with no real assessment on what the outcome is in terms of language use. To even begin to address this, census information is needed, similar to that available in Ireland, to ascertain who is using Gaelic, where they are using it and in what contexts. Armed with this detailed information a concerted effort in funding and policy support needs to be directed at Gaelic as, firstly a home, and secondly a community language wherever that remains viable.
There is a perception among many city dwellers and policy makers that the island communities must do more themselves to protect the language. This fails to recognise the wide-ranging challenges facing rural and island based communities generally. Many of the difficulties faced, islanders feel powerless to resist; depopulation, young people unable to afford decent housing, over tourism, lack of diverse, well paid and permanent employment, a wider economic situation that leads to second home buying and older incomers that the language communities lack the means or resources to integrate. This powerlessness and disconnect from ' Gaelic development' must be addressed and habitual, native island communities given ownership and connection to the levers of support aimed at protecting their language. While there are Gaelic speakers spread throughout Scotland, the area with the highest speaker density is the most economically marginalised and in need of the most support, but also the only place where Gaelic can realistically be preserved as a community language. Bòrd na Gàidhlig should be based in the island speaker communities they must represent and strengthen in order to maintain the language. Not only would this help address the lack of sustainable jobs in these marginalised communities, but it would help repair the current disconnect between national 'Gaelic Development' and the Gaelic speaking communities.
Among younger speakers generally, there is a vicious circle of reduced language use leading to reduced fluency and reduced confidence. The Scottish Government's own language plan (2016 – 2021) partially acknowledges this: "This is a critical time for the future of Gaelic. The position of the language is extremely fragile and the declining numbers of those speaking Gaelic fluently threatens the survival of Gaelic as a living language in Scotland. It is essential that steps are taken to create a sustainable future for Gaelic in Scotland." (8)
Despite this, the current policy framework for Gaelic is largely based on wishful thinking and for the most part does not acknowledge or tackle the problem. The government's own unrealistic target is "to ensure the proportion of Gaelic Speakers in Scotland is restored, by 2021, to the levels recorded in the 2001 Census". This target takes no account of where these speakers are, their abilities in the language, the situations in which they use Gaelic, and whether Gaelic is their primary home language. These numbers are not like for like. Current policy is attempting to hide the precipitous decline in habitual speakers in a specific geographic location, with GME pupils spread throughout Scotland whose only exposure to the language is through bilingual primary schooling, which is far from sufficient to equip them with a functional fluency in the language, again research shows the vast majority of these pupils do not use the language once they have left the school system.
We urgently need targets and full time development officers at the level of local communities, rather than a blanket national target which has no connection to sociolinguistic reality on the ground. At the turn of the century, campaigners were asking for 'secure status' for Gaelic. The reality is that this has not been achieved. The policies of the last two decades have been largely ineffective, despite modest advances in certain areas. The first step is to acknowledge the scale and nature of the crisis, and to commit to developing policy solutions based on evidence and international best practice, rather than wishful thinking. It would be to our great collective shame if, on the cusp of restoring our political independence, a Scottish National Party Government presides over the death, as a habitual living vernacular language, of our native language, which has given so much to the collective Scottish consciousness. The first time since the forming of the concept of "Alba" as a distinct entity that there will be no physical native speaker community in Scotland. We are frighteningly close to that reality.
While I recognise there are many pressing concerns facing politicians in Scotland, and internationally, including the climate crisis, Brexit, continuing austerity policies and Boris Johnson to name but a few, the crisis facing the Gaelic language is real and while some individuals and groups will undoubtedly continue to speak the language in years to come, myself included, no language can ultimately survive the death of its territorial heartland, where it is transmitted habitually in sufficient numbers – and that is why, and where, we must take action.
Notes
https://www.snp.org/policies/pb-gaelic-language-in-scotland/
https://drive.google.com/file/d/1uvigW-dfunhxBB5mHqzb5rFCMfQpYaVS/view
https://drive.google.com/file/d/1eb5okQ9pGadcl-V0toM7rKxmBtHgPt6-/view?fbclid=IwAR3jE3HUtnbNyM8hC91NT6_J_Hjy_O9hWn87_UViCJM27A6DkLXCB8NKeSs
https://pure.uhi.ac.uk/portal/files/1582887/Munro_2011_The_state_of_Gaelic_in_Shawbost.pdf
https://books.google.co.uk/books?id=lQ9UDgAAQBAJ&lpg=PA263&ots=DSPdJxCTUG&dq=fishman%20higher%20order%20props&pg=PA263#v=onepage&q=fishman%20higher%20order%20props&f=false
https://books.google.co.uk/books?id=6BPWHQihzw4C&lpg=PP1&dq=Endangered%20Languages%3A%20Language%20Loss%20and%20Community%20Response&pg=PP1#v=onepage&q&f=false (pg 81)
https://www.youtube.com/watch?v=_L_-oQvllDU&t=2s
https://www.gov.scot/publications/scottish-government-gaelic-language-plan-2016-2021/