The Biggest Gap in the Ideological Market of England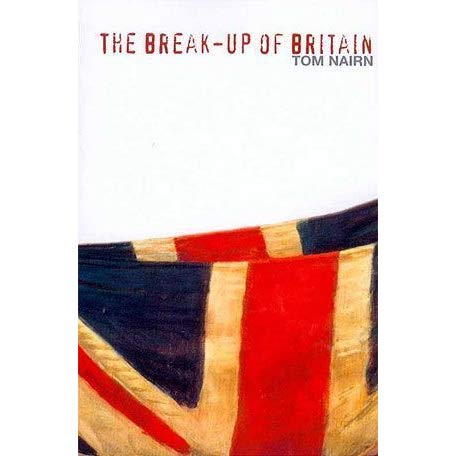 In England, nationalism is a dirty word. It is tinged with disgrace, outrage, illegitimacy if not illegality. Like an unwanted dog or an unpleasing book, nationalism is always something to be put down. Indian, American, Zimbabwean, Jamaican: nationalism was the force that fought back against Empire, and won. Naturally it's not much celebrated by the losers. If Old England thinks about such things in its over-priced care home, it will recall that nationalism killed innocent pub-goers in Birmingham and Guildford, even if it forgets why.
For the English right, Celtic nationalism – centuries old – is an ever-present problem that demands constant solving. Irish nationalism, especially, has been among England's deadliest enemies and fiercest opponents. Armed dissidents loom again. But even the non-violent Scottish and Welsh brands of nationalism are feared and loathed. It is not just oil that England may lose, but prestige. England as 'The United Kingdom of Great Britain and Northern Ireland' is a Tamburlaine nation in that two other nations draw its chariot, and a third is stable boy.

For the English left, according to its doctrinaire inheritance, nationalism is more horrific, something akin to Nazism. Internationalists conditioned by their own international anthem, they seem to have nothing good to say about it. Only an enlightened minority of leftists understand what it's about. Yet even Jeremy Corbyn, who approves of a United Ireland, is still a unionist when it comes to Scotland. So is his lieutenant Seamus Milne who falsely caricatured Scottish nationalism as saltire neoliberalism.

As it is rare for the English right and left to agree on anything, one might be tempted to think this is proof that nationalism is an intrinsically bad thing. Actually, it merely illustrates the unique position of a country that used to rule the known world. The UK is – apart from a few overseas flecks – the leftovers of empire: John Bull and his Celtic colonies.  
 
The English themselves never quite understand the extent to which they are unionists, political allies of the most reactionary forces in both Northern Ireland and Scotland. The Conservative and Unionist Party – reunited in name since the Tory coalition with the DUP – understand this better, of course, but few are comfortable with the eerie bedfellowship. Agreeing with Arlene Foster is not something to shout about, even as she banks 1B of your taxes.  It's true the English are more emotional about letting go of Scotland than Northern Ireland. Wales – alas – is so taken for granted, it's not even on the Union Jack. 

When the English left bitterly opposed Scottish Independence in the heady days of September 2014, it imagined itself as a heroic global revolutionist such as Che Guevara, not as Gazza in Rangers shirt away at Celtic miming an orange flute. It didn't matter that they had no say, because the right-wing English media was saying it for them. 

English unionists can come from anywhere in the socio-political spectrum. We think of David Bowie as a Martian or an alien, but actually he was an English unionist. Vivienne Westwood was not; she passionately and eloquently engaged with the YES campaign. English unionists are not defined by their unionism; they wear other uniforms. 

Take George Orwell. In 2018, Penguin Modern reissued George Orwell's essay 'Notes on Nationalism'. The essay was seen as relevant to the era of Trump, Putin, Erdogan, Le Pen, as well as Farage and Tommy Robinson, but may also have been intended to warn against other types of nationalism, especially Scottish. Orwell is all over the place, giving 'nationalism' the broadest meaning possible; even communism is nationalism. When he examines the issue closer to home, his chump side is on full display. The Englishman's pride in England is 'patriotism'. Irish, Welsh, Scottish nationalism is reactionary: they are 'racialists' who think Celts superior to Saxons, fantasists who think they can afford to be independent without English protection, and they are only interested in power. This is victim-blaming psychobabble. It's as if Penguin is deploying 'Saint George' posthumously to try and save the UK.  

Brexit has reminded the world how little thought English politics gives to Irish matters, and how it comes back to bite. 'K.M.R.I.B.' is the new cry from Irish Republicans i.e. 'Kiss My Royal Irish Backstop'. Even the English left is guilty of thinking too little, too late of Irish, Scottish, Welsh affairs. Quite rightly, their priority is social justice and the fight against Conservative evils. Labour's unionism is unquestioning because Labour has always been dependent on the mainland Celtic fringe to vote it into Westminster.  Labour has almost acted like a protection racket against Conservatism. One shudders to suggest the English left harbours imperialist impulses, and looks upon its near neighbours with blimpish eyes. Since 2014, Labour unionism has been found wanting. The party is now virtually non-existent in Scotland. As far as Scots are concerned, even the most socialist Labour Party in decades is visibly wearing a sash, audibly banging a lambeg.

In Wales, Labour is still the majority party but its percentage of the vote is declining. The former firebrand now Baron Kinnock of Holyhead and his wife Baroness Kinnock of Holyhead are seen as part of a Welsh Labour elite, earning millions over the course of their EU careers, with multiple perks and pensions. Their son the 'Honourable' Stephen Kinnock is MP for Aberavon. Nationalists not only threaten Labour Party votes, but also Labour Party livelihoods. Plaid Cymru has become more mainstream from its early days of burning RAF bases in Wales, continually growing in size and strength recruiting people who feel betrayed by a bourgeoisfied Labour. 

One party member said in 1977:  'We suspected Labour not just on practical grounds, that they had not delivered on their promises, but also on ideological grounds that they were not a true socialist party … We chose nationalism as the best way to pursue socialist ideals. The only way for the Welsh to pursue socialism was through nationalism.'  Labour – Corbynites and Blairistes – alike must be terrified of Wales following Scotland's example and abandoning the PLP wholesale for Plaid Cymru.
However, there is another nationalism on the rise that we have not considered as yet: English nationalism. Fintan O'Toole calls it 'the ghost in the machine of Brexit.'  Of the four major nationalisms available in the British and Irish Isles – Irish, Welsh, Scottish, English – which is the odd one out? There's a joke about this. Paddy English nationalist, Paddy Irish nationalist, Paddy Welsh nationalist and Paddy Scottish nationalist walk into a bar. Paddy Irish nationalist buys a round of Guinness. Paddy Welsh nationalist buys a round of Brains. Paddy Scottish nationalist buys a round of McEwans. Instead of coughing up for the expected round of John Smiths, Paddy English nationalist collapses into a hysterical drunken heap, blubbering 'I love you guys!' 

English nationalism seems barbaric, the motiveless motivating force behind the political murder of Jo Cox. There may be more where that came from; but racist verbal and physical assaults are commonplace. Farage is a contagion. The all-licensed fool has licensed all, and the nativists are restless. In such a xenophobic climate, the duopoly loses leverage. Not only are traditional right-wing votes going to Brexit Party, UKIP and EDL, but also traditional left-wing votes. The white working-classes feel no one listens to them, and so punish the Conservatives and Labour simultaneously. They have made Farage a kingmaker, perhaps to Boris's king. We now face the distinct possibility of a general election that will see Tories ditching the DUP for the BP, and Farage taking a seat in the cabinet. Imagine what Farage might do to the NHS as Health Secretary? Or perhaps Boris will appoint him to his former job: Secretary of State for Johnny Foreigner.

At a Q&A screening of Peterloo, director Mike Leigh was asked what he thought of the white working classes shifting allegiance from socialism to neo-fascism. 'It's a tragedy! It's a disaster!' he cried, refusing to 'pontificate' further. Some pour scorn on their less educated and more impoverished fellow citizens; others take the sentimental and patronising view that ordinary people don't know what they are doing when they vote far-right politicians into office, and are therefore not to blame. This point of view is redolent of the faux-innocence of ordinary German people after the Third Reich was overthrown.  

What English intellectuals of all persuasions need to realise is that there is a crucial difference between Irish, Scottish, Welsh nationalism, and English nationalism. English nationalism is still dominated by an odious concoction of far-right, alt-right, nativist, and ethno-nationalist tendencies. The Irish, Scottish, Welsh models are examples of left-wing nationalism. Even Karl Marx approved of left-wing nationalism. He understood that Ireland was attempting to liberate itself from a genocidal oppressor. Though he was alive during the so-called Famine, he did not live to see Ireland become the first of scores of nation-states to win independence from The Second British Empire. The very helpful Wikipedia entry on left-wing nationalism provides examples from all over the world:

'Notable left-wing nationalist movements in history have included Subhas Chandra Bose's Indian National Army which promoted independence of India from Britain; Quebec nationalism and the Parti Québécois; the Mukti Bahini; Sinn Féin, an Irish republican party; Basque nationalism and the political party Bildu; the Catalan independence movement; the League of Communists of Yugoslavia; Malay Nationalist Party of Malaysia; and the African National Congress of South Africa under Nelson Mandela.'

One immediately deduces that left-wing nationalism is as internationalist as socialism, and perhaps even more widespread. 

Orwell's 'racialist' slur can be rebutted by quoting from Nicola Sturgeon's recent speech in Brussels: 'We can be Scottish and British and European. We can be Scottish and Polish – or Italian, or Pakistani, and much else besides – and European. And so it shouldn't be surprising that belief in Scottish independence – which is about self–government, not ethnicity – goes hand in hand with a belief in internationalism and interdependence. National identity is not, and never should be, an exclusive concept.' 

Irish, Scottish, Welsh nationalism has outgrown any ethno-nationalist origins because its societies have been multicultural for as long as anyone can remember. Ireland, Scotland and Wales are Celtic nations but not populations. Of the many different ethnic minorities resident in Scotland, 'English Scots' are more and more joining the Independence movement, where they have been welcomed with open arms, a charming development. 

The biggest gap in the ideological market of England is left-wing nationalism. If the English left could overcome its dogmatic revulsion to the idea of nationalism, it could transform the political landscape. Even Labour could do it, admit the game was up, become a left-wing English nationalist party and actually return to power with English not with Scottish votes. If Corbynism could extend his Irish nationalism to Scotland and Wales, he could reclaim the English working-class voters who are flirting so disastrously with the far right. There will always be unionists as long as there is a Union, but a 'thinking' English nationalism could become a new force and a new addition to the international list in that Wikipedia entry.  
 
 If Labour refuses to abandon its increasingly useless unionism, a new party could form, an English version of the SNP, an anti-austerity party of progressive leanings which – crucially – also wishes to pull out of the UK. Instead of resisting what Scottish intellectual Tom Nairn dubbed 'The Break-Up of Britain', it could assist in the process. The battered snake-skin of 'Great Britain' could be shed – a red, white and blue coloured husk. 

I have not yet discussed how Remain vs. Leave relates to nationalism. We are all characters in a tale of two unions, the UK and EU. Sometimes it feels like we are audience members at an illegal cockfight in which there will be only one survivor. There is a burgeoning sense of expectation that the UK will fragment. But the EU knows it too  is vulnerable. Both unions could perish. 

Nationalists of all stripes can go either way on the Europe debate. So can unionists. SNP is pro-Europe. Sinn Fein has ambivalent attitudes, but now wants 'special status' for Northern Ireland to remain within the EU alongside the Republic of Ireland. It is quite understandable that nationalists could want to leave the EU as much as they want to leave the UK, as well as wanting to rejoin the EU after leaving the UK. Some criticise the SNP for wishing to give away its putative independence to Europe, forgetting that membership of the EU is voluntary whereas membership of the UK is involuntary. 

For English remainers, an English left-wing nationalist party could decide upon a policy – like Scotland's – of wishing to apply to join the EU after the break-up of the UK. The millions who campaigned for Peoples Vote could have their wish granted in an unexpected way. While many of those lefty-liberal remainers would not wish to choose between the UK and EU – greedily wanting both – it will be too late once Scotland has succeeded in seceding. England, Wales, Northern Ireland might continue their three-legged race to the bottom as the so-called 'rUK', but it won't take too long to get there.

Realpolitik is ruthless. The Gollumesque Theresa May who spoke of the 'precious precious union' is gone. As the blond beast slouches toward Westminster to be crowned, we are facing another decade of Conservative rule, possibly in coalition with the as yet manifesto-less Brexit Party. Boris – a diehard blimp – will fight to save the UK, and fight dirty. Coveting the English nationalist vote, he will peddle a subsistence diet of ye olde British nationalism to his constituency, with Murdoch providing the free advertising. Having branded the Irish problem as a 'gnat', he now proclaims he will get rid of the Irish backstop if elected leader. The Scottish Conservative Group has issued a joint begging-letter saying: 'Our new PM must spend to save the Union'. Every trick in the book will be used to sabotage Scottish anti-UK, pro-EU aspirations; but this will only make the Scottish more determined. 

Only left-wing nationalism can save this part of the world from further lurches into fantasy far-right terrain – the Breivik New World. It would be great if England got on board. 
 Left-wing critics of Scottish and Welsh nationalism argue that England will be doomed to perennial Tory governments. Actually England will have to grow up and learn how to defeat the Tories by itself.