Boris, Brexit and the Hedge Funds (Part 2)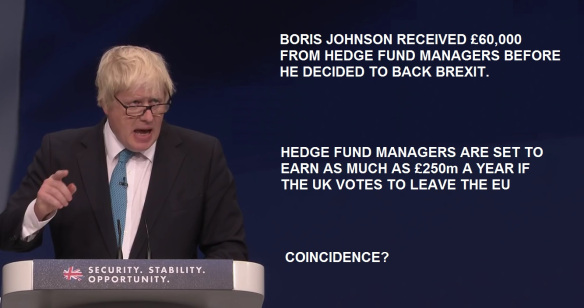 In the
first part of this special investigation
, I explained the rise of hedge funds – a wing of global finance capital whose billionaire managers are key financial backers behind Brexit and the campaign by Boris Johnson to become UK Prime Minister.
*
In Part #2, we examine in more detail the individual hedge fund managers behind Boris and their political agenda.  The quoted donations are those Boris has registered publicly.
Boris also gets significant cash from hedge funds via speaking engagements.  Last November, for instance, he netted a cool £94,500 for a two-hour speech delivered to New York-based hedge fund outfit
GoldenTree Asset Management.
Travel and accommodation were also provided.  GoldenTree (sic) manages circa $28 billion in funds and specialises in "distressed" assets such as the Johnson Press, owner of
The Scotsman
.  A few weeks after Boris addressed the fund, ownership of Johnston Press passed to its creditors, including GoldenTree.
A general point: I am not claiming there is an organised conspiracy of hedge fund managers to capture and direct Boris – though Johnson is known to have arranged private collective meetings of his City backers to discuss strategy.  However, there is no "committee" of the ruling class working in the background. What is very much the case is that a layer of finance capital represented by UK hedge fund managers believes its interests are served (financially, politically and personally) by Britain leaving the EU; and that they see Boris Johnson as the best Tory Party leader to achieve this goal.
Their interest in Brexit has to do with escaping EU regulation, ending central bank quantitative easing, and returning to a more chaotic economic system in which they can make money by shorting the market.  As such, this grouping is at odds with the big banks and with more conventional investment funds.  Sadly, we ordinary mortals are now at the mercy of this internecine war between the factions of global finance capital. But such is the insanity and irrationality of late capitalism.
1.    JONATHON "JON" WOOD
In October 2018
Jonathon Wood
contributed £50,000 to Boris for "office and staffing costs", in preparation for his leadership bid. Wood is the brains behind the Aedos hedge fund, which operates out of the Bermuda tax haven.  Aedos was the Greek goddess of modesty and humility – very appropriate for Boris.
Typically for a UK hedge fund operator, Wood is an outsider to the British Establishment.  He was born in Yorkshire and studied economics at Loughborough University rather than Oxbridge.  In City wine bars, Wood is referred to as Keyser Soze, the brutish crime lord in the movie The Usual Suspects – a nickname he hates.  He started out in red braces as a trader with UBS, a Swiss investment bank. Reportedly, he never made a loss for the bank.  As investing in shares and bonds is a form of gambling, I find that truly remarkable. Presumably Mr Wood has a hot line to Mount Olympus.
In 2005, UBS paid Mr Wood a cool £20m in salary and bonuses.  That year, he quit the bank and set up his own hedge fund management company, SRM. Given Wood's stellar reputation, SRM quickly attracted $3bn in clients' assets to gamble with.  The hedge fund was originally registered in the Cayman Islands for secrecy and to avoid tax, with offices in Monaco.
But Mr Wood's astonishing luck ran out almost immediately as global financial markets crashed in 2008. SRM investments instantly lost 85 per cent of their value. Hedge funds are supposed to make even more money in a crisis, by betting on market failure, so this episode did not endear Wood to investors. Fortunately, he had taken the elementary precaution of insisting his investors put their cash in SRM for a minimum of five years, so he had time to make amends.
Wood now turned political and litigious. He blamed the Bank Crash and its aftermath on Gordon Brown, the Labour Government and the Bank of England. Wood's spleen possibly had something to do with the fact he was the largest investor in Northern Rock, the first bank to go bust and be nationalised. Wood demanded compensation from the UK government but didn't get it. At the 2010 general election, an angry Wood donated £500,000 to the Tories in a successful bid to oust Brown from Number 10.  Wood gave another half million quid to the Leave campaign in 2016 – that campaign's second biggest donation.
2.    JOHAN CHRISTOFFERSON
Electoral Commission records show that Johan Christofferson made two donations to Boris Johnson in 2019. There was a £20,000 donation in January and a further £16,000 in 6 March.  A UK-based American, Christofferson is a partner in the family Wall Street hedge fund management firm of Christofferson, Robb & Co (CRC).  Johan holds down the London end of the business.
CRC manages assets worth nearly $4 billion, much of it from big European banks. CRC has a particular wheeze: it creates hedging deals that "transfer" (hide?) the credit risk of these European banks.  The result is that the banks can reduce the amount of reserves they are forced to keep by regulators, and so lend more.  There's a lot of financial wizardry and hocus pocus involved but the net result is to get round European bank regulation rules.
Johan Christofferson has a Scottish connection. When he's not making money and giving it to Boris Johnson, he indulges in his hobby of fox hunting. Christofferson was previously joint-master of the Jedforest hunt in Jedburgh – the only one in Scotland to have been prosecuted for illegal hunting.
Over the years, Christofferson has made numerous donations to Tory MPs who opposed a ban on foxhunting. He helped pay for the 2010 election campaign of Tory MP Simon Hart, former chief executive of the Countryside Alliance, which supports the repeal of the fox hunting ban.  Christofferson also made a donation of £10,000 to Tory MP Nick Herbert in 2009, the shadow secretary of state for rural affairs at the time.
None of this history will worry Boris. He once called for hunting to be permitted in London to get rid of urban foxes.  However, he should be worried about the gabling relationship between CRC and the big banks on the continent. It might seem odd that a Brexiteer should be involved with European banks but remember hedge funds are deeply cynical operations, bent on making money (literally) out of chaos.
3.    DAVID LILLEY
David Lilley, an evangelical Christian and partner at legendary metals hedge fund manager RK Capital, recently gave £15,000 to Johnson. Lilley previously put £100,000 into the Leave campaign.
For the past three decades, Lilley has been one half of the best-known trading (i.e. gambling) duo in global metals markets.  His sidekick is Michael Farmer, another billionaire evangelical Christian bent on proving camels can get through the eyes of needles.  Farmer is another big Tory donner. Lilley and Farmer are known in the City as the "God Squad".
Lilley and Farmer made their dosh by trading copper – physically and by shorting the market when appropriate. Their hedge fund vehicle is called Red Kite (as in flying one?) which for years was one of the largest traders of physical copper anywhere. Red Kite is registered in the Bermuda tax haven. If you buy and sell copper in bulk, you can of course affect the market price. That gives you the (perfectly legal) ability to short the market aggressively without being technically guilty of insider trading.  In 2013, Red Kite generated a whopping 50 per cent return for its investors.
But more recently, Lilley and Farmer have moved away from trading in copper.  One reason for the shift is that the Chinese now control most of the market and are doing their own trading games. Recently, David Lilley set up his own hedge fund outfit, Drakewood Capital Management. Lilley is betting on a revival of a sector previously unloved by the hedge fund industry – US manufacturing. Think Donald Trump and his trade wars designed to protect US industry.
If rust-belt American industry revives (temporarily) thanks to Trump, then old-fashioned metals to make stuff with will be needed again.  Which explains why Lilley has just bought a copper and aluminum tubing business in the States.  He is betting he can make a turn betting on price movements in these metals.  But for that, Lilley needs Trump to be re-elected next year, and for Boris to be in a position to help Trump.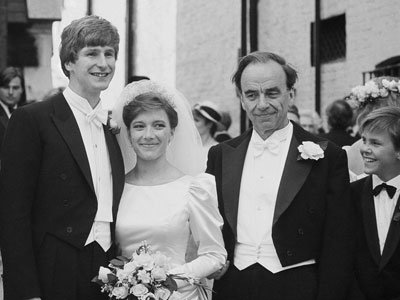 4.    CHRISPIN ODEY
Perhaps the biggest fan Boris has in the hedge fund community is billionaire Crispin Odey, founder of Odey Asset Management.  In October 2018, Odey told the Mail on Sunday that Johnson could rely on his financial backing to run for No 10 if Theresa May resigned.  He was quoted: "I think Boris would be excellent once he became leader." Odey told the paper: "We all know his weaknesses. But his strengths derive from those weaknesses. He makes quick decisions."
Unusually for a hedge fund gambler, Odey at first sight appears to be an Establishment figure. He was educated at Harrow and Oxford. But there's a darker side. First, Odey is a blunt Yorkshire man.  Second, soon after he graduated from Oxford, he discovered his father had wasted the family fortune and they were broke.  Aged only 23, Odey Junior had to liquidate the family estate and start again.
The route back to solvency came when the young Chrispin found he had a flair for investing other peoples' money, working at Barings merchant bank. Still in his early 30s, Odey set up his own hedge fund with $150 million from George Soros.  In 1994, his fund lost a packet when he bet the wrong way on US interest rates but Odey had discovered nerves of steel plus the gargantuan cynicism required of a hedge fund player. Come 9/11, he bet correctly on a rise in the share value of insurance companies.
Odey saw the 2008 financial crash looming and happily shorted bank shares. Result:  his fund made a return of 55 per cent for its investors while the man himself trousered £28 million in fees. Since then, Odey's fortunes (and those of his hedge fund) have gyrated wildly.  Like all hedge fund pirates, he bets on the maximum chaos not on benign outcomes, even those he might prefer politically.
A noted bon viveur, Odey keeps up the venerable City tradition of a two-bottle
lunch. 
He is famous for once ordering a steak and kidney pudding with mash as a 'side order' to go with his loin of beef. Also like Boris, Odey has had a colourful personal life. His first wife was Rupert Murdoch's eldest daughter Prudence (pictured above). He replaced her with banker Nicola Pease, sometime CEO of Hambros Capital, which has circa £28 billion in long-term equities. Nicola was on the board of Northern Rock in its terminal days but one trusts there was no illegal bedroom discussions with husband Chrispin.
Odey donated £870,000 to the Leave campaign but his bet that a Brexit vote would bring instant economic chaos failed to materialise and his fund dropped in value.  Recently he has been shorting high street retailers, including Debenhams. Perhaps by donating to Boris means Odey is having a second go.
But beware. Odey is a calculating, cynical populist. A long-time backer of Boris, he told Financial News: "It helps [Johnson] that Westminster is so hated. Maybe the only way that we unify the country is against Westminster."
IN HIS OWN WORDS…
Are these hedge fund donations value for money?
At a Conservative Party hustings, during his campaign to become party leader and Prime Minister, Boris Johnson summed up his views on finance capitalism:
"I can't think of any other politician, even Conservative politician, who from the crash of 2008 onwards actually stuck up for the bankers."
"Can you think of anybody who stuck up for the bankers as much as I did? I defended them day in, day out, from those who frankly wanted to hang them from the nearest lamppost."
You have been warned.