Sports Direct v Rangers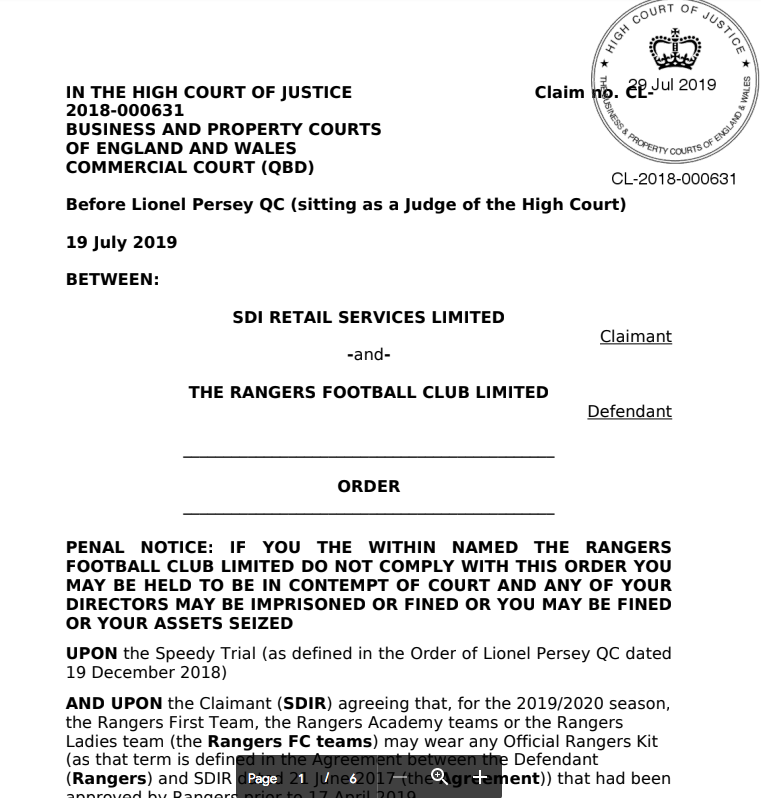 A few weeks ago the High Court in London issued its latest judgment in the case of Sports Direct International v The Rangers Football Club Limited. On the surface it's a standard commercial case over the interpretation of a contract, the sort of issue that is aired at the court's modern, high-rise Rolls Building a dozen times a day. However as this relates to Scottish football tens of thousands of people are reading about it and talking it over, so a quick explainer.
The dispute goes back many years, as the judge, Lionel Persey QC said in his opening, "The parties in this dispute are well-known, not only in the sporting world-but to this court," The current action relates to a merchandising contract, agreed in June 2017 which, amongst other things, gave Sports Direct a "matching right," to any other merchandising agreement Rangers may look to sign. In simple terms if Rangers are about to agree a deal with someone else, Sports Direct have to be given the opportunity to offer the same terms and keep the business.
Yet, despite the contract, in March 2018, Rangers signed an "exclusive" agreement with kit manufacturer Hummel to provide first team and replica strips for the subsequent three years. In court they had to admit they had never given Sports Direct the chance to match the deal. The court slammed Rangers over this, being particularly scathing about the "evidence" (their quotation marks) of company secretary James Blair, ruling that what he had said in court was neither "attractive nor relevant or admissible."
To cut a long story short, Rangers lost on every point, and we awaited what action the court would order, this week we got the answer.
The one piece of good news for the Rangers board is that their team will still have a kit to play in this year, Sports Direct have agreed to allow this year's arrangements to continue until the end of the current season. Other than that it's very bad news indeed. Under the threat of contempt of court, Rangers must scrap the agreement with Hummel, and not "assist" them in any way. From next year They cannot propose, agree or register any new kit from Hummel, or even wear their products on the pitch. Judge Persey also ordered Rangers to pay £444,000 of legal costs, "on account," which means the final bill is bound to be higher, much higher.
There is a school of thought on some parts of social media that this is all part of a cunning plan by Dave King to get out of an onerous contract. If that's true, it must be very cunning indeed. While the financial damages due to Sports Direct have not yet been agreed, the judge described their losses as adding up to "many millions of pounds." In addition there is also the fact that Rangers are now under court orders to break their contract with Hummel, which could mean another large financial settlement or another legal battle.
There is also the issue of lost merchandising revenue, and the poisoned relationship between the club, it's support and its main retail partner. Despite the expressions of support the Rangers board have received from supporters organisations. There are questions to be asked about how they got into this mess, despite the warnings.
This is of course not the end, there are many things that could happen, appeals, debates, more court actions, more costs. As another Judge who has dealt with the case once concluded "The parties in this action are keen on litigation, it's doubtful if their appetite for it will be satisfied by this decision.