You Can't Elect a Blocklist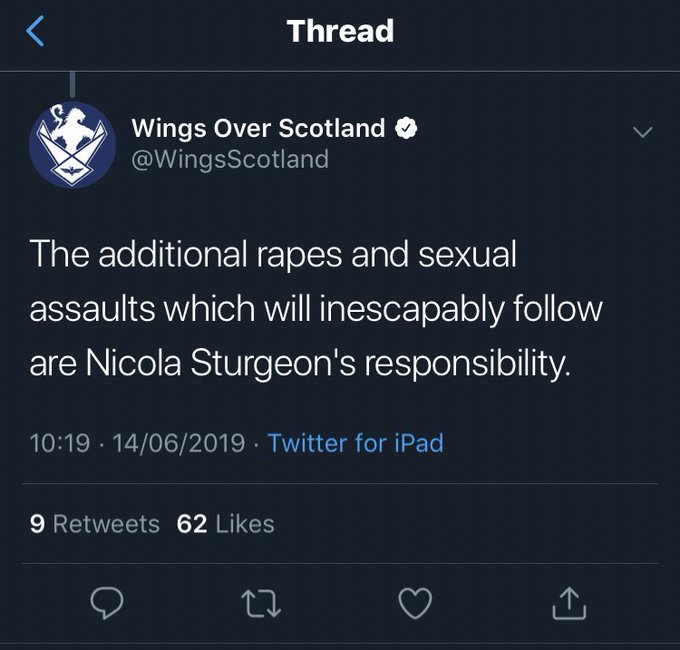 Timing is everything in politics, so it's particularly strange that Stuart Campbell should use this week to float the idea of his new party. It was according to Nicola Sturgeon a 'watershed week for Scotland's future' – with polls showing the tide turning for independence and Labour and Scottish Labour in complete chaos.
Into this new positivity steps Stuart Campbell, in a platform gleefully presented by Murdoch's Times newspaper. The staggering idea has apparently been taken seriously by some people and given the despised 'Yoon' media a field day. Here's some reasons why this is a laughably stupid idea.
The wildly hypocritical idea of running on the regional list for Holyrood (from a group who spent the last four years howling "BothVotesSNP" at anyone who suggested supporting the pro-indy Greens on the same list) is astonishing. The mental gymnastics involved in the most vociferous supporters of Both Votes SNP is a sight to behold. A common thread of Wings 'analysis' has been to denounce and deride anyone elected on the list. That too seems conveniently forgotten.
Campbell's initiative – curiously described in the plural this morning – described the Scottish Greens as "far left", a comical description that tells you all you need to know about Campbell's own politics. While Wings supporters express hatred towards the Tories and 'Red Tories' their own politics remain curiously unclear to themselves, but there's a strand of anti-green politics that runs through it. Some of this stems from a personal gripe with the Scottish Green MSP Ross Greer and other Greens dating back to 2014, some of this stems from an obsession with north sea oil. Campbell argues we should keep Trident – a policy cheered by acolytes in comments every time it's raised.
If any progressive cause is mentioned they are dismissed as "woke" and derided as a distraction from the main the only cause (curiously this rule is thrown out with his obsession with trans issues).
So when the argument is put that this is – somehow – miraculously – going to be just another pro-indy party (as the Greens are), it's just not true. A Wings Party would have its own distinct policies and the bones of this are already present. As the Times interview described:
"It is understood that the Wings party would aim to emulate the success of populist, anti-elite movements in the United States, the UK and elsewhere."
And what is the most distinct policy platform?
Well the motivation to split with the SNP is not about differences on energy, economy or social policy, they are mostly about obsessive anger over the Scottish Governments policy on gender recognition reform for transgender people.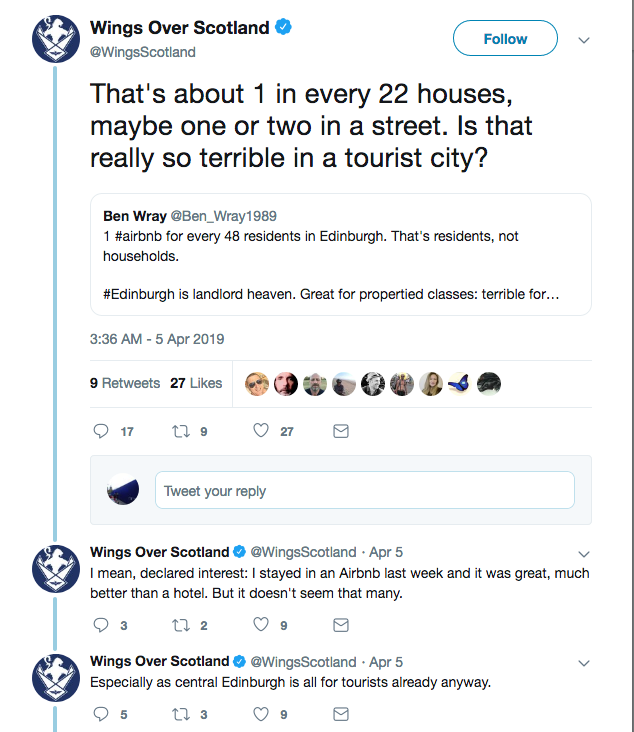 The Wings site has been inundated for the past few months with Campbell's obsession with the topic spewing out transphobic blogs to cheers from enthusiastic supporters.
But if you think that Campbell's motivation is as a defender of women and the feminist cause, you be wise to take a glance at 'Ugly witches are easy to Hunt' (as just one example).
In this he responds to the Bill Walker case by saying:
"So what's the ACTUAL story here? It's this: "Man retrospectively accused of assault 20 years ago; later became politician". That's it. There are allegations, as yet unproven, which haven't been and at no point will be the subject of any police action, which the alleged perpetrator denies, and which happened (if they happened) before a sizeable proportion of the current electorate was born. But let's not let trivial details like that get in the way of a good old lynching, right? After all, we gave up on the old "innocent until proven guilty" thing in this country a long time ago, let alone the notion that people can change and find redemption for their past wrongs."
The idea that this party could be successful can only be formed within a complete silo – a subculture of nationalism that is immersed in itself and has totally abandoned the idea of engaging with other people who don't agree with you, which, if you think about it, is the essence of electoral politics.
In the real world you can't just block everyone who disagrees with you. If someone was to not vote for Wings they can't be 'blocked'. This entire fantasy has been cultivated in a closed world.
Imagining a launch you'd have to assume journalists (despised but unblocked in the real world) would ask a litany of questions to prospective candidates:
"Do you agree with your party leaders views on Hillsborough?"
"every single solitary person who died at Hillsborough was killed by Liverpool fans".
"Do you agree with your party leaders views on gaelic?"
"Over 99% of Scots can't speak Gaelic and don't have any interest in doing so, no matter how loudly people shout that there are a couple of Gaelic schools in Glasgow now.
(If anything, most folk are mildly irritated and resentful of being made to feel like either imperialist intruders in their own country or somehow a lesser species of Scots, by being constantly presented with a language that's supposedly their own but that they can't even begin to pronounce, let alone understand.)"
"This site has no time for the Gaelic lobby. The obsolete language spoken by just 0.9% of Scotland's population might be part of the nation's "cultural heritage", but so were burning witches and replacing Highlanders with sheep and we don't do those any more either.
Being multilingual is an excellent thing, but the significant amount of time and effort taken to learn a literally-pointless second language (because everyone you can talk to in Gaelic already understood English) would be vastly better directed to picking up one that was actually of some use, and every extra fraction of a second spent scanning a road sign trying to find the bit you can read is a fraction of a second spent with your eyes off the road.
Non-primary native languages are a tool whose main utility in practice is at best the exclusion of outsiders, and at worst an expression of dodgy blood-and-soil ethnic nationalism. They're a barrier to communication and an irritation to the vast majority of the population, who are made to feel like uncultured aliens in their own land."
"Do you agree with the following statements  made by your party leader about transgender people?"
Setting aside the fact that this is all about a terrible reactionary politics – the idea that this wouldn't be divisive for the independence movement, or that it wouldn't be used to smear the entire Yes movement is just incredible.
The reality is that in real life people will challenge you, question you and you will not be surrounded by genuflecting acolytes.
This blight on the independence movement has been tolerated for far too long. This painfully stupid political project may have life. Who knows? People voted for Nigel Farage and Donald Trump. But if they do it will be a travesty for the Yes movement which is after a very long journey, near its destination.
For the people who have been quiet supporters or apologists for Wings for far too long this may be a threshold for them.